Direct, indirect, and inventory-related savings help businesses save time, resources and enhance their cash flow.
Newtown Square, Pennsylvania - SupplyOne, Inc., the largest independent supplier of custom corrugated and value-added packaging products, packaging equipment, and services in the U.S., highlights its Packaging Management Program.

The Packaging Management Program, also known as a PMP, employs a proprietary process to uncover hidden costs in a business's packaging operations to reduce waste and increase efficiencies and savings for a more sustainable operation.
Each Packaging Management Program begins with a complementary packaging assessment. SupplyOne Packaging Specialists follow a proprietary process to analyze packaging spend, evaluate opportunities to optimize existing packaging, and assess the full scope of the manufacturer's packaging-related operations. The assessment process typically takes one-two days and is accomplished without disrupting the business' day-to-day operations.
PMP findings result in recommendations to streamline the manufacturer's supply chain and eliminate complexities that consume time, resources, and working capital. "Companies want more control over their spend. The PMP provides a 360o view of the business's packaging expenses and a plan to realize immediate and lasting savings," said Dave Whitney, SVP of Packaging at SupplyOne. "The efficiencies and cash flow improvement identified during an assessment can be transformative in an inflationary environment."
In addition to guaranteed direct cost savings, the manufacturer can expect indirect and inventory-related savings and recommendations to reduce resource requirements across all facets of packaging ownership.
End-to-End Solutions for a Streamlined Supply Chain:
SupplyOne's operating platform includes custom manufacturing capabilities, relationships with more than 3000 suppliers, best-in-class packaging equipment and automation solutions, and a suite of complementary services spanning every aspect of packaging ownership. These capabilities allow SupplyOne Packaging Specialists to provide objective guidance and a comprehensive Packaging Management Program tailored to each customer's unique needs and objectives.
###
About SupplyOne:
SupplyOne is the largest independent supplier of custom corrugated and other value-added packaging products, equipment, and packaging-related services in the U.S.
The company provides mid-sized manufacturers, food processors, and medical and e-commerce companies with industry-leading packaging programs and complete packaging solutions to reduce its customers' total cost of packaging ownership from a single point of contact.
The result? Better packaging, enhanced efficiencies, market speed, and cash flow.
Since its founding in 1998, SupplyOne has become the acquirer of choice for privately held specialty corrugated packaging manufacturers and value-added packaging distributors.
For more information about SupplyOne's packaging solutions, contact SupplyOne at 484-582-5005, email ContactUs@supplyone.com or visit https://www.supplyone.com/.
Featured Product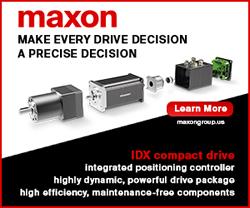 maxon motor launches new high-speed motors that are configurable online. The new ECX brushless motors are quiet and feature very high efficiency. The ECX motors are available with diameters of 8, 16 and 19 mm achieving speeds of up to 120,000 rpm. They run very smoothly and are highly efficient. With maxon motor's online configurator, it is easy to put together a customized DC motor to include gearhead, encoder and controller. The customized motors are ready to ship in 11 days!