Family lead business celebrates a century of textile innovation
Bally Ribbon Mills (BRM), an industry leader in the design, development, and manufacture of highly specialized engineered woven fabrics, announces its 100th Anniversary. Since BRM's founding in 1923 as a custom textile manufacturer in Bally, PA, the company has provided products for aerospace, defense, medical, safety, automotive, commercial, and industrial applications used around the world.

A small representation of BRM's accomplishments over the past century include the production of goods for the war effort in World War II, maintaining a continuous ISO quality program for close to 30 years, and numerous contracts, including with the U.S. Military, Department of Defense and NASA. BRM's work with NASA includes using composite material in the construction of the heat shield used on NASA's Orion spacecraft. BRM has been praised by NASA for its ability to answer every specification and challenge.
"As a family business, Bally Ribbon Mills is extremely proud to be a trusted partner by some of the largest, well-known companies and agencies from around the world," said Mark Harries, Vice President, at Bally Ribbon Mills. "Our success has been based on a long-term vision of growth, built around our high-quality engineered fabrics manufactured in America, our skilled employees, and our reputation as a trusted advisor to customers. We will continue to stay at the forefront of technology for all of the industries we serve, just as we have over the past 100 years."
BRM continues to expand and innovate at its Bally, PA facility through the addition of new equipment, departments, and employees.
About Bally Ribbon Mills
Bally Ribbon Mills (BRM) designs, develops, and manufactures highly specialized engineered woven webbing, tapes, specialty fabrics, woven preforms, and two-dimensional and three-dimensional structural fabrics. With 100 years of textile manufacturing experience, BRM has earned a reputation for meeting new advanced design challenges. Working in aerospace, defense, medical, safety, automotive, commercial, and industrial applications, BRM offers ingenuity, technical know-how, extensive weaving capabilities, and rigorous quality assurance systems. For more information, visit www.ballyribbon.com or call 610-845-2211.
Featured Product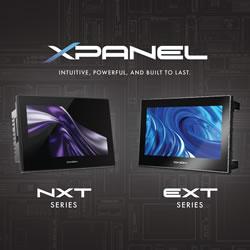 Introducing the Xpanel eXT and nXT series, advanced industrial HMI solutions that set a new standard for performance and usability. Utilizing our brand new Canvas HMI software for project creation, the Xpanel eXT and nXT series deliver a seamless and efficient user experience. They combine industrial-grade touch technology, powerful embedded OS hardware with a quad-core CPU, and an easy-to-use runtime platform. The Xpanel eXT and nXT series are specifically designed to optimize and streamline industrial operations, enhancing your HMI experience.