Intelitek core training programs with Industry 4.0 curriculum aligned with NIMS Knowledge Base and the company releases Industry 4.0 Smart Performance Measures
Demand is high for production line workers proficient in Industry 4.0 technology innovations. That demand will grow as more complex systems are integrated in manufacturing and industrial processes. To help schools prepare their students for current and future jobs, Intelitek has delivered new training solutions for Industry 4.0 that are aligned to the National Institute for Metalworking Skills' (NIMS) Smart Training Solutions (STS), an innovative framework for modernizing training to keep up with the pace of emerging technology and building a bridge between educators and employers.

Montez King, Executive Director of NIMS, said, "Industry 4.0 training is an exciting development for manufacturers and educators because it directly addresses both the data-driven revolution happening in manufacturing today and the skills gap. There are several job roles surrounding Industry 4.0. Aligning training with smart credentials truly prepares students for what they will face on the job and validates their expertise."
Intelitek's Industry 4.0 curriculum advances learners' expertise in the broader industrial ecosystem as well as new Industry 4.0 technology innovations. The Intelitek Industry 4.0 training labs include standalone labs for Smart Sensors, Condition Based Monitoring, Predictive Maintenance and Cybersecurity. In addition, it provides integrated capstone project labs for teaching all levels of technical expertise in the realm of Industry 4.0. Intelitek's SmartCIM 4.0 is a full production environment where students can learn to manufacture products as well as program and control all the phases of production from storage to machining, to assembly and quality control. The company's SmartCart 4.0 is a robotic platform that teaches automation and integration of system components. Students using the SmartCart 4.0 will learn how to operate industrial robots, PLCs, Smart Sensors and Machine Vision, and most importantly, how to integrate all these components in a system.
"Industry 4.0 is a new paradigm for all levels of employees in manufacturing. Intelitek has addressed this methodically with curriculum and hands-on labs and systems. The addition of NIMS Credentials is a fantastic way to prove the program is beneficial for students, the school, and for future employers," said, Nader Jalili, Ph.D., Professor and Head of the Department of Mechanical Engineering at the University of Alabama.
The training for the production specialists job role ensures students have the skills to implement, operate, optimize, and analyze an entire manufacturing system. To align with NIMS, Intelitek has developed Smart Performance Measures for Industry 4.0 that:
address data collection, analytics, and visualization
ensures students are trained to perform reactive and predictive connectivity maintenance, and
determines if students are trained in how to optimize and improve production workflows.
"We have aligned with NIMS because its independent, vendor-agnostic approach to credentialing measures students' performance, rather than only recording training records. It's the optimal way to ensure that a training course has truly given students the required skillsets and knowledge that employers need," said Graham Celine, VP, Business Development of Intelitek.
Intelitek NIMS Approved Performance measures for Industry 4.0 Production Technician are available to Intelitek customers so they are able to complete the NIMS Smart Credentialing process after finishing their studies. For more information go to: https://intelitek.com/industry-certification/
In addition, Intelitek is hosting a free webinar panel discussion on March 28th at 4pm EST for CTE educators on the needs for certification and credentials from the perspective of education and Industry. Montez King from NIMS, Danine Tomlin from Intelitek and James Tincher, and industrial technology instructor, will take questions and expand on the state of credentialling for Industry 4.0. To register for this free webinar, click this link.
About NIMS
NIMS is a 501(c)3 nonprofit that was formed in 1995 to build a globally competitive American workforce through collaboratively established industry standards, proven training frameworks and processes that dynamically respond to our technology-driven economy. The vision of NIMS is to empower organizations through proven training frameworks and processes that dynamically respond to our technology-driven economy and recognize them for their success.
About Intelitek
Intelitek is at the forefront of training for Industry 4.0, the internet revolution in manufacturing. For four decades, the company's innovative learning solutions have provided learners across the globe with the competencies needed for in-demand careers in production. Driven by its pedagogic commitment to students' career readiness and lifelong learning skills, the company develops state-of-the-art tools and technologies for engineering, manufacturing, automation, and robotics technologies. These technologies, along with Intelitek's programs, empower instructors and inspire students to pursue careers in cutting-edge businesses. For more information go to: http://www.intelitek.com
Featured Product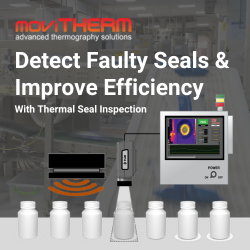 MoviTHERM's Thermal Seal Inspection (TSI) solution provides precise and reliable detection of defects in a variety of packaging types, including pouches, bags, blister packs, bottle caps, and more. By detecting defects in your packages, the TSI solution helps increase efficiency in your production line and ensures top-quality packaging is delivered to your customers every time. With state-of-the-art technology and an experienced team, MoviTHERM is dedicated to delivering accurate inspection solutions and peace of mind to its clients. Contact MoviTHERM today to learn more about their thermal seal inspection solution.