Designed for high-volume environments, EPS-2011 Series e-commerce packaging system handles up to 40 packages per minute
WASHINGTON, Mo., December 2, 2022 - Automating e-commerce packaging operations is an efficient and cost-effective way to keep up with this consumer shopping trend that shows no signs of slowing down. That is why Texwrap, a leader in the design and manufacture of fully automated shrink wrapping and shrink bundling systems, is leading the way in developing proven e-commerce packaging solutions for businesses.

Texwrap is demonstrating the future of e-commerce packaging with its EPS-2011 Series eCommerce packaging system in booth S3803c at ProMat 2023, March 20-23, at McCormick Place in Chicago.
The EPS-2011 Series is based on Texwrap's proven EPS Series E-Commerce Packaging Systems that produce both wrap-to-ship and wrap-to-stock mail packages that save customers money, labor, and time. In particular, the EPS-2011 is perfect for applications demanding high throughput speeds with maximum package flexibility. This machine is a "box-motion" style wrapper in which the device making the end seal moves horizontally with the product as the seal is made using Texwrap's patented hybrid pneumatic cam system for fast movement of the carriage without harsh stops and starts. This allows maximum throughput speeds with the long-term reliability required for e-commerce and minimum maintenance.
The EPS-2011 provides several benefits to end-of-line packaging that can enhance online operations. These include reduced order fulfillment errors, automatic package size detection, 40 packages processed per minute (WMS dependent), saved labor and time, significant savings over pre-made bags and reduced DIM weight freight costs. Performance specifications of the EPS-2011 include:
• Maximum package size: infinite length x 20" wide x 10" height
• Minimum package size: 4" length x 2" wide
• Rate: up to 40 packages per minute
• Film width: 64" flat or 32" centerfolded
• Conveyor speed: up to 100 feet per minute
• Air requirements: 80 PSI
Plan to visit booth S3803c at ProMat 2023 to see how the EPS-2011 eCommerce Packaging Solution can help you increase productivity in your next e-commerce application.
###
About Texwrap
Known as the industry innovator, Texwrap holds patents on some of the most significant breakthrough technologies in the shrink wrapping and bundling business. Texwrap produces automatic shrink-wrapping systems, L-bar sealers, side sealers, tunnels, infeed solutions, and conveyor systems for the food, bakery, industrial, mailing, pharmaceutical, nutraceutical, retail, printing, and publishing industries. Texwrap also manufactures the Tekkra line of shrink bundling systems. As part of the ProMach End of Line business line, Texwrap helps our packaging customers protect and grow the reputation and trust of their consumers. ProMach is performance, and the proof is in every package. Learn more about Texwrap at www.Texwrap.com.
About ProMach
ProMach is a family of best-in-class packaging solution brands serving manufacturers of all sizes and geographies in the food, beverage, pharmaceutical, personal care, and household and industrial goods industries. ProMach brands operate across the entire packaging spectrum: filling and capping, flexibles, pharma, product handling, labeling and coding, and end of line. ProMach also provides Performance Services, including integrated solutions, design/build, engineering services, and productivity software to optimize packaging line design and deliver maximum uptime.
ProMach designs, manufactures, integrates, and supports the most sophisticated and advanced packaging solutions in the global marketplace. Its diverse customer base, from Fortune 500 companies to smaller, privately held businesses worldwide, depends on reliable, flexible, technologically advanced equipment and integrated solutions. ProMach is headquartered near Cincinnati, Ohio, with manufacturing facilities and offices throughout the United States, Canada, Mexico, Brazil, Europe, United Arab Emirates, and China. For more information about ProMach, visit www.ProMachBuilt.com.
Featured Product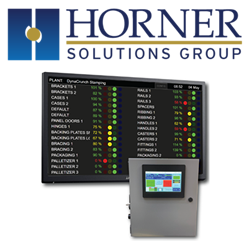 Horner Solutions Group offers a pre-programmed solution that is fast and easy to implement. No development on the user end, just a simple setup on the touchscreen and you can start monitoring and collecting data in minutes. With the ever-growing need for production data in the industry, we wanted to help bridge the gap for many production companies to be able to start collecting accurate and functional OEE (Overall Equipment Effectiveness) data within just a few minutes of setup, as opposed to the weeks/months many companies spend developing their own solution from scratch. For any customers that may have a need outside of the typical product mold, we also offer engineering services for custom hardware and software solutions of various types.