AlisQI, the no-code Quality Management System provider for manufacturing wins the FD Gazellen award and announces leadership team expansion.
Amsterdam, 24-11-2022 - AlisQI, the no-code Quality Management System provider for manufacturing was awarded the FD Gazellen for the second consecutive year. The FD Gazellen Awards are presented to the fastest growing Dutch companies. Since 2019, AlisQI has been reporting annual growth of 50% in annual recurring revenue (ARR) and runs in over 110 factories across the world.

"As a scale-up with no external funding, it's very rewarding to see our growth recognized through an FD Gazellen award." says Gerben de Haan, one of AlisQI's founders. "It's a testament to our vision on quality management, and a sign that in an age of growing regulatory and societal pressure, good quality management helps manufacturers cope with these demands".
The company also announced changes to its leadership team with the addition of two tech veterans Eric Weenink as Chief Financial Officer (CFO) and Nils Nugteren as Global Vice President of Sales in the US. In addition, Otto de Graaf was promoted to chief executive officer (CEO), taking over from Gerben de Haan who will be focusing on product and innovation as Chief Product Officer.
"With Gerben and Jeroen Versteeg we have brilliant founders that created an innovative cloud eQMS with a solid and loyal customer base" says De Graaf. "Complementing them with seasoned tech executives Eric and Nils will help us to continue our growth trajectory and drive our global ambitions. With customers on all continents, we have seen that global expansion is realistic, and having our VP of Sales in our biggest growth market, the US, will help accelerate that expansion.
Weenink (CFO) has an extensive financial background in technologies with roles at Verity, SDL Tridion and ZyLAB amongst others.
Nugteren (Global VP of Sales) is based in Boston, MA but has roots both in The Netherlands and the US. He helped European companies like ZyLAB, Cegid and CGI/Logica to establish a presence in the US in various sales roles.
De Graaf (CEO) held different roles in marketing, strategy and product in technology companies like SDL Tridion and ADAM Software and has helped many startups in their next growth phase.
De Haan (CPO) is one of AlisQI's Co-founders. In this new chapter for AlisQI, he will focus on incorporating the voice of the customer in the AlisQI solution, as well as on product innovation.
About AlisQI
AlisQI is the no-code Quality Management system for manufacturing. We empower manufacturing companies to transform their operations with easy-to-implement, cloud-based software. This data-driven approach to Quality Management allows manufacturers to unlock their factory's full potential, and become more profitable, smart, and fully integrated.
Media contact
Diana Avram-Anghel
diana@alisqi.com
Featured Product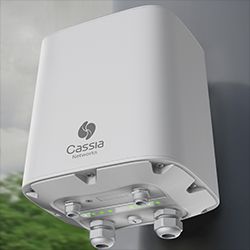 Cassia works with smart IIoT equipment manufacturers to help them overcome their challenges and to provide the competitive edge they need to reach their business goals. We provide companies in various IIoT sectors with a comprehensive suite of enterprise Bluetooth IoT products and solutions they need to enable smart IIoT solutions such as Condition Monitoring, Predictive Maintenance as well as Personnel and Asset Tracking solutions. Cassia's long-range Bluetooth gateways are uniquely designed for today's Industrial IoT enterprises to provide the scalability, flexibility and ease of deployment needed to reduce costs and achieve greater ROI.