ESTRENA™ Wrap-Around Sleever is all servo driven and of high-speed performance for carton sleeving. An unprecedented innovation by a packaging machine manufacturer in China.
ÉLITER Packaging Machinery, a manufacturer of secondary packaging automation machinery and end-of-line automation solutions and located in Wenzhou, China, decides to announce that they are launching their ESTRENA™ WAS-150 Wrap-Around Sleever, which is a new machine targeting the food industry and to enhance packaging automation for products including ready meals, yogurt cups, drinks and beverages with cardboard or paperboard sleeves, either in from single or multipack.

Wrap-Around Sleever, also known as wrap-around cartoner, is a packaging machine that can receives containers such as trays, pots, tubs, bowls, etc., from either upstream machines or by manual loading, places flat blank sleeves on the container, slide and wrap the sleeve around the container, and then complete the closure with hot-melt glue in the inferior part of the packaging. When joined by a customized grouping system, the Wrap-Around Sleever can also handle containers in complex form of multipack.
The ESTRENA™ Wrap-Around Sleever is designed with market-positioning to be counterparts of same kinds machines by manufacturers in Europe and the United States, in terms of quality and performance. The machine achieves speed up to 150 packages per minute.
Features and Benefits:
 All servo driven with SINAMICS V90 servo converter and the SIMOTICS S-1FL6 servo motor
 Ergonomic design and excellent accessibility for maintenance
 Compact footprint
 Unique sleeve picker
 Fast changeover to cover multiple formats
 Robust stainless-steel construction for food-grade application
"Packaging sleeve, compared to traditional six-sided carton boxes, is a eco-friendly form of packaging with which we can contribute to sustainability by consuming less printing and paper materials.", addressed Zhiwei Bao, company owner and third generation of the family business.
"ÉLITER Packaging Machinery is proud to offer such a cutting-edge packaging automation solution to boosts either the packaging efficiency and the effort to environmental-protection of our customers, principally in the food industry. ¨, added Bao.
The introduction of ESTRENA™ Wrap-Around Sleever to the market calls an outset of ÉLITER Packaging Machinery's strategy of transformation and reincarnation.
About ÉLITER Packaging Machinery
ÉLITER Packaging Machinery is a family business for three generation in the sector of packaging machines and packaging automation. Consisting of 18 people only and as a small business though, the company is now taking transformation into a innovation packaging machinery manufacturer by investing and attaching utmost importance to R+D+I. ÉLITER Packaging Machinery currently designs and manufactures cartoning machines, overwrapping machines and wrap-around sleever.
Featured Product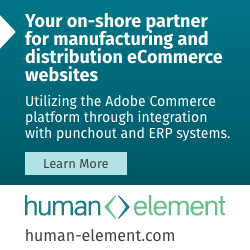 With Human Element, you will build a strategic partnership with experienced on-shore strategists and developers who understand the pain points unique to manufacturers and distributors. Using Agile methodologies and proven eCommerce website development strategies, our team positions clients for success.