Listing: The best questions to find the perfect automation software solution for your shopfloor
Diverse production automation needs the most suitable software. There are many different types of industrial software available on the market. You may find it difficult to immediately judge whether a specific software ticks all the boxes you need for the digital transformation of your shop floor. To support your search for the right software solution for all your automation needs, we put together a comprehensive questionnaire.

If you want to checkout how FASTSUITE fits to your needs read more in CENIT Newsroom. (www.cenit.com)
Featured Product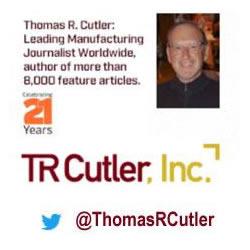 Cutler has authored more than 8000 articles for a wide range of manufacturing periodicals, industrial publications, and business journals including most of the leading monthly trade publications.