Manufacturers are risking unnecessary supply chain disruption, customer dissatisfaction and reputational damage due to a lack of critical network troubleshooting know-how, warns IDEAL Networks.
Many manufacturing operations incorporate automated processes which use Industrial Ethernet, designed to enable computers to connect with devices on the factory floor. Manufacturing and packaging lines require low levels of data transfer, but at a very high speed. An automated robot executing a programme to fill a bottle, for instance, requires great speed and time-precision.

"Automation across the manufacturing industry has increased in recent years with many operations using automated equipment to great benefit," says Tim Widdershoven, Marketing Director for IDEAL Networks, global provider of user-friendly network test equipment. "However, automated systems are only any good when they are working correctly and prove very costly when they aren't."
Although automated production lines have various monitoring systems in place, these tend to focus on detecting problems when they occur, rather than picking up Industrial Ethernet issues that could result in downtime.
"The problem is that in many factories, there is no technician on hand that is an Industrial Ethernet expert, so when something goes wrong, it can be left to front-line production operators or sub-contractors to fix it," Tim says. "This can result in a trial and error approach to troubleshooting with operators plugging in a new device or updating software. This is both difficult and inefficient."
"A better way of working is to conduct regular preventative maintenance," he continues, explaining that it is good practice to conduct periodic system health checks which look at how devices are performing so corrective action can be taken and network failure avoided.
The tests should seek out any critical events which may prevent a device from being operational and require quick troubleshooting, such as duplicate name and IP address sets, communication failure or packet errors exceeding acceptable limits. Even if a device is still operational, there may still be problems that need addressing for preventative maintenance.
"This is where the right Industrial Ethernet tester can help," says Tim. "NaviTEK IE, for instance, is a field tester, specifically designed to be used by front line production operators to support tests for preventative maintenance, as well as fast troubleshooting in the event that there is an issue."
NaviTEK IE from IDEAL Networks is designed for testing and troubleshooting PROFINET networks, the most popular Industrial Ethernet protocol used for automation applications. It can quickly identify if the problem is on the network or cable and if it's a cable issue, it can show where the fault is, saving significant troubleshooting time.
The user-friendly, handheld tester can also be used to simplify Industrial Ethernet installation in a factory. Not only is it more portable than a PC with specialist software, but it is also far easier to generate reports that prove network performance. In the event of a performance problem, this reporting functionality can also help to demonstrate if the network and cable are working correctly, so that if an issue persists, the solution can be sought elsewhere.
"Factories worldwide are being encouraged to adopt more robots to drive productivity and profit," Tim says. "The manufacturers that successfully automate their operations will undoubtedly be those with people on the floor that can correctly understand, test and maintain their Industrial Ethernet networks."
For more information or to purchase NaviTEK IE from the IDEAL Networks' online shop, visit www.idealnetworks.net .
About IDEAL Networks
IDEAL Networks offers easy to use data cable testers for cable installers and network testers to assist IT technicians with troubleshooting. The data cable tester range includes copper and fibre testers for cable verification, Ethernet transmission testing and cable certification that provide proof of performance. The unique network tester range helps to pinpoint and solve networking issues quickly. They decrease downtime by allowing field technicians to discover the root cause of network connectivity issues such as incorrect IP configuration, rogue network services, network bandwidth issues and PoE supply problems.
www.idealnetworks.net
Featured Product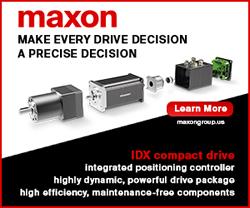 maxon motor launches new high-speed motors that are configurable online. The new ECX brushless motors are quiet and feature very high efficiency. The ECX motors are available with diameters of 8, 16 and 19 mm achieving speeds of up to 120,000 rpm. They run very smoothly and are highly efficient. With maxon motor's online configurator, it is easy to put together a customized DC motor to include gearhead, encoder and controller. The customized motors are ready to ship in 11 days!