The global demand for heat exchangers is expected to approach US$78.16 billion by 2020.
Fast Radius partnered with the University of Illinois Urbana-Champaign on a research study (www.fastradius.com/resources/improving-heat-exchanger-models) demonstrating heat exchangers made using additive manufacturing. Heat exchangers are widely used in manufacturing industrial products, home appliances, and nearly every mode of transportation. The global demand for heat exchangers is expected to approach US$78.16 billion by 2020.

"We demonstrated significant improvements in heat exchanger performance, increasing the energy efficiency of products and tools created using additively manufactured designs," said Dr. William King, the leader of the study. Dr. King is Chief Scientist at Fast Radius and Professor of Mechanical Science and Engineering at the University of Illinois. "Our research will help put these results in the hands of engineers around the world, who can exploit new techniques that allow for increased heat transfer."
The study, "Heat transfer enhancement of internal laminar flows using additively manufactured static mixers," was authored by Dr. King with co-authors Professor Beomjin Kwon from Arizona State University and Dr. Leon Liebenberg and Professor Tony Jacobi from the University of Illinois Urbana-Champaign. The article was published in the International Journal of Heat and Mass Transfer- doi.org/10.1016/j.ijheatmasstransfer.2019.03.133.
Heat exchangers are used in both cooling and heating processes, transferring thermal energy from one location to a second location, usually by controlling fluid flow. The additively manufactured heat exchanger designed by Fast Radius and University of Illinois use mixing structures that cause a cold fluid to efficiently remove heat from a hot plate.
"There is tremendous excitement for heat exchangers and other types of fluid components that take advantage of new geometries enabled by additive manufacturing," said Fast Radius CEO Lou Rassey. "This research highlights our commitment to engineering design with new technologies and techniques that inspire new products for our customers."
In 2018, Fast Radius was named one of the nine best factories in the world by the World Economic Forum (WEF), implementing "technologies of the Fourth Industrial Revolution."
Fast Radius' technology platform and team of engineers help clients unlock value from additive manufacturing across a product's lifecycle. The platform supports clients in identifying potential applications, conducting engineering and economic evaluations, accelerating new product development, and ultimately manufacturing industrial-grade parts at scale with the latest additive technologies.
Featured Product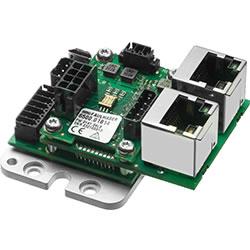 The FAULHABER stepper motor AM3248 raises the bar in terms of performance and dimensions. Offering up to 10,000 rpm, it achieves five times the speed of comparable stepper motors. Combined with a gearhead reduction of 100:1, it supplies a torque of 5 Nm. With a diameter of just 32 mm, it is suited for a wide range of applications in areas such as aerospace, laboratory automation, the semiconductor industry, robotics and 3D printing. Learn more!