ACCESS Manufacturing Systems enters the additive manufacturing market after mastering their second consecutive year as the CAMWorks 2019 Worldwide Top Sales Partner
ACCESS Manufacturing Systems is pleased to formally announce the addition of Markforged 3D Printers to their full product suite of advanced manufacturing solutions.

ACCESS has been achieving strategic expansion plans since early 2018, starting with the launch of a completely rebranded website. During that same time, ACCESS was honored as the HCL Technologies CAMWorks 2018 Worldwide Sales Partner of the Year. Only to achieve the same recognition in June 2019, earning their second consecutive year as the CAMWorks 2019 Worldwide Top Sales Partner.
"We've spent the past thirty years delivering the most advanced CAM solutions on the market. We've clearly been successful with that, and we continue to service thousands of machining companies across the nation," said Dave Dulong, founder and president of ACCESS Manufacturing Systems. "But now, with the most recent advancements taking place in 3D printing, it's so important that we provide both existing and future customers with alternative, cutting-edge and affordable 3D printing manufacturing options."
The mission and customer-service standards of ACCESS are in alignment with Markforged's vision, to increase manufacturing system efficiency through better and faster ways of making functional prototypes, tools and fixtures, and end use parts—at scale.
Markforged provides an end-to-end 3D printing system that rivals traditional manufacturing processes, both in speed and cost, and expands the applications for additive manufacturing.
ACCESS is representing the complete Markforged product line, which includes both metal and composite 3D printers.
"There's a lot of enthusiasm about our entry into the additive manufacturing market. It's a major industry advancement to be able to go from design to fully functional metal parts from a 3D print system. For us, that's certainly an exciting end-to-end manufacturing solution," said Joe Lagennusa, national sales manager at ACCESS Manufacturing Systems. "The existing CAM expertise of our entire team has really allowed for a smooth transition into additive. It's a great fit for us and for our customers."
About ACCESS:
ACCESS Manufacturing Systems, Inc. is the largest CAMWorks® reseller in the world. For more than 30 years, ACCESS has delivered best-in-class manufacturing software and accessories, along with unsurpassed industry expertise, to thousands of companies across the nation. Our extensive industry knowledge has allowed our customers to enhance their machining operations by reducing setup time, doubling machine capacity, and improving overall quality. To gain ACCESS to the most qualified team of CAM experts in the industry, please visit accessmfgsys.com, or connect with us on LinkedIn, Facebook, and YouTube.
Featured Product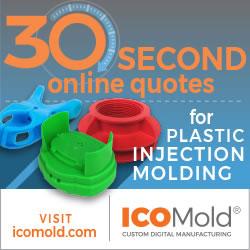 ICOMold provides plastic injection molding, CNC machining of plastic and metal, and urethane casting to customers worldwide in a variety of industries. We offer low-cost, high-quality custom plastic parts manufactured to your design, with a very fast turnaround. Any quantities from single prototypes to large, on-demand production runs. We are ISO 9001:2015 certified, and our production molds carry a lifetime warranty. Get an online quote in less than 30 seconds with our interactive quotation system.