Peek behind the scenes of how we develop new products at ANCA
ANCA Will Soon Launch a New AR300 SCARA
Tom Nathan | ANCA
Things are changing fast in our increasingly digitised world and manufacturing is no exception. The hot topic of the last few years, Industry 4.0, is a collection of no fewer than nine technologies revolutionising the way things are made. Nine revolutions, all at once.
Every sector and every supply chain is being shaken up. The electrification of cars, for example, will see parts per vehicle shrink from over 2,000 to less than 20. For those making these parts, or the tools that make these parts, there are big implications.
According to research by the International Federation of Robotics, in 2015 the number of industrial robots increased 15 per cent, and growth will continue by double-digit percentages through to 2019.
At ANCA, we supply the automotive, electronic, medical, aerospace and many other manufacturing verticals, and it's our business to meet their fast-changing needs. We keep a close watch on market trends, and our salesmen and application engineers are constantly visiting customers' factories. In fact, many of our own product ideas are born out of bespoke solutions to customer problems.
About three years ago we decided that although we were solving these problems, it was time for a review. We looked at our product development process from end to end to find efficiencies and ensure that the entire organisation was considered at each stage of the journey. Innovation, as they say, is a team sport.
A new product roadmap platform (Aha!) we introduced allows idea sharing and intra-company collaboration in a more transparent way. Innovation is not just for engineers, and great concepts can start with or be defined by anybody.
The formal side of new product development begins with our design quality engineer (DQE), who will go as far back as possible with our customer and machine data. They'll establish what's worked well in the past, set parameters, establish do's and don'ts, and act as "the conscience of the project".
Back in 2014 we introduced our Linear FX range of tool grinding machines, and we suspected, based on our customer data, that there was a yawning gap in the market for inexpensive automation. 10 per cent of customers at the time had purchased automated loaders, however, with 50 per cent of customers now using such loaders with machines, the demand for a cost-effective loading solution gained traction.
Many lower cost automation solutions utilize simple pneumatics as a method of actuation. The trouble with pneumatic loaders, however, is their inflexibility. Our AR300 robot allow users to reprogram the solution, use it for tasks other than machine loading, and is IP67 rated to keep coolant out and prevent failure. This new loader can be applied to all sorts of other niches including fast-moving consumer goods settings.
To develop the best robot, we worked closely with our local suppliers on aspects such as electronics, pneumatics and consumables. We spend 10% of our annual turnover on research and development projects and often collaborate with universities to develop our latest technology. We ask universities they can contribute on our problem space, and on occasion, their bright researchers put forward technology they might want applied in one of our machines. Industry-Based Learning programs also important to us and the engineers from those placements have made a major contribution to our new robot offering.
There was a lot of failing fast over the product's development cycle. We'd never built a robot before. From system architecture to mechanical design to electrical design to software, it was all from scratch, spanning three generations of machine and countless iterations over these.
At the end of it, we've learned a lot, and have arrived at a world-class product with awesome and far reaching potential.
This is the next step in ANCA's proud history of investing in developing new technology that will ultimately help our customers get ahead in their markets.
The content & opinions in this article are the author's and do not necessarily represent the views of ManufacturingTomorrow
---
Comments (0)
This post does not have any comments. Be the first to leave a comment below.
---
Post A Comment
You must be logged in before you can post a comment. Login now.
Featured Product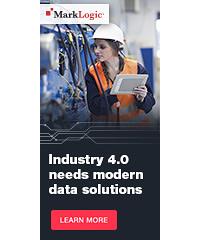 Use Data to Deliver Efficiency, Reduce Risk, and Create Better Products. Disruptive technologies and market changes are transforming the manufacturing industry, requiring a new focus on optimizing use of data and information. It all adds up to a new industrial revolution called Industry 4.0. Organizations who want to realize the potential of this revolution need to "Industrialize their data," making it a core asset to deliver better products and customer service, navigate complex business environments, and transform for the future. MarkLogic customers are delivering on this vision for data with a proven architectural pattern called the Operational Data Hub that simplifies the integration of data along the digital thread to power operational and analytic use cases across the enterprise.