SMAC Moving Coil Actuators achieves over 2 billion cycles.
CARLSBAD, CALIFORNIA - A user of SMAC Moving Coil Actuators has reached over 2 billion cycles, marking a new record for the devices. The units in question were built over 20 years ago and, while they recently needed some minor maintenance, they are expected to last several more decades. An SMAC company spokesman is quoted as saying, "There is no way of knowing how long these SMAC actuators will last. We haven't yet lived that long!"

One of the key reasons for such high cycle life is the patented SMAC "Soft-Land" feature. Soft-Land is a patented unique routine which allows the actuator rod or gripper jaw to land on the surface of a component with a low programmed force. It gives extremely accurate sensing of product location or dimensions. This is particularly useful for handling delicate or high value components but a side effect of the Soft-Land routine is that SMAC actuators are less susceptible to wear over time, allowing for remarkably long life.
The routine consists of a controlled low force approach in velocity mode, while the position error is constantly monitored. Once contact is made the position error builds up until a pre-programmed figure is reached - resulting in the rod maintaining position on the surface of the component.
Many manufacturers have adopted programmable electric actuators, like SMAC Moving Coil Actuators, for its high speed, high precision, and flexible programming. SMAC electric actuators have programmable velocity, position and force, and the ability to give feedback on the work being done, while it is done.
Featured Product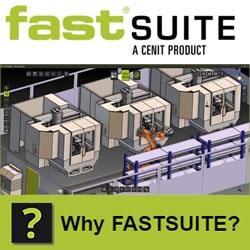 With two product lines, FASTSUITE for V5, which is seamlessly integrated with CATIA/DELMIA V5, and FASTSUITE Edition 2, a standalone platform, the areas of OLP (offline programming), manufacturing simulation and virtual commissioning are the core of our business activities. Our applications and solutions are not only focused on real customer needs, but they are also designed to improve efficiency and quality of our customers' manufacturing processes. No matter if the process is just about offline programming of a single robot at a small job-shop company or about the validation of a complete production line at an Automotive or Aerospace OEM. We strive to ensure a constant quality of our services and to provide the best possible support to our worldwide customers. Therefore we have established three digital manufacturing hubs around the world. All our teams have a proven expertise on manufacturing process integration and profound IT implementation skills.