NextDent™ 5100 - powered by Figure 4™ technology - recognized by publication's readers for its ability to redefine digital dentistry and enhance patient care
3D Systems (NYSE: DDD) today announced that it was awarded the 2018 Healthcare Application of the Year by the publication '3D Printing Industry' for its NextDent™ 5100 digital dentistry solution.
In February of this year, 3D Systems unveiled the NextDent 5100 and 18 new NextDent resins - bringing the entire NextDent portfolio to 30 materials. The additions to the company's industry-leading dental portfolio, which includes solutions for laboratories and clinics of all sizes, enable improvements in patient care while once again revolutionizing the digital dentistry workflow. For example, today the majority of the world's orthodontic aligners are produced using 3D Systems technology.
Winners of the 2018 3D Printing Industry Awards were announced at a festive black-tie banquet in London, Thursday, May 17. The winners, including individuals and enterprises focused on additive manufacturing and 3D printing, were nominated and voted on by the publication's readers. For 2018, award nominations increased 35 percent, and voting also surpassed prior years.
"This award recognizes a momentous shift in the market for digital dentistry, as there is a tremendous growth opportunity for dental 3D printing. According to SmartTech Markets Publishing, by 2027, digital dentistry revenue is expected to reach $9.6 billion," said Rik Jacobs, vice president, general manager, dental, 3D Systems. "In February, 3D Systems introduced a complete solution to the market, combining an extensive materials portfolio with leading 3D printing technology, software and services. We offer the industry's widest range of regulatory-approved, 3D printing materials and technologies for dental labs and clinics."
The NextDent 5100 solution is currently in beta testing with select customers and priced below $10,000 (US)/€10.000 (EU Countries). General availability is planned for Summer 2018.
The newly added NextDent 5100 and FabPro™ 1000 accompany 3D Systems' existing portfolio of dental solutions, which includes: ProJet® MJP 2500 MultiJet solution for dental models using tan material for easy detail visualization; ProX® 800 stereolithography technology for dental models, patterns, and drill guides batch production; the ProX DMP 100 Dental and ProX DMP 200 Dental metal printers for manufacturing high-quality, metal dental prostheses; and Dental Manufacturing and Design Services supported by the company's Customer Innovation Center in Leuven, Belgium.
Featured Product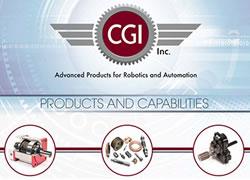 From Prototype to Production CGI Motion enables design excellence across a wide range of industrial applications. We thrive on customer driven innovation in precision gearbox, precision machined components and electro-mechanical assembly solutions ranging from aerospace systems to semiconductor applications. We are your design and manufacturing partner helping to differentiate your product, machine or innovation. Our team of problem solving engineers and product managers can bring your application to market on time and under budget. Whether it's an improvement on a current design or groundbreaking new designs, CGI has the know-how and team to enable design excellence. Connect with us today to explore what CGI Motion can do for you.