ON World's industrial IoT survey provides insight on the adoption trends, barriers and opportunities for wireless sensor networks (WSN), Low Power Wide Area (LPWA) networking and cloud IoT platforms.
Industrial IoT vendors and end users are invited to participate in a survey on industrial wireless sensor networks (WSN), Low Power Wide Area (LPWA) networking and cloud IoT platforms by global IoT research firm ON World.

"A high ROI and diversity of industrial IoT applications has provided a fertile developer ecosystem for creating industrial wireless sensing, tracking and control solutions," says Mareca Hatler, ON Worlds research director. "For the past decade, our survey has provided insights on industrial IoT adoption trends and technology advances such as wireless mesh sensor networks, precise indoor asset locating, mobile asset monitoring as well as multi-protocol chips and modules."
Technologies that communicate up to 1 mile on average make up the majority of industrial sensor network solutions today. There has been a rapid migration to wireless mesh standards such as WirelessHART and ISA100 Wireless over the last few years. But the fastest growth will come from multi-mile Low Power Wide Area (LPWA) network technologies such as LoRa, Sigfox, LTE-M and NB-IoT. In addition, the beaconing and wireless mesh capabilities of Bluetooth Low Energy provide numerous applications for industrial markets.
ON Worlds 2018 survey askes key questions to IoT developers, automation vendors, suppliers, service providers and end users to get the latest trends about IoT adoption including wireless sensor networks (WSN), Low Power Wide Area (LPWA) technologies, cloud platforms and data analytics.
A few examples of the areas covered in the survey include:
Wireless Sensor Networks:
Growth and adoption trends for WSN technologies (e.g., short-range, mesh, LPWA, cellular)
Fastest growing markets and applications
Most successful/outlook for industrial wireless standards
Satisfaction levels by end users, OEMs and developers
User requirements and application needs
Adoption inhibitors and technology gaps
Low Power Wide Area Networks:
Awareness by LPWA technology
Adoption status - planning, researching, deploying, etc.
LPWA applications
LPWA impact by market
LPWA disruption
Future projections
Adoption barriers
IoT Cloud Platforms & Data Analytics:
Adoption levels for IoT cloud software by type and vendor
Most popular IoT cloud frameworks
Currently used data analytics platforms
Pricing models and other user requirements
Adoption barriers
ON Worlds 2018 survey is being conducted in association with the International Society of Automation (ISA) and Automation.com. This non-commissioned research study was created with input from both vendors and end users. The first edition of this survey was offered in 2012 and this is the 4th collaborative survey with ISA & Automation.com.
Companies that are planning or involved with IoT solutions for process automation, factory automation, oil & gas, logistics, agriculture, construction, smart buildings or smart cities are invited to participate in ON Worlds anonymous survey that will take about 10 minutes. Participants will receive a free report on industrial wireless sensing or $1,000 credit on any of ON Worlds current reports as well as the survey results when completed.
Take the survey here: https://www.surveymonkey.com/r/IIoT2018
About ON World:
ON World (http://www.onworld.com) provides global business intelligence on Internet of Things markets. Customers and clients include most of the Fortune 500 as well as major investors, consultants and IoT developers worldwide.
Featured Product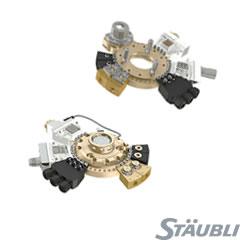 TX2 robots: redefining performance by offering collaborative safety and high performance in a single machine. These pioneering robots can be used in all areas, including sensitive and restrictive environments, thanks to their unique features. Safety functions are easy and inexpensive to implement. They allow a higher level of interactions between robots and human operators, while still guaranteeing protection of your people, production and investment.