If and when a severe weather event hits your shop, what steps can you take to minimize the risk to your CNC machines–arguably your biggest investments?
Preparing Your Machine Shop for Unexpected Weather
Charlie Cagle | OKUMA
2022 was a banner year for storms across the United States, with over 18 storms wreaking over $1 billion in damage—the third highest for any year since records began. Since 1980, the US has sustained 341 such weather and climate disasters at a total cost of more than $2.475 trillion.1
Admittedly, your chance of being caught in an extreme weather event is fairly low. But what about the risk of lightning strikes, floods, heat waves, or other severe weather conditions? Those are definitely possible, or even probable, depending on where you live. If and when a severe weather event hits your shop, what steps can you take to minimize the risk to your CNC machines–arguably your biggest investments?
It's a dubious distinction, but the US leads the world in severe weather events:
"The United States has a unique clash of air masses that produces a lot of the severe weather," states Susan Cutter, director of the Hazards Vulnerability and Resilience Institute at the University of South Carolina. "The U.S. is by far the king of tornadoes and other severe storms." 2
The World Leader in Severe Weather
For a machine shop, severe weather can spell trouble. A lightning strike that makes its way to your CNC machines can easily take out the power supplies, motors, and servo drives or completely wipe out your operating programs and parameters. Power disruptions can cause air conditioning failures that lead to elevated heat and humidity levels that can quickly begin to erode untreated metal components, while extreme heat and cold can compromise the long-term performance of your machine tools.
The following are some tips and best practices for preparing and protecting your CNC machine for severe weather events.
Lightning Strikes
Depending on where you live and work, severe thunderstorms and even tornadoes can be a frequent fact of life. One of the first things you worry about when it comes to your machines is the risk of a lightning strike, especially while the machine is running. Often, this can damage the main power supply and/or the servo drive units. If lightning is in the area and you can afford to take the machine offline, we recommend powering the machine down fully and disconnecting the main breaker.
In the event your machine is hit while running, the Emergency Stop (E-Stop) should kick in and shut it down. To safely power it back up, turn the machine on, then release the E-Stop. Depending on what processes and automation you were running when the machine shuts down, different alarms will display when you start it up. Make sure to note which alarms you get, then follow the procedures for clearing the alarms. If you are unsure how to clear these alarms, your local distributor can help.
If the servo drive system and/or the main power supply to the servo drive system are both disabled, they may need to be replaced. We suggest stocking these spares on site, as well-trained maintenance staff can replace the parts fairly quickly. If they don't feel comfortable handling that, you can still call the distributor and usually have the machine up and running within a day, assuming parts are on hand and there's no other damage to the machine.
Power Outages
Lightning strikes that take a machine offline can be rare. More common, however, is an unplanned power outage which can occur for any number of reasons. This type of outage is typically much less damaging; if the power dies in the middle of a cut, it's not going to adversely affect the machine when you start it back up. Most shops have specific recovery procedures to help you get back up and running quickly and safely. This includes the procedures for restarting the machine if power is lost while a machine tool automation system is running. Every employee should be familiar with these procedures and where to find them.
As with a lightning strike, a power outage should result in the E-Stop shutting the machine down. Once the power is back on, restart the machine, release the E-Stop, and see what alarms need to be cleared. The following Okuma videos can be helpful for restarting your Okuma machine while the automatic tool changer or automatic pallet changer is running.
Extreme Heat and Cold
Depending on your location, temperatures could be sweltering in the summer or brutally cold in the winter; either extreme could affect your machine's performance.
For extreme heat, many customers add their own external filters or cooling fans and regularly maintain them to ensure they're clean and operational. Another area to check is the fins (heat sinks) located on the back of the drive units. These are used to dissipate the heat from the drive units and need to be clean to work properly.
Some customers stock spare cooling fans for the servo drives. This is recommended if uptime is paramount to your business. You should also schedule routine preventive maintenance checks and ensure the air filters in the electrical cabinet are kept clean. As dirt and dust particles build up in the filters and heat sinks, the cooling and power systems have to work harder to dissipate the heat in the electrical cabinet and drives. This can affect everything from parts wear to power consumption. Finally, be sure to maintain proper fluid levels for the chiller coolant that prevents your spindle from overheating.
On the other side of the temperature spectrum is severe cold. Starting up a CNC machine in the dead of winter is similar to starting your car in the same conditions. It's a good idea to allow it to warm up. Going from extreme cold to extreme heat rapidly can put stress on the metal, again, especially the spindle. Allowing the machine to warm up also ensures the frame and hydraulic fluids come up to temperature and stabilize before any operational stress is added. Maintaining the frame's dimensional stability is critical for any type of work, particularly high-tolerance machining. For more information, read Okuma's blog post on The Benefits of a Proper Spindle Warm-Up Routine.
Lights Out Protection
As machine tool automation improves and grows, more and more shops are taking advantage of automation that enables them to turn out product 24/7. But what happens if you're running lights out and nobody is there when severe weather hits?
There are a number of remote solutions, including Okuma's Connect Plan, that enable you to monitor the situation during a severe weather event. If you're going to run lights out with automation, it's a good idea to look into one of these remote monitoring tools. For example, the GO.Weather Alert created by Okuma distributor Gosiger monitors the Dark Skies Weather API for current weather alerts issued by the National Weather Service. It generates a warning message on the machine control panel if an alert is detected. Both remote monitoring and customized applications are great tools for patrolling unexpected weather conditions or failures that need immediate attention.
Best Practices and Precautionary Measures
In addition to emergency-type procedures, there are several best practices that should be followed that can help protect your CNC machines should something unexpected happen. A couple have already been mentioned, such as checking and cleaning dust filters or topping off coolant fluids. Here are a few more to add to the list.
Always ensure you have an external CNC control backup so you always have the most recent copy of your machine's parameters in case they get wiped out during an extreme weather event. You should back up your OSP or control settings periodically but particularly anytime you make changes to a machine. Typically, you'll need to take the machine offline, shut it down, and do a quick backup. It only takes about 15 minutes or so – definitely worth the investment should something go wrong.
Protect the unpainted metal surfaces of the machine with a light coat of an anti-rust agent like WD-40. If weather knocks out the power and leaves you without air conditioning for several days, those surfaces can begin to oxidize, especially in the presence of high humidity. Also, don't forget that when a grinder, lathe, or machining center goes down, there's still coolant on the spindle and surrounding surfaces. It's a good idea to wipe it all down, then go over the unpainted surfaces with the anti-rust agent.
Lastly, periodically inspect and test your backup generators and review the insurance coverage for your shop and machines.
Severe Weather May Be Unexpected, but You Don't Have to Be Unprepared
Your CNC machines are among your biggest investments, too valuable not to protect. If you haven't already developed an extreme weather protocol that addresses machine preparedness, we strongly recommend doing so.
At Okuma, we're here to help – and rest assured, there's almost nothing our team or distributors haven't seen and helped our customers overcome. Between us, we can help guide you in creating a severe weather preparedness plan that covers all your bases. Let us know how we can help.
Reference
2022 U.S. billion-dollar weather and climate disasters in historical context; Climate.gov; January 10, 2023
Why the U.S. is leading the world in extreme weather catastrophes; PBS.org; April 2, 2023
The content & opinions in this article are the author's and do not necessarily represent the views of ManufacturingTomorrow
---
Comments (0)
This post does not have any comments. Be the first to leave a comment below.
---
Post A Comment
You must be logged in before you can post a comment. Login now.
Featured Product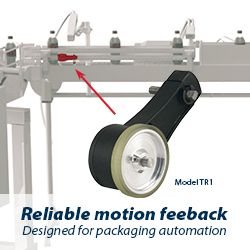 The Model TR1 Tru-Trac® linear measurement solution is a versatile option for tracking velocity, position, or distance over a wide variety of surfaces. An integrated encoder, measuring wheel, and spring-loaded torsion arm in one, compact unit, the Model TR1 is easy to install. The spring-loaded torsion arm offers adjustable torsion load, allowing the Model TR1 to be mounted in almost any orientation - even upside-down. The threaded shaft on the pivot axis is field reversible, providing mounting access from either side. With operating speeds up to 3000 feet per minute, a wide variety of configuration options - including multiple wheel material options - and a housing made from a durable, conductive composite material that minimizes static buildup, the Model TR1 Tru-Trac® is the ideal solution for countless applications.