With many teams, processes, and tools built around the traditional ways of selling, it has become increasingly difficult for businesses to meet experience demands. Often, manufacturers find themselves interacting with multiple clients at once.
Manufacturers Have Embraced Digital. Recession or Not, There's No Going Back.
Scott Webb, CEO, | Avionos
The decision-making process around manufacturing has never been simple. Depending on the business, even the smallest of investments are subject to a lengthy process of RFPs, shortlists, price comparisons, product research, company-specific requirements, committee meetings, and a host of other tasks — all involving myriad stakeholders from different departments.
Mature manufacturers understood these challenges and designed comprehensive procurement procedures to address these inherent complexities and create efficiencies in the purchasing process. But all that was turned upside down in 2020 when the process became more tactically challenging. Suddenly most of the workforce began working remotely, which meant collaborating among all stakeholders' calendars became an arduous task. It is now more difficult to connect and communicate with team members to get everyone on the same page, adding even more time to the purchase process. What once took days now takes weeks, and what took weeks now takes months.
Manufacturers have experienced many of these same difficulties, especially concerning how they connect with clients during the buying experience and how they communicate internally. If you're not on the same page as a team, you'll never be on the same page with your clients. This in and of itself can be problematic, as the last thing you want is to push a given client detailed purchase decision data while they're still in an early phase of the decision-making process. The need hasn't yet been specified at that point, so the client doesn't know whether your product or service would add any real value.
Complicating matters further, at least for manufacturers, is the buying experience itself. Much like the decision-making process, it has changed. Manufacturers are dealing with new types of buyers who value quality, personalization, and an excellent buying experience above all else. With many teams, processes, and tools built around the traditional ways of selling, it has become increasingly difficult for businesses to meet experience demands. Often, manufacturers find themselves interacting with multiple clients at once — not the most personalized of experiences.
Are You Digitally Available?
What hasn't changed is that buyers continue to evaluate manufacturers based on their business-friendliness, particularly around the digital products and tools made available to the client base. Businesses will turn to other manufacturers based on a better buying experience, and many will pay a higher price for a product or service for a superior digital buying experience. It's all about meeting clients where they are by embracing today's manufacturing technology trends.
"Easy to do business with" has always been a crucial characteristic of manufacturers. It's just that the definition of "easy to do business with," much like everything else in the manufacturing space, has changed. Manufacturers must make significant adjustments to keep pace with expectations through digital innovation in business. It's all about giving clients what they expect in the digital buying experience. Here are just a few strategies that manufacturers can use going forward to improve the buyer experience as a whole:
1. Streamline the procurement process.
Efficiency has always been important from a purchase perspective. Important gains, however, can be achieved with the tools now available. As a seller, you can engage with more clients by relying more heavily on the benefits of automation and self-service.
The best place to start is with simple, discreet, repeatable, definable actions. This could include reordering, ordering on a schedule, or automatically updating tracking order information for a more effective buying experience. Historically, transactions saw businesses placing an order with a sales representative who facilitated the entire order. Now, with self-service, visibility is the most important aspect from the buyer's perspective, especially if there is a multistep approval process. Fortunately, this can be streamlined by automating the mechanical steps, time-based events, and discreet actions within the process. These are good places to start because they have lower complexity to automate and provide high value for the customer.
Historically, the back-office tools used to automate the buying experience were all back office-focused. However, with the advent of front-end collaboration systems such as Slack, Microsoft Teams, and customer portals, low-level details now need to be summarized into a user-friendly format. The connection between internal and external collaboration systems is where processes are most notably shifting and where continued automation will be necessary to create an even more effective buying experience.
2. Enhance the digital buying experience.
The digital buying experience is more important than ever for client satisfaction and, in turn, your bottom line. No matter the tools used, forming these relationships requires coordinating multiple individuals and divisions from both organizations.
Being able to enhance the digital buying experience ultimately comes down to understanding where your buyers are in their journey. You can get a better understanding by asking questions and following up on their individual experiences. For example, what does one business's buying process look like? Where is it in the process? How can you communicate well at that point?
The most important aspect is to shift your focus toward presenting buyers with relevant data, no matter where they are in their buying journey. Additionally, remember that it's not a 1:1 — there are often numerous people involved in business processes. As such, everyone on the account needs to have clarity on where the customer is in the buyer's journey in order to be effective and consistent.
It's also essential to include human elements that make digital buying experiences distinctive and tailored to each buyer. You can start by determining who you are speaking to: the economic buyer (responsible for approving sales) or the influencer (influences decision makers).
Next, verify that you are meeting these people at the right times and taking into consideration their unique circumstances. People are working in different locations and at different times of day, and some of them are now sharing workspaces with roommates or family members or pets. Are you maximizing the windows of time when they're looking to be engaged with directly?
The days of walking the halls in the office and meeting everyone at lunch are over. Flexibility and adaptability are the new keys to success. These days, timelines and process changes have major effects on communication, meaning leaning into these unique experiences can differentiate your buying experience from the rest.
3. Enable multiple digital steps.
You can begin retaining and acquiring clients through digital channels by looking at all the channels involved: outbound communication (asynchronous communication included), direct communication (meetings), and the self-service portal. All of these are relevant. The degree to which organizations have blended each of these channels is changing.
However, what's changed most is the nature of collaboration. Organizations do better when they enable new forms of collaboration and flexibility in working with clients. Enforcing your traditional processes into the modern buying experience will no longer be as successful, as buyers have made clear that they expect you to meet them where they are. Bringing different channels together to create a new method of collaboration is key.
You can't automate a decision — that's still a human function. However, manufacturers can automate and monitor the information and action steps leading up to and following the decision. Monitoring actions within your portal from the client can help you understand what information they're still looking for and can help to contextualize what factors will be important in their ultimate decision to buy.
It is also important to be adaptable in your internal processes. Look at the rigor you need, figure out whether you're asking the right questions to see where your customers are in their buying process, and aim to fill in the gaps in information they might have. Aligning your approach with what will be best for your customers will ultimately bring about the most success for both their business and yours.
4. Question your adaptability.
Manufacturing technology trends are in a constant state of flux, and they're only accelerating. If it took 10 years for something to become standard in the past, it will likely only take three years to become standard now. Business leaders can no longer rely on the assumption that their clients don't want some new capability. As such, you must be prepared to enhance the adaptability of your team and provide clients with what they want today and in the future.
In the past, you might have had pricing in a very different group than your product group. Often, especially in complex organizations, it's the combination of products and services that can be customized, and those customizations might affect pricing. The separation of these departments caused delays and a lack of efficiency. As such, internal collaboration is the key to moving forward.
The manufacturing space is constantly changing. However, the change rate has increased exponentially as of late, making it much more difficult to provide clients with the buying experience they expect. Fortunately, you can uphold expectations by investing in the right technology, providing employees with the necessary tools, and meeting clients where they are right now.

About Scott Webb
Scott Webb is a partner and the CEO of Avionos, where he leads the executive team and overall strategy of the firm.
The content & opinions in this article are the author's and do not necessarily represent the views of ManufacturingTomorrow
---
Comments (0)
This post does not have any comments. Be the first to leave a comment below.
---
Post A Comment
You must be logged in before you can post a comment. Login now.
Featured Product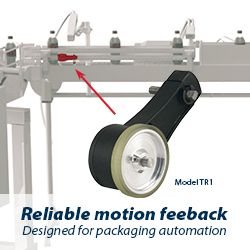 The Model TR1 Tru-Trac® linear measurement solution is a versatile option for tracking velocity, position, or distance over a wide variety of surfaces. An integrated encoder, measuring wheel, and spring-loaded torsion arm in one, compact unit, the Model TR1 is easy to install. The spring-loaded torsion arm offers adjustable torsion load, allowing the Model TR1 to be mounted in almost any orientation - even upside-down. The threaded shaft on the pivot axis is field reversible, providing mounting access from either side. With operating speeds up to 3000 feet per minute, a wide variety of configuration options - including multiple wheel material options - and a housing made from a durable, conductive composite material that minimizes static buildup, the Model TR1 Tru-Trac® is the ideal solution for countless applications.