Roadmapping operations continue to evolve, focusing more broadly on digitized procedures with an emphasis on cross-departmental communication. Businesses that are quick to adapt these digital transformations are likely to see more profitability and increased productivity.
Communication and Digital Transformation in the Manufacturing Space
Maziar Adl, CTO | Gocious
As 2023 approaches, manufacturers are gearing up for yet another year of rapidly shifting digital trends and practices. Roadmapping operations continue to evolve, focusing more broadly on digitized procedures with an emphasis on cross-departmental communication. Businesses that are quick to adapt these digital transformations are likely to see more profitability and increased internal productivity.
These digital transformation efforts transcend corporate divisions and departments, uniting a business in their common goals and product outcomes. Increased communication between C-suite executives, product managers, and all sectors in between promotes a forward-thinking, digitally-charged business, whose bottom line and distribution rates benefit in tandem.
Embracing Digitization
Manufacturers should embrace digital transformation now more than ever. In an age of increasing technological evolution, businesses take more risk by avoiding change than by embracing it. All too quickly can operations that were once revolutionary become antiquated and backlog processes that can be made seamless through digitization. What's more - evading a corporate necessity like technology will cost a business more in the long run as their manual practices become obsolete and the eventual tech shift requires greater fine-tuning.
Digital transformation proves tremendously advantageous against competitors, with a technologically-focused business capable of producing greater product outcomes. In addition, with increased efficiency, companies consume and utilize fewer resources, saving time and money and allowing for a more streamlined business operation. The advantage of innovation and speed are on the side of those who embrace technology.
Boosting Company-Wide Communication
In the age of the remote and hybrid workforce, gathering employees on a company-wide level grows increasingly difficult. A one-day work schedule cannot support all cross-departmental collaboration without the proper means of communication. Assembling employees in a meaningful and productive way is no longer a guarantee without a sound communication structure.
For product managers, production schedules and inflated costs require various levels of communication - beginning with investors and passing through a company's numerous branches before reaching the manufacturer. Maintaining this communication is vital, ensuring that the right pieces are used for the right products on the right schedule.
Product roadmap tools can help alleviate communication woes as word passes around one business division to the next. These digital software systems can aid in the organization of shared documents and company reports. Ensuring access to such integrations for every employee is vital for consistent and profitable product outcomes. A systemized communication concept will ensure that manufactured goods can reach consumers with fewer hiccups.
Both shared data and files reduce the number of company meetings. It does so by promoting ongoing and consistent communication between cross-functional teams throughout the entirety of a product's development. When all team members can visualize the strategic roadmap within the product portfolio, there will be an observable decrease in miscommunication - regardless of department. The result? Employees and executives will see increased focus and the effective communication of necessary information to keep a product on schedule.
With seamless internal communication, cross-functional teams can strategize and achieve product distribution in a more efficient and refined process, which, in turn, improves communication between product teams and stakeholders. Ultimately, this results in a better-organized and more effective product roadmaps. Companies will find that strategically organized and consistent product roadmaps will have fewer errors and greater outcomes.
Product Management in Practice
Each day product managers develop and implement new techniques to improve communication between product teams and the C-suite executives within their business. Shifting design and product development from physical iterations to digital dashboard simulations, for example, improves product visibility as it transforms from creative concept to tangible good. These dashboards promote remote and hybrid-friendly procedural approaches to product development, with frequent updates in real-time and accessible from anywhere.
In addition, digitization increases cross-team collaboration, with digital dashboards keeping track of product iterations and allowing for full-team input throughout its materialization. When needed, pivoting to a revised design scheme is seamless, fixing problems effortlessly and ensuring that a product faces no delays in its distribution. On the managerial front, executives can oversee these developments as they occur, reducing miscommunications or product errors before they arise.
Increased emphasis on digital transformation and communication within a business shrinks the margin for error by streamlining internal operations and improving productivity. Employees experience cross-team collaboration and visibility within their company, while the business sees enhanced product and distribution outcomes. Within the next year and those ahead, more and more companies will prioritize digitization, increasing their competitive edge and establishing themselves as leaders within their respective industries.
The content & opinions in this article are the author's and do not necessarily represent the views of ManufacturingTomorrow
---
Comments (0)
This post does not have any comments. Be the first to leave a comment below.
---
Post A Comment
You must be logged in before you can post a comment. Login now.
Featured Product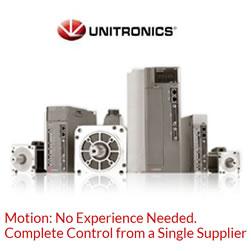 Unitronics' line of AC Servo Drives & Motors changes the traditional approach to motion control. They are simple to set up and painless to program. Unitronics Servos simplify implementation of motion applications while minimizing complexity and reducing development time. Some of the easy-to-use features in this new line include implementing motion control easily with ready-made motion code, embedded diagnostic tools, and automatic communication setup.