Software

Marketing Partner
---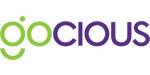 Gocious
Gocious is a product decision analytics platform helping manufacturers define better products faster to meet customer and market needs.
---
Mailing Address:
555 Anton Blvd, Ste 150
Costa Mesa, CA 92626
United States of America
Tel: (833) 246-2426
Fax:
Email: hello@gocious.com
Website: https://gocious.com/
Company Category: Design & Development
Geographic Region: USA - South West
Company Sector: Software
Keywords: iiot, data, manufacturing, analytics, design
Partner Status: Marketing Partner
---
Products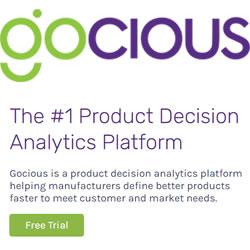 What are product decision analytics? Configurable products, including assemble-to-order, bring customization and choice to customers. They are also complex to plan. Each configurable product can have many possible variants, some of which are not buildable or don't meet the needs of the customer. Gocious enables you to analyze and define your product line features and configurations early, before detail design and production, to reduce time-to-market, waste, and rework.
---
Articles
Agile manufacturing is about creating flexibility to meet the market's expectations. By testing products in the market and making changes quickly, the product and its varying features, packages and options become more reflective of the voice of the customer, sooner.
Products are becoming more and more complicated—and manufacturers are having a harder time keeping up. 92% of manufacturers have reported that their products have become more complex over the last half-decade.
---
White Papers
PRODUCT LAUNCH CYCLE TRENDS IN THE AGE OF AGILE MANUFACTURING
Gocious recently held a webinar to discuss the results and insights of a recent industry market research study that we conducted. The webinar, available to watch on-demand, presented some of the key insights that we uncovered. We ultimately discussed the ways manufacturers can optimize their product launch cycle times.
CUSTOMERS WANT CUSTOMIZATIONS...BUT DO THEY WANT THE OPTIONS?
Gocious and JATO Dynamics North America recently held a webinar for manufacturing product planners, designers, and engineers to discuss customer behavior trends in manufactured products. The webinar, available to watch on-demand, hosted experts from the two companies who evaluated the situation manufacturers face in designing product lines with complex customizations.
---
Press Releases
This Company does not currently have any Press Releases
---