The emergence and mature applications of metal 3D printing technology, as well as intelligent software such as CFD and CAE, are driving and leading new changes in valve design and manufacturing.
Metal 3D Printing Promotes Revolution in Valve Design and Manufacturing
Article from | EPLUS 3D TECH CO., LTD.
Valve is a device which is used to control the direction, pressure and the flow of fluids (liquid, gas, powder). It is an important controlling component of the fluid power system, and is widely used in mechanical products in areas such as petrochemical, mining, power, health, electronics, robot industry and so on.
The emergence and mature applications of metal 3D printing technology, as well as intelligent software such as CFD and CAE, are driving and leading new changes in valve design and manufacturing.
New Generation of lightweight Hydraulic Manifold
The hydraulic valve manifold is a complicated integration, where the internal passages cross each other and the inlet arrangements is complicated.
For the traditional hydraulic valve manifold, in order to manufacture internal-crossed manifolds, it is necessary to drill the hole and then to block the unnecessary drilled hole with screw plugs.
But there exists undoubtedly the possibility of leakage with this kind of manufacturing method. Besides, internal pathways made by drilling are straight and have 90-degree turn. According to CFD (Computer Fluid Dynamics) analysis results, some areas will have the problem of less flow and some will have the turbulence.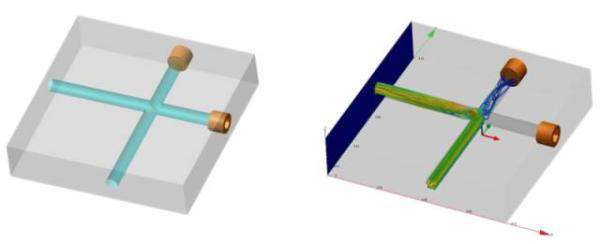 (90-degree turn Fluid Simulation)
Dr. Zhu Yi from Zhejiang University's Metal Additive Manufacturing Laboratory (Associate Professor, State Key Laboratory of Fluid Power and Electromechanical Systems, School of Mechanical Engineering, Zhejiang University) researches mainly how Metal 3D printing (powder bed technology) is applied on the innovative design of hydraulic components, and starts cooperation with Eplus3D in this direction. Based on the additive manufacturing process, the laboratory team he leads redesigns the runner structure and the interface layout of traditional hydraulic manifolds, and do tests, make the optimization continuously.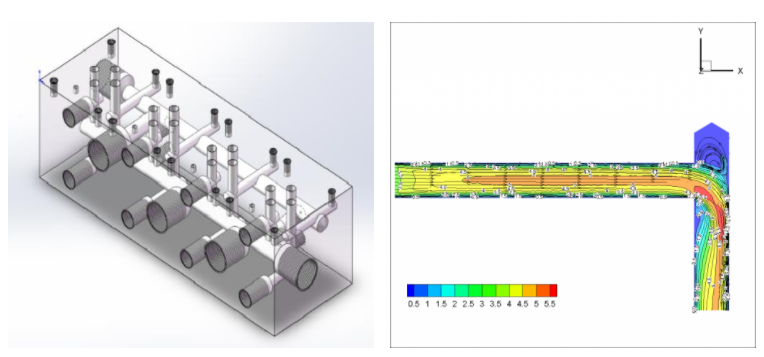 (Hydraulic Manifolds manufactured in traditional method / Hydrodynamic analysis of right-angle flow channels)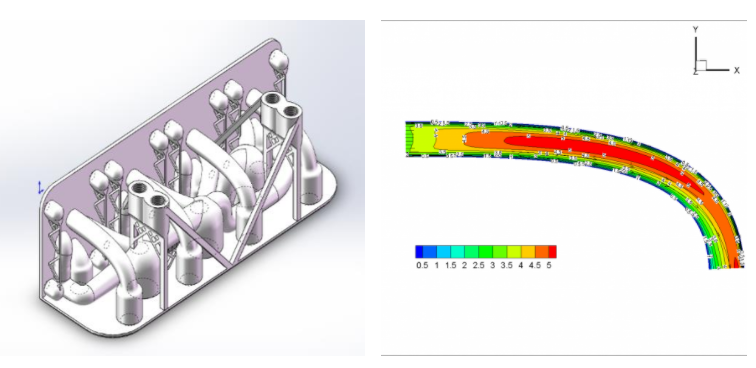 (Hydraulic Manifolds of which flow channels are optimized / Hydrodynamic analysis of curved flow channel)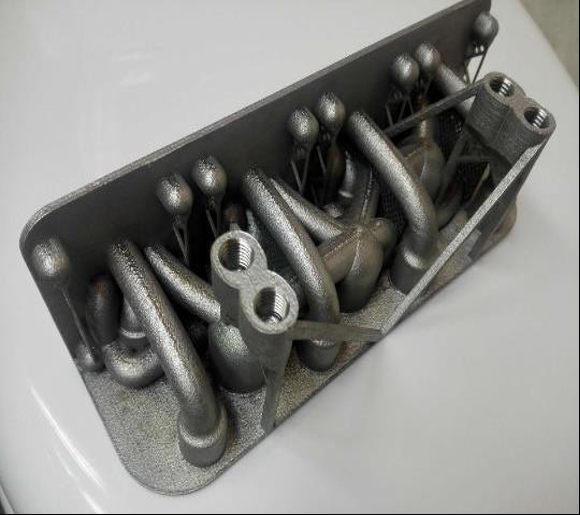 (3D printed metal hydraulic manifolds)
The weight of the hydraulic manifolds is reduced from 1.5 kg to 0.98 kg, the weight loss is up to 35%. The volume is reduced from 535 cm3 to 116 cm3, the volume reduction is up to 78%.
The flow characteristics are improved by changing the right-angle intersection flow path to smooth arc transition. Therefore the local pressure loss is reduced when the oil passes through the flow path.
In the meantime, because metal additive manufacturing can form the complex integrated structure of the hydraulic manifold, no additional process drilling is needed, which reduces the risk of leakage and improves the performance and stability of the valve.
The content & opinions in this article are the author's and do not necessarily represent the views of ManufacturingTomorrow
---
Comments (0)
This post does not have any comments. Be the first to leave a comment below.
---
Post A Comment
You must be logged in before you can post a comment. Login now.
Featured Product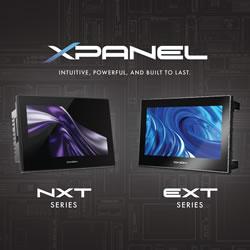 Introducing the Xpanel eXT and nXT series, advanced industrial HMI solutions that set a new standard for performance and usability. Utilizing our brand new Canvas HMI software for project creation, the Xpanel eXT and nXT series deliver a seamless and efficient user experience. They combine industrial-grade touch technology, powerful embedded OS hardware with a quad-core CPU, and an easy-to-use runtime platform. The Xpanel eXT and nXT series are specifically designed to optimize and streamline industrial operations, enhancing your HMI experience.