Industry 4.0 and IIoT were supposed to improve forecasting, reduce supply chain snarls, and allow manufacturers to better plan production. But the overwhelming challenges of the pandemic and its aftermath show how far the industry still needs to go.
The Case for B2B Digitization at the Customer Level… Especially for Manufacturers
Thomas R Cutler | TR Cutler Inc
The single greatest indicator of how a manufacturer will survive the current inflationary cycle is a deep commitment to the customers' digital experience. The shift to industrial B2B eCommerce must extend beyond internal digitization with suppliers to realize the quantifiable benefits starting with the ability of reacting to supply chain challenges. That internal mechanism is helpful, yet without customers, the perfectly smooth supply chain data is limited.
Digitally transforming manufacturing businesses to achieve cost efficiencies and scalable growth are foundational. Industry 4.0 and the Industrial Internet of Things were supposed to improve forecasting, reduce supply chain snarls, and allow manufacturers to better plan production. But the overwhelming challenges of the pandemic and its aftermath show how far the industry still needs to go.
The current state of the digital manufacturing market involves a transformational paradigm using best practices for improving the digital ecosystem, core and edge, and according to Yoav Kutner, co-founder of OroCommerce, "Customers must take advantage of the lessons learned from prior implementations. It is far more important to capture the best practice strategies based on real world installations and on-going modifications to address seasonality, growth expansion, and global diversification."
Whether a new entrant or an established player, flexibility in the B2B eCommerce space must have the ability to facilitate transactions between customers. This starts with creating a future-proof digital presence, including digitizing online catalogs, enabling online ordering, and offering flexible payment and shipping options.
According to Kutner, "While those features may not sound unusual, the migration to becoming a truly customer-centric company requires creating an innovative customer experience with flexible, class-leading tools, and an iterative approach. Too often digitization is met with resistance because the B2B eCommerce solution fails to connect with existing business systems. Stop the technology search if one is not able to decouple front and back ends or embrace modularity."
Creating an ecosystem where B2B businesses thrive requires the capacity to connect and empower people in manufacturing, distribution, and wholesale with the best tools to digitize business. This model requires building long-term trustful relationships with customers, integrators, developers, and technology partners established through transparency, integrity, and listening.
Customers – even business customers – have needs, wants, and desires, including the affinity to personalization. B2B buyers have far more requirements. They employ multiple stakeholders, deal with longer sales cycles, and in general require more complicated personalization – and that constant is dependable.
Nearly three-fourths of B2B customers only engage with personalized messaging and nearly the same number agree to pay more for a personalized experience. This includes personalized products, prices, promotions, checkout experiences, and marketing messaging.

Whether using mobile apps, mobile websites, or visiting in person, the brand experience must be identical. B2B customers are even more demanding, expecting omnichannel experiences throughout long buying journeys.
Mobile growth
Mobile web traffic is doubling every five years and B2B is no exception. As mobile-dependent millennials move into managerial positions, mobile usage of B2B buyers is projected to increase dramatically throughout 2023. B2B sellers are looking to gather high value leads and engage with opportunities.
While mobile traffic accounts for over 65% of all eCommerce traffic, it generates a little more than half of sales revenue. The massive mobile-user base does not buy as often indicating room for improvement and growth in high-value B2B eCommerce markets.
Data analytics most profound in B2B eCommerce
The reliance on data and analytics drives the overall future shopping experience, loyalty programs and payments. As customer demands change, the reliance on demographics, location, and customers' situational data inform the best marketing decisions and quantifiable utilization.
Kutner asserted, "Technologies associated with cloud computing and storage, network optimization, and workflow automation are now a mandatory priority. This adoption of innovative technologies is quickly driving digital transformation, requiring different processes and skills from industry managers and leaders."
B2B eCommerce best suited for manufacturing industries
Manufacturers must deal with various stakeholders and suppliers simultaneously. This can be horribly time-consuming and require volumes of manual input. Because B2B eCommerce can be connected to an industrial ERP, the ability to monitor inventory, prepare accurate forecasting, and create client portals is game-changing. The net result reduces the cost of every sale and optimizes the value of every transaction.
About Thomas R. Cutler
Thomas R. Cutler authors more than 1000 feature articles annually regarding the manufacturing and industrial sectors, with emphasis on robotics, lean manufacturing, technology breakthroughs, and media coverage of the sector.
Cutler is the President and CEO of Fort Lauderdale, Florida-based, TR Cutler, Inc., celebrating its nearly quarter century in business. Cutler is the founder of the 9000+ Manufacturing Media Consortium which includes more than 9000 journalists, editors, and economists writing about trends in manufacturing, industry, material handling, and process improvement. Over 5200 industry leaders follow Cutler on Twitter daily at @ThomasRCutler. Contact Cutler at trcutler@trcutlerinc.com
The content & opinions in this article are the author's and do not necessarily represent the views of ManufacturingTomorrow
---
Comments (0)
This post does not have any comments. Be the first to leave a comment below.
---
Post A Comment
You must be logged in before you can post a comment. Login now.
Featured Product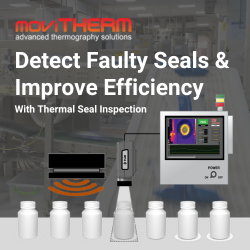 MoviTHERM's Thermal Seal Inspection (TSI) solution provides precise and reliable detection of defects in a variety of packaging types, including pouches, bags, blister packs, bottle caps, and more. By detecting defects in your packages, the TSI solution helps increase efficiency in your production line and ensures top-quality packaging is delivered to your customers every time. With state-of-the-art technology and an experienced team, MoviTHERM is dedicated to delivering accurate inspection solutions and peace of mind to its clients. Contact MoviTHERM today to learn more about their thermal seal inspection solution.