There is currently no end in sight for increasing energy costs. Nevertheless, it's an opportunity for manufacturers to reevaluate their current supply chains and internal processes, and embrace more energy efficient production through Industry 4.0.
Coping With Rising Energy Prices - Can Manufacturers Remain Profitable Against Energy Uncertainty?
Claudia Jarrett, US Country Manager at Automation Parts Supplier | EU Automation
According to the Energy Information Administration (EIA) , US gasoline and diesel prices are expected to be at their the highest this summer since 2014. These rising costs are adding additional pressure to manufacturers, and risk halting production as businesses struggle to stay afloat. Here, Claudia Jarrett, US country manager at automation parts supplier EU Automation, reveals how Industry 4.0 can help manufacturers overcome rising energy prices.
In the US, the cost of natural gas delivered through pipes was up by 24 per cent in February from last year, while electricity went up by nine per cent. Prices will continue to rise due to ongoing effects of the COVID-19 pandemic, increased demand after disruptions caused by Hurricane Ida halted oil production in the Gulf coast, and the US's continued support for Ukraine that, according to US defence secretary Lloyd Austin, could continue long into the future.
The resulting ban on Russian oil imports to the US has led to rising prices and falling purchasing power of must-have energy products, to an extent not seen since the 2008 financial crash. Back then, prices caused so-called demand destruction. High prices and a limited supply reduced demand permanently, as manufacturing facilities consuming large quantities of natural gas struggled to maintain fast production cycles and keep up with demand, without cutting into profits. Today, manufacturers are also battling with increased raw material costs and supply chain disruptions.
There is currently no end in sight for increasing energy costs. Nevertheless, it's an opportunity for manufacturers to reevaluate their current supply chains and internal processes, and embrace more energy efficient production through Industry 4.0.
A silver lining
To overcome the restricted energy supply, manufacturers can seek to minimize their reliance on traditional energy by turning to renewables.
Solar panels, for instance, can provide businesses with extra power outside of the main energy grid. Also known as photovoltaics, the panels are comprised of smaller units called solar cells that are made from semi-conducting materials, typically silicon. Unlike fossil fuels, solar power uses no pollutants and needs no other resources to function other than clean water.
By reducing their dependence on the national grid, businesses are already drastically cutting down on electricity costs. According to the EIA, almost half of the planned 2022 capacity additions are solar, growing by 21.5 gigawatts (GW). Large corporations have been investing in solar power for years, including Amazon which had installed 135 solar rooftops at its worldwide facilities as of 2021.
The circular economy is another option for manufacturers seeking to reduce overall costs. At the end of their service lives, products and materials can be recovered and regenerated to keep resources in use for as long as possible. Reusing materials can minimize waste and provide businesses with greater value for money. Indeed, research by Accenture Strategy found that the circular economy could unlock $4.5 trillion of economic growth by reducing waste, enhancing innovation and creating employment.
The Circularity Gap Report 2021 found that 8.6 per cent of the world now practice circular models, and their popularity is growing. Take IKEA, for instance, that launched its People and Planet Positive strategy in 2018 and pledged to have all products and packaging materials based on renewable and recycled materials by 2030. By 2019, 60 per cent of its product range was based on renewable materials.
Re-using parts ensures that fewer resources are used to manufacture new parts, including if such used parts are no longer available on the market. Reducing the requirement for unneeded materials frees resources and energy, and can help improve production speeds and efficiency.
To this end, Industry 4.0 and smart factories can be crucial to avoiding delays without affecting profits. Investing in analysis and monitoring technology can help avoid bottlenecks within production chains, while predictive analysis helps prevent last-minute failures and costly downtime emergencies.
PricewaterhouseCoopers' Digital Factories Report 2020 found that nine out of ten factories are investing in digital factories. With added visibility from technology like sensors, manufacturers can feed live product performance data back to the design team and improve quality and performance.
Philips for example, has implemented key digital technologies like digital twins, 3D printing and big data analytics to achieve "first time right designs" for its customers. With Industry 4.0, Philips has achieved significant savings the and time and costs of production and R&D, and plans to roll its technologies out even further.
Increasingly, manufacturers are exploring new opportunities to adjust business models, improve operations and execute tasks faster with Industry 4.0. In doing so, they can make savings to offset the mounting costs of these turbulent times.
For more tips on manufacturing improvement, visit EU Automation's online Knowledge Hub. To discover the range of quality automation parts available from EU Automation, visit https://www.euautomation.com/us/
The content & opinions in this article are the author's and do not necessarily represent the views of ManufacturingTomorrow
---
Comments (0)
This post does not have any comments. Be the first to leave a comment below.
---
Post A Comment
You must be logged in before you can post a comment. Login now.
Featured Product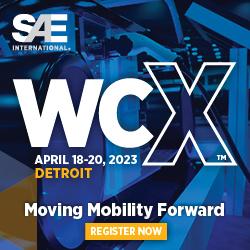 WCX™ World Congress Experience provides an unmatched opportunity to see all the moving parts in today's mobility industry - and the groundbreaking innovations that are shaping the next phase. Powered by SAE International®, the global leader in connecting and educating engineers, this event serves as the only place for the latest technology, consumer metrics, regulatory standards and technical sessions covering the entire vehicle, from hardware to software and beyond. Join your community at North America's largest technical mobility event, and be part of the collaborative problem-solving that drives the future of your industry.