Product managers are in a tough position in 2022. Many supply shortages for items like chips or raw materials are expected to be backed up until 2025 or longer. The cost of shipping has increased exponentially.
How Manufacturers Are Redefining Product Roadmaps Amid Ongoing Supply Chain Challenges
Maziar Adl, CTO | Gocious
Product managers are in a tough position in 2022. Many supply shortages for items like chips or raw materials are expected to be backed up until 2025 or longer. The cost of shipping has increased exponentially – according to Freightos, shipping rates have almost tripled from a year ago and have risen 12-fold from two years ago.
There's little manufacturers can do until more supply becomes available. There is hope for the future as supply chains slowly diversify. For example, chipmaker Intel recently announced that it would invest billions of dollars building new chip plants to circumvent backed up supply chains in Asia.
These disruptions will take years to resolve and depressurize. Manufacturers can't wait on new factories or the next wave of industrialization for products that need to be built now. Here are three ways manufacturers are redefining their product roadmaps to account for supply chain issues.
Manufacturers are stepping back to rethink their product roadmap entirely
Product plans laid years ago cannot continue on a 'just-in-time' management system of the past when goods flowed much more freely through the supply chain.
Today, many product managers have made the hard but necessary choice to pull back manufacturing plans altogether and rethink their company's entire manufacturing strategy to account for such disruption. For some, this means reverting to building and selling older products until the supply chain inefficiencies can be solved to make new products.
When manufacturing at such scale, it's extremely capital intensive to plan a product up to 10 years out from delivery. It's even more capital intensive to not deliver on those plans. A setback in the short-term is a solution in the long-term for manufacturers today.
As part of this "pull back and rethink" strategy, successful manufacturers should spend extra time on scouting the disruptions in their supply line. Talk to your suppliers and build relationships – sometimes, special relationships can lead to getting first access to a key manufacturing material once it becomes available. Tesla's foresight and access to chips to develop its electric vehicles, beating out Apple and others EV competitors, is a great example of how scouting and relationship building can help manufacturers win.
Once disruptions are known, manufacturers should draw a clear line between these disruptions and any dependencies in their product portfolio. This will help leaders see the bigger picture on how products will be affected and better predict where product plans need to change.
Manufacturers are finding new ways to work with available materials
Ports are starting to make headway in the extreme shipping backup they've faced in recent months. But it's too soon to expect relief to come with many other factors contributing to shipping delays. For one, the global pandemic is not over yet. Vaccination requirements are different across the world and this has affected freight, port and logistics workers, even trapping some workers at ports. In other parts of the world, including Canada and now the U.S., truckers are going on strike, backing up supply chains even more. The global conflict in Ukraine will have a separate but significant impact on the movement of goods.
Supply chain volatility will not decrease in the near future and may be here to stay more permanently. For product managers, previously accessible may continue to be stuck somewhere in transit or entirely inaccessible. As a solution, manufacturers are turning to more predictable supply chains with more available materials to work around manufacturing gaps. Product managers are working collaboratively to reconfigure the scope of the product, change the product and find a new way to build it that aligns with the current supply.
Leaders are redefining product teams' communication strategies
Because product managers are working backwards and around supply chain issues with product plans, designs and materials, manufacturing processes have become much more complicated. The supply chain crisis has pushed product managers – and entire manufacturing teams – to completely shift the way they work.
In the past, product managers strategically tracked their products and needs using basic presentation tools and spreadsheets, making manual updates in static documents. With supply chain issues necessitating so much change to product roadmaps, multiple connected documents have become harder to update and keep track – especially as workers come and leave jobs at a faster rate. Digital tools that pull in manufacturing data from across the organization can make product roadmaps more efficient and keep product managers focused on solving problems.
Better communication between all stakeholders in the product roadmap is essential to keeping projects on track through supply chain issues. As a result, the lines between product manager and project manager roles are blurring. Product managers are beginning to actively use project management tools or work more closely with project managers. Meanwhile, in their role for keeping projects on time, on track and on budget, project managers have to collaborate with product managers when supply chains necessitate roadmap change.
Bring senior leadership in to win
Aligning changing consumer needs, business goals, and volatile supply chain variables is a monumental task for any product team. As manufacturers work around the disruption caused by the supply chain crunch, it's essential that product managers make decisions that benefit the company's entire portfolio rather than one individual product. Because of this, leadership must stay involved and tuned in to changes to the product roadmap. As communication channels grow between product managers and project managers, these teams must also bring fresh updates to leadership at a higher frequency. In this way, companies can make better decisions overall and are prepared to change course once again when the next supply chain snag or other crisis changes the product plan.
The content & opinions in this article are the author's and do not necessarily represent the views of ManufacturingTomorrow
---
Comments (0)
This post does not have any comments. Be the first to leave a comment below.
---
Post A Comment
You must be logged in before you can post a comment. Login now.
Featured Product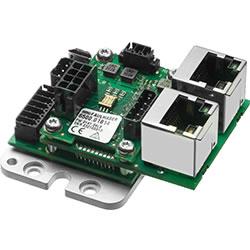 MOTION CONTROLLERS FOR MINIATURE DRIVES AND MICRODRIVES. FAULHABER has added another extremely compact Motion Controller without housing to its product range. The new Motion Controller is ideal for integration in equipment manufacturing and medical technology applications. With 36 V and 3 A (peak current 9 A), it covers the power range up to approx. 100 W and is suitable for DC-motors with encoder, brushless drives or linear motors.