Data is gold. Yet, for many manufacturing professionals working at the Edge of advanced, multi-step production—its fundamental value remains buried deep.
Scale Production Value With an Expert Execution System
Article from | DataProphet
Data is gold. Yet, for many manufacturing professionals working at the Edge of advanced, multi-step production—its fundamental value remains buried deep. However, within the bedrock of a process, engineers, tool operators, CTOs, and plant managers can (with specialist guidance) mine industrial data, refine it, and shape it with the power of machine learning. They can then wield its precious insights remotely as an optimization tool via a Human-Machine-Interface (HMI). What is more, despite the unknowns (both reckoned with and unforeseeable) on manufacturing's horizon, this is achievable in perpetuity. So long as capturable data emanates from the machines' equipment sensors making our world, AI can guide production.
AN ALL-WEATHER "WINGED KEEL" FOR THE RACE TOWARDS AUTONOMOUS PRODUCTION
And yet, with compounding headwinds (i.e., increasingly tighter margins, disrupters, environmental imperatives, and supply-chain upheaval), industrials face a challenge. They have to make the most of their lines' inherent technical capabilities. This involves achieving an optimal plant-state—symbiotic with the products, components, and materials the lines manifest. Moreover, this holistic optimum must be repeatable for continual improvement.
McKinsey alludes to six critical factors bearing on the relative advancement of a modern production line. In our era of protean innovation—precision, geometric complexity, throughput speed, compatibility with advanced materials, scalability, and pace of development are exponentiating. In a yacht-race analogy, one might think of these factors in the Manufacturing Process Index as the sails of progress. These sails harness the winds of industrial change on a sea of data. AI is the winged keel: both a momentum supercharger and a deft course corrector.
GROUND ZERO—EDGE TO CLOUD
In his article, Sustain Processes by Anchoring with Digital Technology, Jan Burian draws on industry experience to warn against the danger to efficiency of relying on systems that are not grounded digitally. Specifically, he highlights the necessity of "...secure, seamless, and touchless flow of data between OT and enterprise IT systems." He also makes this assertion: "Leveraging edge computing and hybrid cloud architecture should be an industry standard."
Indeed, to ensure smooth sailing with data-driven AI, STEM professionals at the industrial Edge must first be confident that their enterprise IT systems and operational technologies are connected, robust, and reliable. AI-as-a-Service for production process optimization begins with a Digital Maturity assessment. Once a fair level of Digital Maturity is established, data scientists can implement Edge-to-cloud data integration.
WRANGLING DATA
Why is Edge-to-cloud data integration important? Cloud infrastructure can guarantee security and enables the collection, centralization, and standardization of ISA 95 levels 1, 2, and 3 industrial data. This infrastructure allows for data from multiple plants and different networks in one secure and accessible location.
A unified digital environment enables complete monitoring of a production line and is conducive to improved performance management of actual production. At the HMI, stakeholder-specific access to metrics (e.g., defect reduction, product quality improvement, and cycle time optimization) ideally combine with real-time access to historical and current plant states.

ACTIONABLE INSIGHTS FROM THE EDGE
The centralized infrastructure means operators can access plant data for a wide range of purposes—beyond monitoring, cross plant performance, control plan strategy comparison, and transfer learning. In addition to these, such a modular and adaptable IIoT platform paves the way for scaling continuous improvement and Root Cause Analysis.
This is where Deep Learning comes in. The above-described exfiltration, orchestration, and visualization of plant data are AI-ready. And AI-readiness is essential when it comes to leveraging data for production value.
It means data scientists can use neural networks to build a learned manifold of a production line's process. Next, they can model unsupervised Deep Learning algorithms, crunching terabytes of historical and live production data to learn "Best of Best" (BoB) batches. In this way, the plant state that will affect the highest-quality production outcome is delivered as a prioritized prescription to the operator. The operator at the Edge can then preempt suboptimal runs and consistently benchmark targeted metrics (e.g., improved throughput and defect reduction) while holistically uplifting the line for improved overall equipment effectiveness (OEE).

EMBEDDING EXPERT EXECUTION
An AI-for-manufacturing deployment can be described as an Expert Execution System (EES) if it uses pre-processed and raw data to learn the relevant interdependencies between the many parameters that circumscribe production. These learned interdependencies include those upstream and downstream of each process. An EES also eliminates the risk of adopting AI because it recognizes critical tolerances, with the added benefit of creating a more robust (less tightly wound) plant state by relaxing specific non-critical tolerances.
Allowing for momentum effects within and between steps, an EES accurately projects the impact of set-point changes to a plant's control plan. It then prescribes the next best, highest-impact step towards BOB.
An EES works best as an AI-as-a-Service approach to production. Data science expertise is necessary to monitor process drift and update AI models when needed. Embedding the expert guidance of data-driven machine learning provides plant controllers with a stable target and the means to sidestep the pitfalls of a reactive production paradigm.
SO LONG TO SILOES
Because the prescriptive insights of an EES are centralized and self-consistent (i.e., they holistically optimize the entire production line)—production, quality, and product teams remain aligned. The result is that manifest production problems are avoided as manufacturing teams act coherently. An EES is also pre-emptive, allowing the C-suite to plan for production value since suboptimal production outcomes are relegated to potentialities and throughput, defect reduction, and OEE can be predictably benchmarked.
A SCALED OPEX SOLUTION
Driving economic value with an EES on the shop floor end-to-end is a perfect place to start the AI-driven digital transformation journey. However, the real game-changer is beyond individual use-cases; it is the capacity to expand continual improvement to cost-of-goods-sold (COGS) across multiple sites. The AI of choice for an EES is unsupervised Deep Learning for a good reason. Unsupervised Deep Learning is manufacturing process agnostic. As a result, the novelty and parametric complexity of the targeted production event are irrelevant.
In other words, the combination of data orchestration and AI-modelling of an EES can be applied to any production process. Scale is, therefore, built into the model, facilitating an enterprise-wide rollout. Better yet, this scale comes without a 1-for-1 CAPEX increase. The AI-as-a-Service deployments are inherently OPEX offerings fuelled by data that factories already own. Their costs to the manufacturer are factored in as a percentage of the measurable COGS gains generated by the AI prescriptions.
The global-industrial reality is unpredictable and marked by relentless and radical technological transformation. With data the only constant, the flex, agility, and scalability of an EES technology stack are equal to charting a manufacturer's inevitable course to fully autonomous production.
The content & opinions in this article are the author's and do not necessarily represent the views of ManufacturingTomorrow
---
Comments (0)
This post does not have any comments. Be the first to leave a comment below.
---
Post A Comment
You must be logged in before you can post a comment. Login now.
Featured Product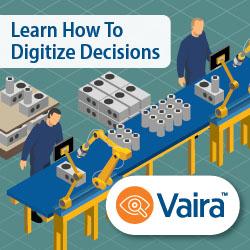 Vaira™ helps manufacturers digitize, automate, and upgrade error-prone manual processes and decisions to boost productivity and increase profits by helping humans make decisions consistent, reliable, and traceable. The camera-based solution is powered by a scalable suite of shop floor-ready apps built on proven machine vision and AI expertise for frontline manufacturing operations, with two-way integration to resource planning tools to help drive continuous analysis, insight, and improvements. Start digitizing immediately, streamlining processes customized to your unique requirements and reduce errors that lead to costs, delays, and quality concerns.