When organizations invest in process optimization, experience has shown us that simpler changes have the best chance of being implemented in full and lasting for years.
2021 Top Article - Sustain Processes by Anchoring with Digital Technology
Jan Burian, Senior Director, Head of IDC Manufacturing Insights EMEA and Leader of Europe: Future of Operations Practice | IDC Manufacturing Insights EMEA
A new process was designed, work instructions were modified, and the staff was trained.
Experience has also shown us that the more complex the process change, the higher probability of failure. Problematic changes may include order management, order to expenditure, sales, and operations planning processes. People tend to prefer ideas and procedures in which they see real value at first glance. If the value of the complete proposal doesn't jump out at them, they are likely to adopt only the parts they believe will bring immediate value. They will lean toward implementing processes that demand less effort and labor or that will help them meet KPIs that result in bonuses.
Hard experience has shown me that, to ensure lasting benefit, process change must be anchored by digital technology.
How I was Taught Difficult Lessons
In my consulting career, I have witnessed situations that were hard to understand and mentally accept. Don't get me wrong — I'm well aware of the challenges faced by those in operations. Volatile demand, management complexity, and a lack of experienced and educated labor can strain capabilities.
Let's examine the case of a railcar wheel OEM that was suffering from unstable demand. This had led to a situation in which the WIP was overwhelming the shop floor. Wheels had piled up inside and outside the production building. There were almost no aisles or safety corridors. No one knew where unfinished products were stored. A lack of planning had led to production bottlenecks. Excess inventory was accumulating, tying up working capital.
After analyzing the situation, my team designed a new planning production schedule and shop floor management process, underpinned by an add-on scheduling tool. We did simulations with production planners and line leaders. The scheduling tool was handed to the planning department. The planners presented the tool to top management, explaining it was a key weapon to tame the WIP chaos and boost productivity.
I returned to the factory a year later to witness the tangible results. You can imagine my surprise when I saw that nothing had changed. Indeed, the situation had worsened.
There were several reasons for this. The COO had left the company, as had the head of the planning department. The new processes had not been implemented in full. Work instructions did not reflect the integration of digital technology. Planning was still being performed with Excel macros, instead of something more powerful and integrated. The robust process we designed had been removed each day, tiny piece by tiny piece. Only fragments remained.
What had gone wrong? Naturally, I don't blame the changes in the organization. Executive and worker turnover happens all the time, everywhere. At the same time, processes should survive leadership changes. Procedures and compliance mechanisms must be embedded, impervious to personnel shakeups.
As I see it, the main mistake was that relevant digital technology was not used to underpin the new production planning, scheduling, and management. The managers and workers had the freedom to continue their old habits and procedures. Eventually, this made the new planning system useless. The necessity of anchoring new processes with digital technology and automation had been ignored.
Leveraging Digital Technology, Automation, and AI
Since then, my team thinks constantly of how to underpin processes with digital technology and automation. We focus on the integration of seamless, end-to-end data that flows horizontally and vertically through integrated enterprise resource planning, product life-cycle management, and manufacturing execution systems.
Process digitalization should only be a start, however. The next level would be the integration of enterprise IT systems with operations technology (OT). This provides operators with real-time information and insight into developments at the edge, inside specific production assets. Leveraging edge computing and hybrid cloud architecture should be an industry standard.
IDC predicts that in 2024, 70% of industrial organizations will run software-defined compute and network infrastructure to support IT, OT, and control terminal functions at the operational edge.
But organizations can go even beyond IT and OT integration. The framework consists of software and hardware automation, remote monitoring, and remote control of production assets. Underpinned with cognitive AI-driven planning and execution solutions, such a setup reduces human involvement to a minimum. It turns a physical worker into a sort of watchman.
Here, however, there is also a limit — we do not live in a science fiction world. Whether an organization is an enterprise or SME, transitioning from an isolated pilot to industrial and scalable solutions can be onerous. My opinion, from a technical point of view, is that running a system by leveraging data sources is always a challenge. When systems are being reconfigured, replaced, or just upgraded, the effort to streamline data sources and adjust complex prediction models can become a nightmare.
Nevertheless, the value that comes from scalability should be a key focus of all digital transformation (DX) projects. IDC projects that by 2024, 60% of industrial organizations will integrate data from edge OT systems that feature cloud-based reporting and analytics. They will move from single-asset views to site-wide operational awareness.
What Lessons Were Learned?
Never rely on processes that are not anchored in digital tools or solutions.

Always strive for the secure, seamless, and touchless flow of data between OT and enterprise IT systems.

Automation and AI remove complexity from the process, streamline data, and bring standardization to the organization's edge.

DX managers and C-suite members must understand that value comes from the scalability and agility of digital technology.

DX should never bring more silos into the organization — no matter how digitalized these silos may be.
To remain relevant to employees, customers, suppliers, and shareholders, the future manufacturing organization must be vertically and horizontally interconnected — and fully transparent at all times!
The content & opinions in this article are the author's and do not necessarily represent the views of ManufacturingTomorrow
---
Comments (0)
This post does not have any comments. Be the first to leave a comment below.
---
Post A Comment
You must be logged in before you can post a comment. Login now.
Featured Product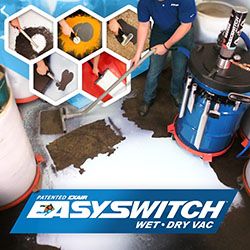 Super Air Knife reduces compressed air usage & noise when compared to other blowoffs. The Super Air Knife offers a more efficient way to clean, dry or cool parts, webs or conveyors. It delivers a uniform sheet of laminar airflow across entire length. https://exair.co/184_523 EXAIR is offering a special right now on Super Air Knives. Learn more at https://exair.co/184-sakpromo.com