Artemis Vision, a company with more than 10 years of experience in quality assurance for manufacturing processes, develops vision systems for industrial automated inspection and logistics optimization that deliver reproducible and reliable results.
Efficient Warehouse Management: Saving Costs with Rapid Pallet Trackers and Basler ace Cameras
Case Study from | BASLER
Application
Artemis Vision, a company with over 10 years experience in the improvement of manufacturing processes and downstream quality, builds repeatable, tested vision systems for industrial automated inspection and logistics optimization.
Retailers and suppliers shipping large quantities need to know they are shipping the right products to the right places and need pallets to get out the door quickly. Companies must be able to withstand shocks in their supply chains, manage lean inventories, and stay competitive with speedy and resilient supply chains. In order to manage high inventory turns and avoid fees and errors, scanning needs to be simultaneously high in accuracy and speed. Costs, time, and errors involved in manual scanning are not sustainable for a large supplier, and barcode scanning is a more efficient and much less expensive alternative to RFID tracking.
Goods are often moved with high speed and a lot of movement, lateral as well as longitudinal, continuous and jerky – think of vibration, or shocks during their way on a forklift. To reliably gather the information from a barcode label, your technology has to be fast and robust with respect to acquisition and detection performance.
Solution and Benefits
Artemis Vision's RaPTr (Rapid Pallet Tracker) helps warehouses manage swift supply chains by offering automated, real-time scanning visibility with image capture.
A drive-thru barcode scanning system does not require forklift drivers to stop or get off their forklifts, and provides immediate feedback of scanning accuracy. RaPTr neatly interfaces with existing WMS/ERP systems or can stand alone. The system takes an automatic image capture of every scan with the Basler ace camera (acA2440-35um). Timestamped barcode scans with images are stored in a database, searchable from a webbased dashboard. RaPTr comes as a single or dual camera model, depending on size and type of customer barcodes and on warehouse configurations.
The system is proven to save 25 minutes of loading time per truck. With RaPTr, Artemis Vision customers are now not only dispatching more trucks per day, they are also generating thousands of dollars in savings from reduced labor costs, customer fines, and inventory inaccuracy. Compared to the cost of RFID tags alone, the system can save as much as one full time salary per year. RaPTr requires very little maintainability or facility footprint. President Tom Brennan from Artemis Vision explains: "We chose this Basler camera model (acA2440-35um) for the USB 3.0 interface and the IMX264 sensor. Basler cameras have competitive pricing and fast lead time, and we've seen good performance from them in our experience with multiple systems over the years."

Machine vision solution from Artemis Vision with Basler ace camera used in rapid pallet trackers
Technologies Used
The content & opinions in this article are the author's and do not necessarily represent the views of ManufacturingTomorrow
---
Comments (0)
This post does not have any comments. Be the first to leave a comment below.
---
Post A Comment
You must be logged in before you can post a comment. Login now.
Featured Product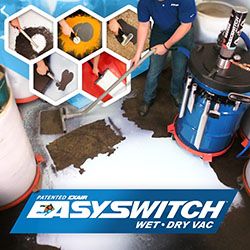 Super Air Knife reduces compressed air usage & noise when compared to other blowoffs. The Super Air Knife offers a more efficient way to clean, dry or cool parts, webs or conveyors. It delivers a uniform sheet of laminar airflow across entire length. https://exair.co/184_523 EXAIR is offering a special right now on Super Air Knives. Learn more at https://exair.co/184-sakpromo.com