As we move further down the road to the full digitalization of business, this idea of maximizing outputs while minimizing operational costs is essential to keep manufacturing efficient and match market demand.
Reaching New Levels of Operational Efficiency With Just-in-time Manufacturing
Todd Farley, Vice President of Global Sales | Impinj
While many companies focused on maintaining stability during the pandemic, others saw an opportunity to grow by focusing on how to do more with less. There is no doubt the pandemic caused a lot of upheaval for manufacturers, leaving many looking for ways to adapt to the new normal. That means aligning inputs and outputs in ways that maximize ROI and reduce waste, both in time and materials. As we move further down the road to the full digitalization of business, this idea of maximizing outputs while minimizing operational costs is essential to keep manufacturing efficient and match market demand. Just-in-time manufacturing (JIT) takes this idea and makes it the focus so that production can be expertly aligned to provide the most value to a business. To do this, companies need to know their operational processes intimately and be fully aware of what happens at every point of production from start to sale. This kind of visibility can be achieved through expert use of IoT technologies like RAIN RFID.
The basic concept of just-in-time manufacturing is having the right parts in the right place at the right time to produce your product, while minimizing excess inventory which increases spend and takes up valuable storage space. It sounds easy, but for some larger production lines with multiple components brought together from different suppliers, a whole production line can go down due to one missing component. This is why visibility into your entire manufacturing process, including the supply chain, is crucial for JIT. IoT technologies like RAIN RFID provide a unique opportunity for companies to not only track their end products, but all the materials and assets needed throughout the manufacturing process.
Busy warehouses have products, materials, tools, assets, pallets, and containers constantly moving in and out of the facility. Shipments sent to the wrong location, or missing items or containing the wrong items cost time and money. While there are current controls in place to prevent these issues, they rely largely on barcode scanning that can take a lot of time and is prone to error, impacting output efficiencies. One large wholesaler that previously used a barcode scanning system saw a 30% increase in output after implementing their RAIN RFID solution.
By attaching RAIN RFID tags to items of interest and placing RAIN RFID readers at points of transition, businesses can connect the systems running shipping and receiving with real-time data about each item as it passes through dock doors or into new areas. Operators can identify many items per second wirelessly (as they move through a dock door), without the need for batteries or line-of sight. Additionally, they can also deliver powerful insights into traffic patterns and service-level metrics to further optimize operations.
With real-time movement detection capabilities, operators can build more efficient shipping and receiving plans, align production schedules, enforce control, and streamline operations--ultimately increasing throughput. Optimizing your facility means your people, equipment, materials, and vehicles can spend less time waiting and more time working, earning you more value for your investments.
Once warehouse operators know where everything is, they can create operational plans and production schedules that align with the demand. Implementing RAIN RFID solutions into the manufacturing process has many benefits and we are starting to see more examples of just-in-time manufacturing with our partners and customers.
Inventory Accuracy and Reduced Labor costs
A leading manufacturer of renewable energy equipment reduced labor and gained asset visibility with its RAIN RFID solution. By tagging assets and tools with RAIN RFID tags and equipping warehouses with readers and gateways, the manufacturer gathers data and tracks items as they move through production lines. Impinj gateways provide data that easily integrates with the manufacturer's existing ERP system helping them achieve significant results, including:
● 30 percent greater material inventory visibility throughout the plant
● 5 percent increase in inventory accuracy while reducing labor cost by 10 percent
● Annual savings of 10 percent due to fewer missed calibrations and lost tools
Automotive Manufacturing Efficiency and Customization
Volvo uses a RAIN RFID solution that tracks cars through production for more efficient and accurate manufacturing. Today's cars are more customizable than ever, making an already sophisticated assembly process much more complicated. When a single error can have major impacts down the production line, it is critical that staff can quickly and accurately track the location of cars during production. Here's how it works:
● A RAIN RFID tag is attached to the chassis of the car at the start of the manufacturing process
● As the car moves through production, the tagged car is read by fixed readers located at transition points associated with assembly stations
● Collected data helps management determine where they can optimize operations and ensure the correct car is undergoing the correct process at the right time
This process guarantees that automobiles are being made exactly to customer expectations, and that custom features are correctly implemented. It also reduces errors on the production line that can lead to costly mistakes. With the solution, Volvo ensures order accuracy and reduces errors.
Food Manufacturing and Supply Chain Synergy
As we work with manufacturing partners to make just-in-time more ubiquitous and efficient, we're already starting to see how this solution can be applied to other industries. One example is the food service industry, particularly fast dining locations that have a franchise relationship with a larger entity and typically get their ingredients from several, if not hundreds, of different suppliers. Many of these restaurants must balance the ingredients they order with demand, taking into account expiration dates and serve-by dates. With a RAIN RFID enabled just-in-time process, restaurants can increase visibility into the supply chain, easily tracking what's coming, when it's coming, and when it expires, allowing them to better manage stock and reduce the amount of wasted foods. This is powerful data for these companies. The insights and data impacts the efficiency of their entire business, extending beyond improved processes to other business impacts such as reducing waste and overall costs, improving safety and brand reputation, and providing better control over tough product issues like managing a recall.
By integrating IoT technologies in assembly and manufacturing processes, solutions enabled by RAIN RFID transform and streamline even the most complex processes. All manufacturers will find value in digital transformation, enabling next-level agility that drives productivity and growth and the just-in-time manufacturing needed to handle the unexpected, while providing the needed level of production.
The content & opinions in this article are the author's and do not necessarily represent the views of ManufacturingTomorrow
---
Comments (0)
This post does not have any comments. Be the first to leave a comment below.
---
Post A Comment
You must be logged in before you can post a comment. Login now.
Featured Product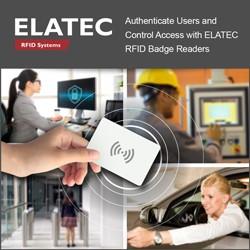 With a tap of the badge, RFID readers from ELATEC provide secure, reliable and easy-to-use user authentication, access control and usage tracking of hardware and software in industrial automation processes. Reader durability in harsh plant floor environments is another essential feature. Choose the right authentication and access control solution and extend RFID card-based capability for the access control of PLC, robot and HMI automation controller software and devices requiring special operator training.