If you have ever sourced custom machinery or factory automation you are familiar with a Request for Proposal (RFP) or User Requirement Specification (URS). The requests are written with content and styles that vary, but the effective ones share some common features.
10 Tips for Writing an Effective RFP or URS
Frank Richardi – ATC Business Development Manager East Coast | ATC Automation
If you have ever sourced custom machinery or factory automation you are familiar with a Request for Proposal (RFP) or User Requirement Specification (URS). ATC Automation reviews hundreds of RFP's and URS's annually. These requests come to ATC from every industry with an incredible variety in product types. The requests are written with content and styles that vary, but the effective ones share some common features. Here are ten.
Include the Basics.
Be sure to communicate your company's points of contact with contact information for sourcing/T&C's, project management and/or the technical contact. Due dates for the proposal, as well as an anticipated dates for Purchase Order placement, will help your supplier to prioritize the quotation. Drawings and pictures of the product are necessary and very helpful.
Consider it a LIVE document
Be sure to include a document revision page. As you begin engaging suppliers by hosting calls and encouraging visits to witness your production and facility, undoubtedly, the document will need to be updated with new information that arises from both vendor and internal feedback. Make the changes and revise the document noting the changes. Send the revised document to your suppliers. The revision should be referenced in your supplier's quotation.
Know your Audience or Audiences
A RFP will be first read by a salesperson. If the supplier you're working with is a technically educated sales person, consider yourself lucky. For this reason, the overview section of the request should be written in a manner that it conveys simply what your product is and the overall scope of the job. Highlight any specialized or significant processes that are part of the application. It will next be read by the Application Engineering Manager who will distribute it to an application engineer. The application engineer, his support team, and the sales person will work together to deliver a solution with pricing. A technical writing style should be employed for all subsequent sections. Use simple and concise sentences to present the information. A diagram or flow chart is many times better to convey information than words. (7 Things to Avoid in Technical Writing)
How fast does it need to go?
There are many of ways to quantify the needed performance of the system. For turnkey equipment, if possible, avoid communicating system cycle time and instead quantify the production requirements as "good" parts per month or annual. Communicating cycle time can drive the solution, specifically, chassis types or multiple up production at certain stations. Cycle time also does not communicate quality requirements. That being said, stating system cycle rates per unit time might need to happen if the solution is tied to another system physically. You will maximize your supplier's creativity and innovativeness by not listing requirements that will affect the automated solution… this can benefit you in system cost and efficiency. Production requirements such as number of shifts per week the machine will be run are very helpful to communicate as well.
Communicate how production will use the machine
An important topic that can drastically affect overall system efficiency is production changeover expectations. Automation is often tasked to produce products with variants. This will require the system to be emptied and mechanically converted to run another product. The frequency of these changeovers will drive the automation concepts. Automatic changeover for stations and machinery can be included and its additional cost will be justified if production is performing enough changeovers. Manual changeover can be facilitated by including quick disconnects and poka-yoke features to ensure quality. Either communicate the number of changeovers anticipated per shift or state a maximum time it takes "X" operators to perform the changeover. At the very least, this information will serve as a tool which will engage you your supplier in a conversation regarding it.
Process details are important!
One thing often missed, that can drastically affect the solution and the cost of the solution, is a specification's tolerance. Pressing a pin into a bore is not difficult. Monitoring the press force required to press that pin into a bore is also not difficult. The description of that force and the tolerance associated with the measurement of it will drive the solution and the price. For example, a minimum or maximum press force of 40 N can be achieved with an air cylinder, a regulator, and a sensor to monitor stroke. If you would like to monitor press force as a function of stroke this could require a servo press. If you would like to monitor the force with a resolution of +/- 0.01N that will require a very accurate servo press or a separate load cell as well as a substantial support frame for the parts and the press. A process specification value is meaningless without a tolerance attached to it. If you do not have a known tolerance or wish to learn what is possible to achieve, then communicate that desire in the document. Your supplier will work with you to understand your goals. All physical dimensions that are in the document should be described with a tolerance or a descriptor such as maximum or minimum.
The options are up to you
List how you would like the pricing to be broken out. Perhaps you would like the end of line packaging zone shown as an option, so explain that. Other items that are often requested to be shown optional are specific inspection processes, automated feeder and automatic offload systems, as well as installation.
Acceptance testing is critical to define
A custom turnkey automated system will have a Factory Acceptance Test (FAT) and a Site Acceptance Test (SAT) as milestones. Suppliers will typically use these milestones in their payment terms. The terms of this acceptance test are typically X number of hours of continuous operation with a target yield. Your expectations for this testing should be clearly communicated in the document. If the system is capable of producing multiple product types then it is common for a separate production run for each product type. Your expectations for performance should be communicated. Validation requirements or wishes for the system should also be communicated.
Understanding Automated Vision Inspection
At ATC we design hundreds of vision inspection systems each year. The technology associated with this process is constantly being advanced. Our customers may have operators manually inspecting products for defects using gauges and fixtures. Other manual inspections may look for cosmetic flaws. This topic in a specification can sometimes be difficult to quantify with physical dimensions. After much deliberation you may decide to leave the criteria vague in hopes that your machinery supplier will offer some technology that lends itself well to the application… this could be a dangerous decision leading to exorbitant costs of automation or even a "no quote" related to this section. Let me explain further, automated vision inspection criteria can be broken into two types, hard and soft criteria.
Hard Criteria: This is a quantifiable measurement or true/false logic statement. As you know, digital images are pixels, and with contrast, the part or feature can be identified. Geometry dimensions such as angle, length, area, distance, etc. can easily be computed. Presence of a feature or component can also be easily defined and programmed. The tolerance of the nominal value will drive the required camera resolution and lighting. The field of view required is also a factor that your supplier can define themselves based on part/feature size and/or the measurement value. The color of your part, even clear, will drive decisions to back light with single or multiple colors or perhaps to build a light chamber. Hard Criteria can be quantified and inspected easily. Disclaimer: I just used the word "easily" three times above… controls engineers are most likely enraged or laughing right now.
Soft Criteria: Soft criteria are more difficult to quantify and may require a proof of principal to prove a systems ability to reliably detect flaws. Examples include cosmetic flaws such as stains, scratches, or porosity. Air bubbles, foreign matter, "straight" edges, and circularity are just a few of the many things you may need to quantify. My simple advice is to try. What is the acceptable size of a scratch (length and width)? Define porosity by maximum area for a defect or by a maximum dimension allowed. Vendors such as Keyence and Cognex both have algorithms for criteria involving cosmetic flaws. Your integrator should be very aware of the pitfalls associated with this type of criteria and suggest feasibility studies or PoP's to mitigate risk. Lighting type, location, and controlling surrounding conditions are all vital to ensuring a successful vision application for soft criteria.
Machine footprint and layout
Ideally our customers can share a drawing of the space that the machine is intended to be utilized in. This will allow your supplier to display their system concept in that space. If you have do not have requirements for the footprint of the automation then communicate that in the document. Your company's production group may have thoughts on the process flow for the machine as it sits on your floor. For example raw materials may be best served to come in from the South of the system area while finished goods would be best served to the West. Communicate what you can regarding all of this in the RFQ. Small pieces of information like this can affect major concept decisions like chassis type.
The content & opinions in this article are the author's and do not necessarily represent the views of ManufacturingTomorrow
---
Comments (0)
This post does not have any comments. Be the first to leave a comment below.
---
Post A Comment
You must be logged in before you can post a comment. Login now.
Featured Product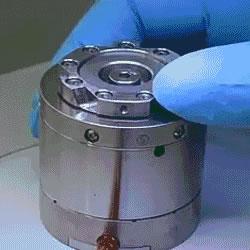 A traditional gantry system employs X-Y or X-Y-Z range of motion. Mounted on a base plate, usually granite, 2 parallel rails constitute the synchronized Y axis motion while the cross axis (bridge axis) provides the X motion. A vertical axis can be added on the bridge for the Z motion. A Split Bridge system can be less complex than a traditional gantry system because synchronization of the two parallel linear motors is not required. Both systems are used in industrial production, testing, and additive manufacturing.