But just as important as having a vaccine is having enough personal protective equipment (PPE) to aid in the vaccination of nearly 330 million people across the country. This importance will be a critical turning point for America's manufacturers
Manufacturing's Role in Mass COVID-19 Vaccination
Maziar Adl, CTO and Co-Founder | Gocious
Less than a year after the emergence of COVID-19 in the United States, the country is preparing to embark on a strategic vaccination plan involving (as of this writing) two new vaccines developed by leading biotech companies: one by Pfizer and BioNTech SE, and the other by Moderna.
The vaccination plan brings with it hopes that finally, the United States, along with other countries, will be able to eventually halt the impact of COVID-19 on so many facets of everyday life.
It's an enormous and sophisticated undertaking, to be sure. But just as important as having a vaccine is having enough personal protective equipment (PPE) to aid in the vaccination of nearly 330 million people across the country. This importance will be a critical turning point for America's manufacturers, who will play their own role in ensuring COVID-19 vaccines are effectively—and safely—distributed.
PPE Production On Track
Unlike existing vaccinations, COVID-19 vaccinations require additional precautions given how contagious the virus can be.
PPE equipment that needs to be readily available at hospitals and other medical facilities includes gloves, gowns, N95 masks, safety goggles, and face shields. Most of this PPE equipment doesn't need to be replaced between administering vaccine doses. However, it does have to be cleaned and sanitized regularly, which requires the mass production of sanitary liquids.
Experts estimate that around 160 to 170 million N95 masks are needed for the upcoming months of vaccination. This demand is a stark increase from demand in December 2019, which was around 40 to 50 million N95 masks.
The good news is that, from a production standpoint, manufacturers are proving able to deliver on the need for N95 masks, having significantly ramped up production. And most of that production is domestic; only a small percentage of masks comes from foreign imports.
Through Operation Warp Speed, the federal government started boosting manufacturing facilities and distribution systems for vaccine research, development, and distribution—,a financial risk that would, at the same time, help the United States distribute vaccines in a shorter period of time. Meanwhile, many corporations opted to produce PPE even without a government mandate, some signing up for contracts from private and public spaces, and others through the Defense Production Act (DPA).
Can the DPA Help?
It's difficult to ascertain, at this stage, just how critical the DPA would be in helping manufacturers prepare more PPD for the impending vaccination program, should President-elect Joe Biden enact the DPA upon his inauguration.
Under the DPA, the government is not required to disclose how or why they're administering particular incentives to particular manufacturers. This lack of transparency has led to some confusion and accusations of a lack of executive coordination.
While the DPA can't order a factor to produce what the federal government wants or requires (in this case, PPE), it can order companies to prioritize government contracts over other contracts. The government can incentivize PPE production by encouraging increased production through purchase commitments, by allowing private businesses to use government-owned equipment, or by providing guaranteed loans.
Simulating in Near-Real-Time
One fascinating technological advancement that can help speed up PPE manufacturing: digital twins and replicas.
In the past, when manufacturers wanted to see if a product was going to work well, they would replicate that product in a virtual space and run simulations on it to make forecasts.
A digital twin performs these simulations in near-real-time, allowing manufacturers the capability to make fast adjustments that can address urgent needs and excess capacities. In terms of manufacturing PPE equipment like masks and gowns, a manufacturer can reroute shipments to states that need them the most.
An Opportunity to Innovate
There are few moments in U.S. history comparable to the mass vaccination just now getting underway. It requires incredible amounts of coordination and prioritization, especially in terms of PPE production. One challenge involves destination coordination, as there is already a need for more timely distribution plans and reports about vaccine readiness.
If done right, such a massive scale of production could offer major lessons in terms of pandemic plans, information systems, and coalition building across companies—as well as opportunities to innovate in preparation for the next pandemic.
The content & opinions in this article are the author's and do not necessarily represent the views of ManufacturingTomorrow
---
Comments (0)
This post does not have any comments. Be the first to leave a comment below.
---
Post A Comment
You must be logged in before you can post a comment. Login now.
Featured Product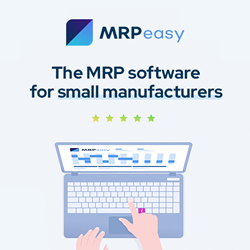 Always know what you have in stock and what you'll need to fulfill orders. Never forget to order parts on time or fail to notice a late delivery from your vendor. Easily create manufacturing orders and schedule them automatically according to resource availability or delivery deadline. Generate accurate cost and lead time estimates and provide customers with quick quotes. Receive notifications when orders are late or inventory levels reach a critical point. Ensure seamless communication between sales, production, warehousing, procurement, administration, and finance. Integrate with popular accounting, CRM, and e-commerce apps. MRPeasy is an ERP software for small manufacturers that gives you all that and more. Our users report a 54% average improvement in the overall performance of their business and a 42% increase in on-time deliveries. Try for free, no credit card needed.