Every day in 2020 has been somewhat of a surprise, but probably the biggest surprise of all has been how well manufacturers and quality teams have navigated all of the new rules, restrictions, PPE requirements and product mix changes that emerged.
2021 Top Article - Quality in the Era of COVID-19
Anca Thompson, Senior Vice President and Chief Quality Officer & Tim McGinnis, Vice President, Medical Quality and Regulatory Affairs | Sanmina Corp.
If someone had told manufacturers a year ago that they would face temporary factory closures and be confronted with complex new restrictions once plants re-opened including limited onsite personnel, social distancing practices and no business travel, no one would have believed that business would have been able to continue operating effectively. Every day in 2020 has been somewhat of a surprise, but probably the biggest surprise of all has been how well manufacturers and quality teams have navigated all of the new rules, restrictions, PPE requirements and product mix changes that emerged.
The world now intrinsically knows that there won't be a distinct end to the COVID-19 pandemic, where things suddenly snap back to 'normal,' but a gradual waning of the disease over time, as therapeutics and vaccines are developed and distributed throughout the world. The silver lining is the opportunity to incorporate the lessons learned over the past year into already well-established quality assurance programs, not only making them more robust as the pandemic continues but also to ensure more flexible, efficient and cost effective operations moving forward.
Riding the First Wave
For global manufacturers like Sanmina, many existing programs and procedures greatly aided our ability to respond and adapt when the pandemic first arrived. Our business continuity management system was originally developed at a global level, so that processes, procedures and templates were already set up for global distribution to ensure consistent practices. Whatever the crisis might be, we had established a planned set of actions based on risk assessment and recovery. These guidelines and procedures are activated in times of crisis, whether for a natural disaster or a pandemic. Having a strong and rigorous quality management system also made it easier to close gaps created during the pandemic, like incorporating personnel training for new health and safety protocols.
As travel, meetings and large in-person gatherings were no longer permitted in affected regions to slow the spread of the virus, customers, registrars and notified bodies began to switch over to remote environments for quality meetings and audits. We had many technology resources at our fingertips that had been implemented and validated prior to the pandemic that were invaluable as these events unfolded. Cloud-based IT tools such as collaboration software, video conferencing and digital solutions for managing contract reviews quickly became the norm to facilitate important quality activities.
Internally, quality teams increased the frequency of remote meetings and virtual communications between teams and regions to ensure everyone stayed on track with company goals and regularly shared best practices, as new ways to work were discovered. Holding regular information sharing sessions provided an invaluable forum to learn from experiences shared by our teams, first in China, Singapore and Malaysia and then later from the West, as the virus made its way around the world. Some of the most creative physical distancing methods used to avoid potential exposure to the virus came from our staff, inspired out of genuine concern for the safety of their colleagues, families and local communities.
Incorporating New Practices
Many approaches adopted during the pandemic are likely to continue because of the value and efficiencies they are contributing to quality programs. Some of the most significant new practices include:
Virtual tours. Because customers and prospects weren't permitted to physically travel to plants and tour a facility, our team brought the plant tours to them. We discovered that you can do an even better job of showcasing a specific area, manufacturing tool or methodology used in a particular operation when you can zoom in on different areas that you might not have been able to as easily show to a large group in person. While there will be times in the future when in-person visits might be necessary, customers are enjoying these highly productive sessions, as well as the time and cost savings of participating remotely.
Remote audits. Once IT has the right communications equipment in place and connectivity is assured when broadcasting from remote areas of a warehouse or plant floor, audits can be performed much more efficiently though video and web conferencing. This speeds audits with regulatory bodies, regardless of their location.
Remote document review. Working remotely requires digital management of contracts and device history records for regulated medical products. The value and efficiency that these tools and applications have provided to ensure compliance will continue once the pandemic is over.
Employee training and social distancing methods. Many new health and safety procedures have emerged related to personal protection and physical distancing in plants. These include alternative sequencing of production lines, special physical separators, PPE, rigorous screening methods and additional training for split shifts that have taken on new responsibilities, due to a reduction in the number of allowable staff. These processes have been incorporated into established business continuity plans to fill in any gaps that existed before the pandemic and are now an integral part of protocols and training methods.
Tips for Optimizing Virtual Operations
While most quality organizations already had well-established programs, processes and procedures in place prior the pandemic, adapting to a mostly virtual environment has been arguably the most profound change that has come out of the crisis. Applying some of the lessons we've learned over the past year can help optimize quality programs in this new remote environment:
Engage in more advanced planning. Spending extra time to plan and organize virtual audits, meetings and tours is critical, so that the virtual experience is productive for remote customers, prospects and auditors. Planning around other new realities, such as how to manage preventative equipment maintenance or risk failure analysis when suppliers might have limited entry to your facility, must be considered well in advance of the required work. This allows enough time to work through any limitations and reset customer expectations as needed.
Ensure electronic tools are current, validated and are being utilized properly. For remote capabilities, continuing to expand technology tools and develop programs for remote use so that they are optimized, even as travel resumes, is critical. These tools have become the norm for daily operations and their adoption will only continue to increase.
Communicate more frequently. Communication is essential, whether across an employee base at a single factory or across multiple factories globally. When evaluating possible risks and how to mitigate them as part of business continuity programs, communicating these scenarios across teams can help to harness the best ideas and solutions. Employees are the most valuable asset and their collective knowledge and experience on the ground can only help strengthen quality programs.
Structure employee reviews and projects with objectives to account for remote protocols. Yearly budgets, projects, objectives, reviews and goals should be structured to account for restricted travel, remote audits, remote meetings and electronic approvals. When planning these priorities, carefully consider how typical deadlines might be affected.
Quality in the Future
Virtual practices and telework have proven very effective during the pandemic and many of these approaches are here to stay. Manufacturing and quality programs were already headed in this direction, as organizations embraced technology and automation to streamline processes and reduce errors. A lot of work that Sanmina has done on automation initiatives has served us well over the past year, as we navigated how to work with abbreviated manpower and new social distancing requirements.
Moving forward, organizations will consider restructuring activities based on what they have learned during the pandemic. They will identify jobs that can be done just as well, if not better, by working remotely or in rotating shifts. When supported by robust programs and consistent virtual communications, this approach will help manufacturers work smarter and more effectively, while saving significant time and cost.
The content & opinions in this article are the author's and do not necessarily represent the views of ManufacturingTomorrow
---
Comments (0)
This post does not have any comments. Be the first to leave a comment below.
---
Post A Comment
You must be logged in before you can post a comment. Login now.
Featured Product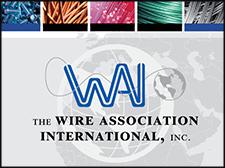 The Wire Association International (WAI), Inc., founded in 1930, is a worldwide technical society for wire and cable industry professionals. Based in Madison, Connecticut, USA, WAI collects and shares technical, manufacturing, and general business information to the ferrous, nonferrous, electrical, fiber optic, and fastener segments of the wire and cable industry. WAI hosts trade expositions, technical conferences, and educational programs.