The interesting thing about modern products is that smart technology can enhance them. That makes them traceable throughout their life cycle, and technologies such as cloud platforms enable the products to be tracked during their life journey.
Digital Twin and Digital Thread: The Innovative Way to Track Product Life Cycles
Jan Burian, Senior Director | IDC Manufacturing Insights EMEA and Leader of Europe: Future of Operations Practice
The interesting thing about modern products is that smart technology can enhance them. That makes them traceable throughout their life cycle, and technologies such as cloud platforms enable the products to be tracked during their life journey.
Some of the key enablers of this are IIoT and digital platforms, which provide engineers with information about the product's conditions and parameters. The product can then be tracked during its complete life cycle, including design, industrialization, serial production, and servicing.
We're talking here about the closed loop of product information, and a vital technology here are digital threads — bridging the silos between life-cycle phases, data, and processes. With digital threads, the relevant data is captured at each step and then fed back to engineers. System and design engineers can leverage the information from contextual issues and field performance and, as a follow-up, can redesign or even improve the product's design and features.
Using information gathered from the digital threads is an effective way to improve KPIs, including shorter time to market, reduced development and operations costs, and improved customer propositions. Utilizing IoT, AI, analytics, and new business models, the manufacturers can build as well, using the generated data to sell services as well as products, for example.
And let's not forget the positive impact on environmental sustainability. We often talk about reuse and recycling strategies, and these are among the top priorities for manufacturers in the "better normal."
Value of Digital Twins
There is definitely value in digital twins as well. IDC defines digital twins as virtual models of a product or asset connected to the physical prototype or instance via IoT. Digital twins visualize data flows and provide collaboration across engineering, operations, supply chains, and servicing.
According to IDC:
Digital Threads and Digital Twins Working Together
How well would the two solutions work together? Would it be better to run them side by side, or could they be combined to provide even greater value? The answer is, we're not sure yet.
Like a digital thread, the value of a digital twin is in being a single source of information on a product's conditions, parameters, and design. And this is where we find the main difference between the two — digital twins should use real-time data that comes from the real product and the operations environment.
Unlike digital threads, digital twins do not need to be based on information provided in real time to the user. There's a reason for this: Engineers use product life-cycle data to develop and improve products, but most of the time they don't work in real-time mode. There's a significant overlap, but both solutions use similar technologies as a single source of information, such as IoT digital platforms, PLM, ERP, or CRM. And that's a very good start.
What to Expect from Combining Digital Twins and Digital Threads
We see obvious synergies in combining the two solutions. Digital threads can connect products and process digital twins, and the whole life cycle of the product could be covered that way.
Having said that, the digital model of the physical product could then be recognized as sort of an end-to-end traceability carrier of digital information, streaming the performance and process data through the IoT platform to PLM in real time.
For users, the value comes from data analysis outputs. The outputs are based on AI/ML, which are being turned into insights in a touchless way.
Establishing the digital thread through the use of digital twins is challenging, and there will be obstacles on the way. A typical challenge is crossing the siloed life-cycle stages, particularly when the product is being used or operated by the customer.
Isolated digital twin and digital thread technologies provide significant benefits by themselves. But the real value comes when the technologies are integrated. Users benefit from the end-to-end life-cycle visibility of the product provided in real time, and manufacturers get a powerful tool to improve their business agility and resiliency. This is exactly what they need in today's rapidly changing world.
The content & opinions in this article are the author's and do not necessarily represent the views of ManufacturingTomorrow
---
Comments (0)
This post does not have any comments. Be the first to leave a comment below.
---
Post A Comment
You must be logged in before you can post a comment. Login now.
Featured Product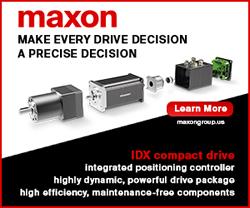 The compact brushless EC-i motor combined with an EPOS4 positioning controller delivers a highly dynamic, powerful drive package with field-oriented control (FOC), high efficiency, and maintenance-free components in a high-quality industrial housing. The maxon IDX drives are suitable for use across the entire speed range (from standstill to maximum speed) and have an extremely high overload capability. Together with a positioning controller, the integrated sensor (single turn) enables absolute positioning.