Plastic injection moulding is a difficult application for machine vision. The highly reflective surface of plastics is hard to illuminate, and the fact that the same production line can create items of different colours and shapes is problematic for traditional solutions.
Three Ways Autonomous Machine Vision (AMV) Benefits Plastic Injection Moulding
Zohar Kantor, VP Sales | Inspekto
Autonomous Machine Vision is a new approach to quality assurance (QA) developed by Inspekto, a German company with Israeli DNA. As the name suggests, this technology is conceived to be autonomous in every way, from determining the ideal number of samples the system needs to learn the characteristics of the item, to self-adjusting the camera settings to obtain the best image possible of the item to be inspected. This allows production line engineers with no previous knowledge of machine vision or artificial intelligence, to set up the system to work in hours, rather than weeks and months with the aid of a systems integrator.
Thanks to its self-adjusting and self-learning capabilities, the INSPEKTO S70, the first QA system in the AMV category, can successfully overcome the challenges that make traditional QA solutions inadequate for plastics injection moulding. Here are three examples of how AMV can benefit this industry.
Multi-product inspection
Traditional machine vision solutions are designed to inspect only one item at a specific point on the production line. This makes them unpractical for a sector such as plastic injection moulding, where the same production line can potentially make various products that come in varying shapes and forms.
However, Inspekto TYPES™, one of the many apps that can be installed on the S70, allows plastics manufacturers to overcome this issue. While traditional machine vision solutions can only monitor one product at any given location on the production line, an S70 system installed with TYPES™ is able to inspect any number of products — even tens or hundreds of different products — at that same location on the line.
Emerging from the traditional constraints of one-product-per-solution, AMV allows manufacturers to inspect a variety of items with one single system, something that was unthinkable until recently.
Self-adjusting camera parameters
Another typical problem in this sector is achieving the correct lighting of the parts to be inspected. Typically, injection moulds have smooth, highly reflective surfaces that resemble mirrors. Additionally, moulds can be the same colour of the plastic polymer, or can appear that way because of a lack of contrast due to insufficient illumination of the inside of the mould.
Finally, moulding machines are built to be as compact as possible, so that they will open just enough to eject the part, but not enough to guarantee adequate illumination for visual QA.
All these challenges make inspection hard for traditional QA solutions, but not for AMV systems, which are designed to self-adjust their camera parameters to obtain perfect lighting, focus and contrast. In this way, the plastic parts can be illuminated in a way that clearly differentiates one from the other, allowing the system to perform effective visual QA in total autonomy.
Total QA
Traditional QA solutions require several months to be designed, built and tested, and the whole process costs often reach even hundreds of thousands of euros. On the other hand, the INSPEKTO S70 can be installed in by the plant's own line engineers, without any external intervention, and costs a fraction of a traditional solution.
The cost-effectiveness and rapidity of installation of the S70 mean that plant managers can have a QA station at every junction on the production line, instead of just at the end – reaching far higher productivity, profitability and yield. Alternatively, QA managers can decide to move their S70 from one junction to the other when needed, by just repeating the quick and easy installation process.
In this way, manufacturers can achieve what Inspekto calls Total QA – quality assurance at every step of production.
The content & opinions in this article are the author's and do not necessarily represent the views of ManufacturingTomorrow
---
Comments (1)
Good post. I wanted to congratulate you on your AMV! Plastic injection molding is becoming a more popular process because it allows for better product quality. The INSPEKTO S70 is one of the first QA systems that can handle this new technology. Autonomous Machine Vision provides a way to detect defects that may not be visible to humans automatically. Also, at Tech Plaastic Industries, ingenuity and dedication develop such an innovative solution for Plastic Injection molding!
Post A Comment
You must be logged in before you can post a comment. Login now.
Featured Product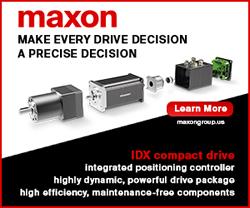 maxon motor launches new high-speed motors that are configurable online. The new ECX brushless motors are quiet and feature very high efficiency. The ECX motors are available with diameters of 8, 16 and 19 mm achieving speeds of up to 120,000 rpm. They run very smoothly and are highly efficient. With maxon motor's online configurator, it is easy to put together a customized DC motor to include gearhead, encoder and controller. The customized motors are ready to ship in 11 days!