It is the first time that entire PocketQube functional prototypes flight-ready are manufactured using a Carbon-reinforced composite material - Windform® XT 2.0 - and Laser Sintering process.
Successful use of Carbon-composite Windform® XT 2.0 and professional 3D printing in the construction of 1P PocketQubes flight-ready
Case Study from | CRP USA LLC
Mini-Cubes, LLC was founded in 2018 to take the concept of a PocketQube – a super small satellite – and develop it into a viable product. Joe Latrell, CEO of Mini-Cubes, and his team did this on the principle that virtually anyone can reach space today. With PocketQube satellites, they hope to achieve a better grasp on resource monitoring and give the public a chance to be among the stars.
The project
Recently Joseph Latrell and his team started a new project based on a new 1P PocketQube flight-ready, named Discovery.
He turned to CRP USA for the manufacture of the entire satellite frame via Additive Manufacturing.
CRP USA, 3D printing company based in Mooresville (NC), has built a considerable experience supplying cutting-edge solutions for space key industry leaders using Laser Sintering process and Windform® TOP-LINE reinforced composite materials, created by Italy-based CRP Technology.
The primary objective of the project was proof of concept for satellites this small.
Joe Latrell explains, "We wanted to include a camera for visual observation, again just to see if it could be done. If the process works, we see using the technology to create a constellation of PocketQube satellites just for monitoring a specific resource. In our case that resource is water."
Joe went to professional 3D printing since he has been a fan of Additive Manufacturing for some time now, as he explains, "I first used the process for making prototype rocket fins when I worked at an aerospace company.
When we started working on Discovery, I knew I wanted to push the boundaries of what was possible – everything from the small satellite form factor to the technology used to make it. For that reason I decided to involve CRP USA team and their Director of Operations, Stewart Davis. I knew that with their expertise and experience in the sector, they would be the ultimate technological partner for the project!"
The challenge
The main challenges were related to the small dimension of the satellite and to the material - since it was the first time that an entire satellite would be built from a Carbon-composite material.
Joe Latrell comments, "Discovery is a PocketQube satellite. These are spacecraft that are as small at 50mm x 50mm x 50mm internal volume. Our particular satellite is a demonstration of what can be done for remote sensing of Earth's resources on that scale. The challenge with something so small is to fit the electronics, camera, and radio system into it.
The assignment was tough - the Windform® parts in the Discovery would be mission critical.
As Joe Latrell clarifies, "This was the first time an entire satellite would be manufactured from a material like Windform® XT 2.0. Performance is everything. If any one of the parts fail, it would result in complete failure of the spacecraft."
But thanks to the long-term experience gained in the field of Additive Manufacturing service alongside the key leaders of the most advanced industrial sectors CRP USA accepted the challenge and won it.
"Joe's team brings a unique challenge as they are packing a lot in a small package. Our team was able to use our experience with Windform® to help move the project forward," stated Stewart Davis "Adapting to new and complex applications has become key to CRP USA's further advancement."
For the manufacture of Discovery 1a, Joe Latrell and CRP USA staff decided to use Carbon-fiber reinforced Windform® XT 2.0.
As Joe comments, "The combination of strength and ease of use made the material a natural choice for us. We knew we wanted to use additive manufacturing for Discovery but understood that it would be hard to find something that would work in the harsh environment of space. We discovered Windform® XT 2.0 and after looking at its properties, it was a simple choice."
Windform® XT 2.0 replaces the previous formula of Windform® XT in the Windform® TOP-LINE family of composite materials.
Windform® XT 2.0 features improvements in mechanical properties including +8% increase in tensile strength, +22% in tensile modulus, and a +46% increase in elongation at break. These mechanical properties have guaranteed the achievement of the required characteristics, i.e. stiffness, low mass as well as very smooth surface finish.
Moreover Windform® XT 2.0 – as mainly composite materials Windform® TOP-LINE, has passed outgassing tests at the most important Space Agencies, and it's suitable for space missions.
Result / Testing
CRP USA manufactured for Mini-Cubes three 1P PocketQubes functional prototypes: two for testing and one for flight.
CRP USA Laser Sintering process combined with Windform® XT 2.0 Carbon-composite material, proved to be the best choice: the 3D printed 1P PocketQubes functional prototypes have successfully passed the control and testing criteria and have fully complied with the requests and Mini-Cubes' standards.
Joe Latrell comments, "We have run quite a few tests with many more on the way. So far we have load tested to over 20 Kg. The material has been vibration tested to NASA GEVS-7000 specifications, subjected to a near vacuum to simulate the conditions in Earth orbit, and thermally tested from +50c to -40c. Windform® XT 2.0 has passed every test we threw at it."
He continues, "The next step for us is to test the satellite on orbit. This will be the final validation for our process. The plan is to launch sometime in Q2 2021."
The content & opinions in this article are the author's and do not necessarily represent the views of ManufacturingTomorrow
---
Comments (0)
This post does not have any comments. Be the first to leave a comment below.
---
Post A Comment
You must be logged in before you can post a comment. Login now.
Featured Product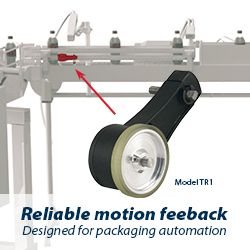 The Model TR1 Tru-Trac™ linear measurement solution is a versatile option for tracking velocity, position, or distance over a wide variety of surfaces. An integrated encoder, measuring wheel, and spring-loaded torsion arm in one, compact unit, the Model TR1 is easy to install. The spring-loaded torsion arm offers adjustable torsion load, allowing the Model TR1 to be mounted in almost any orientation - even upside-down. The threaded shaft on the pivot axis is field reversible, providing mounting access from either side. With operating speeds up to 3000 feet per minute, a wide variety of configuration options - including multiple wheel material options - and a housing made from a durable, conductive composite material that minimizes static buildup, the Model TR1 Tru-Trac™ is the ideal solution for countless applications.