From laying out a brand-new manufacturing centre; to shaping and promoting Facet's reputation; to training up a high performing team who are passionate about the craft of cutting tools – Jeremy has built the foundations for success.
Facet Precision Tool Comments on Why Building a Team of Craftspeople is Key to Success and Whether the Electric Car Be the Demise of the Cutting Tools
Case Study from | ANCA CNC Machines
Jeremy Bunting, Managing Director of Facet Precision Tool grew up in the cutting tool industry, getting a hands-on education from a young age and then using this experience to start his own business. From laying out a brand-new manufacturing centre; to shaping and promoting Facet's reputation; to training up a high performing team who are passionate about the craft of cutting tools – Jeremy has built the foundations for success.
Specials are a relationship business - requiring communication and trust
As we build our company we want to be known for quality. From the start we have been trying to build our reputation for offering high quality tools rather than just entering a market and throwing anything out there and seeing what sticks. We are methodical in our approach to manufacturing certain tools or entering a marketplace or approaching certain things. Even if this means we are a bit slower and more tactful.
Just as important, is our responsiveness to the customer through deliveries and application support. These are the foundation of our company. We start by listening - what does the customer want to achieve, am I understanding their needs correctly? Then I consider how the product could be improved, can we make other recommendations. We turn that request into a tool design that is checked by the customer.
In aerospace, a common misunderstanding is the need for standard tools. Tools for aerospace require different lengths, diameters and applications. There is also a high requirement for accuracy, in Europe for example, we find aerospace have applications that need to be measured to a couple of microns and use a variety of methodology to make holes in different materials. It is a challenge making a product meet quality standards while working across a range of material applications.

Building a team of craftspeople
I think working in speciality tools excites an element of craftsmanship. Every day is different, and you can take pride in your work, was it correct, was it to print. That is why we look for a person who is flexible, shows an ability to learn, grow, and absorb information.
I train everybody in my plant like they've never seen a grinding machine before. We invest time to build their knowledge base to understanding the manufacturing and measuring equipment. Again, partially because we're into specials where every tool design is different, we don't have pre-written programs.
I think one of the best characteristics of a toolmaker is an attention to detail. Often people can become over invested in the productivity side - how many parts can I get through, how fast can I get them through the line. I train my team to be focused on the quality of the tool first and productivity second. And to meet these expectations of quality you have to have a high attention to detail.
Just as important is to develop your team to have a passion for grinding. The more passion someone has for the product, the more likely they are to stay. Teaching your employee how to make a better-quality tool feeds their creativity and teaches them it is ok to have your own approach and style. At Facet we have an open dialogue with our teams of why we do the things that we do.


Trends in the market – will the electric car be the demise of the cutting tools?
If I think about what I am seeing in the market I would say there is more competition in the automotive field than there is in the aerospace field, probably because aerospace requires more project work, more support, more testing, more engagement with the customer. Automotive expects high quality tools at very high tolerances, we have reamers that have tolerances of only a couple of microns. Another focus for this industry is price.
As the use of composites in aerospace has increased so has the demand for PCD or diamond coated tools. For example, the Dreamliner or A350 or Boeing Dreamliner uses a large amount of composites. These are extremely abrasive so if you use a carbide tool to grind composite materials, initially the tool works great but the wear curve is extremely high so after a 150 holes, the amount of wear is accelerated on that tool until it becomes blunt.
This changes the dynamic of the cutting, the heat, burr creation; causing problems for the manufacturer. Whereas if you use a qualified diamond or PCD tool, you may be able to make up to 1500 holes. For a customer that means higher productivity, fewer changeovers, less inventory and a higher degree of quality for a longer period of time.
There is speculation that combustion motors will disappear and as motors disappear then the need for a lot of the cutting tools disappears. This is bringing up questions on how much electric cars will replace all other means of transportation. Personally I think there are a lot of hurdles that have to be overcome and we will see other opportunities as the market changes. I think as far as aluminium and composite manufacturing is concerned we will see them trying to go lighter to make combustion engines more efficient.
I think there will always be a need for niche and special products and that means more special cutting tools. That's one of the reasons why we were very comfortable moving into this industry. So as materials change - if it's more glass, carbon composites or aluminium - we're in a good position to move with the market and respond to those changes. I have established the foundations of Facet Precision Tools to be agile with design expertise, workforce skills and manufacturing capabilities. We can and do adapt and invest in the machinery or develop our knowledge so we can meet the markets' changing needs rather than focusing on materials.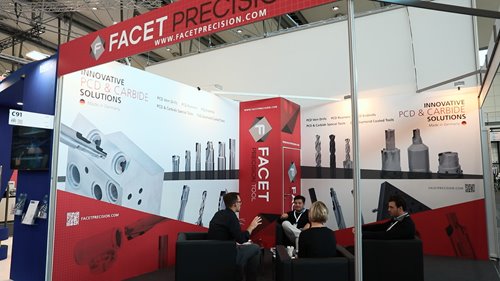 Facet Stand at EMO 2019
The content & opinions in this article are the author's and do not necessarily represent the views of ManufacturingTomorrow
---
Comments (0)
This post does not have any comments. Be the first to leave a comment below.
---
Post A Comment
You must be logged in before you can post a comment. Login now.
Featured Product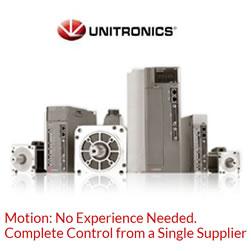 Unitronics' line of AC Servo Drives & Motors changes the traditional approach to motion control. They are simple to set up and painless to program. Unitronics Servos simplify implementation of motion applications while minimizing complexity and reducing development time. Some of the easy-to-use features in this new line include implementing motion control easily with ready-made motion code, embedded diagnostic tools, and automatic communication setup.