There is no doubt that 3D Printing is shaping our societies. Its future is evolving very fast and, although its impact on different sectors is still to be defined, many industries are leveraging 3D Printing technologies for their goals.
Successful Mission of TuPOD, 3D Printed Innovative CubeSat
Case Study from | CRP Technology
Aerospace industry is one of these.
Indeed, Aero field is experiencing a renaissance set by the ever-increasing production and launch of small satellites as smallsats provide a responsive alternative to larger, more expensive satellites.
Additive manufacturing technologies not only helped this radical change to be fulfilled, but have itself reached new heights with the manufacture of structural components for the new generation of Space parts using high performance composite materials.
Although much still must be done to reach an extensive use of additive manufacturing for Space applications, CRP Technology and its US-based partner CRP USA have built a considerable experience supplying cutting-edge solutions for space key industry leaders.
As demand grows, CRP Technology and CRP USA have noticed that engineers adapt these "nanosatellites" or CubeSats to provide new achievements and goals.
One of these achievements is deploying TubeSats from International Space Station (ISS).
TubeSats are cylindrical-shaped nanosatellites, not much bigger than an ordinary beverage can, and are not compatible with normal CubeSats deployer platform (P-POD) on ISS, thus, an innovative nanosatellite, TuPOD (Tubesat-POD), was developed to address the challenge.
TuPOD inaugurated a new era for scientists wanting to use small, highly reliable satellites. It is the first complete 3D printed satellite launched from the ISS, manufactured by CRP USA using CRP Technology's proprietary material Windform® XT 2.0, the ground breaking Carbon fiber reinforced composite material for Additive Manufacturing, known for its mechanical properties, from the Windform® TOP-LINE range of high performance materials for Laser Sintering technology.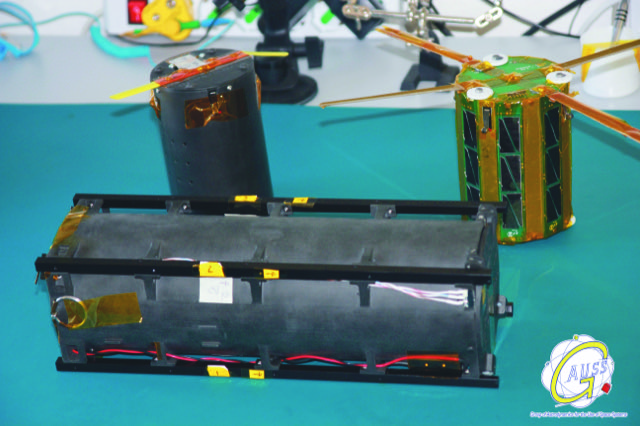 The two TubeSats and the TuPOD during the integration phase. Courtesy GAUSS Srl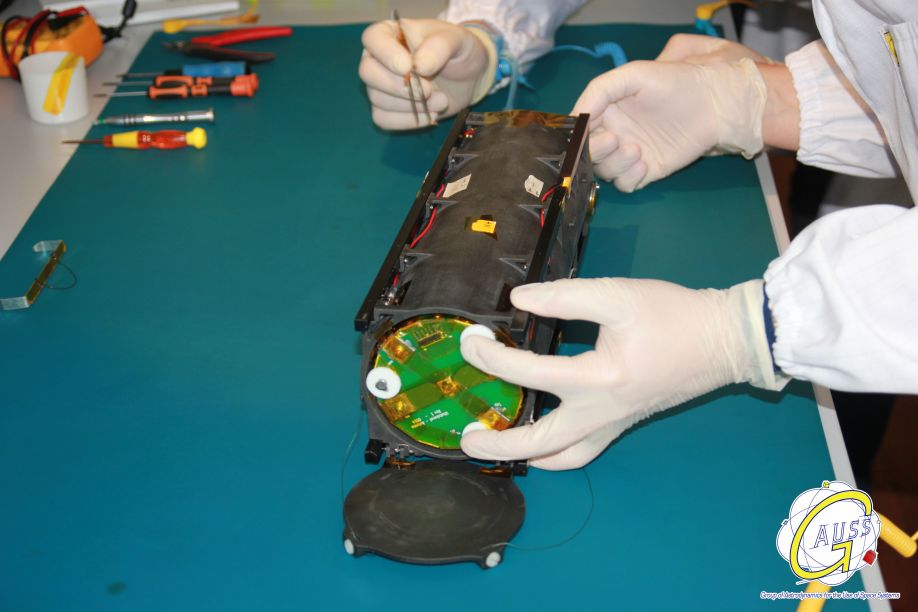 Last phase of the TubeSats integration. Courtesy GAUSS Srl
The project
The story of TuPOD began when a group of Brazilian students from "Escola Municipal Presidente Tancredo de Almeida Neves" needed to launch their TubeSat, TANCREDO-1, from ISS (International Space Station), along with another TubeSat, OSNSAT, developed by the Open Space Network, a Californian space company.
TANCREDO-1 was part of the UbatubaSat Project, carried out with INPE (Instituto Nacional de Pesquisas Espaciais).
The group of student approached GAUSS Srl (Group of Astrodynamics for the Use of Space Systems), an Italian company with close relationship to the University of Rome, to help them overcoming the challenge of launching their TubeSat from ISS.
GAUSS was faced with the challenge of designing an innovative system to deploy the first TubeSats into orbit that could act as both a satellite and release platform.
GAUSS began the process of evaluating technologies that could produce a system with the capability to board and release two TubeSats that could meet the rigid mechanical properties for space applications while avoiding traditional tooling challenges. In that regard, GAUSS teamed up with Teton Aerospace, LLC (Tetonsys) in California, USA, which has Bob Twiggs as a co-founder. With the collaboration of GAUSS and Tetonsys, the TuPOD concept was developed.
The final part was designed and built by Tetonsys with GAUSS guidelines and support from CPR USA and Moreheard State University (MSU), for being integrated inside the J-SSOD system and released from the Japanese module "KIBO" at the ISS.
The unique properties of the material chosen for the manufacture of TuPOD, Windform® XT 2.0 , and the technology used, Laser Sintering process, have allowed system optimization that successfully withstands the design requirements due to space limitations and the extreme conditions of the launch.
The TuPOD successful mission marks a great example of both scientific advance and international cooperation.
Development and launch of TuPOD
Designing and manufacturing a functional satellite which is a 3U CubeSat and at the same time a deployer of TubeSats proved to be challenging.
Understanding the limitations with traditional manufacturing technologies (traditional subtractive manufacturing technologies can be restrictive in design development and material selection), the opportunity to develop a unique system based on the use of Additive Manufacturing (AM) technologies was identified.
3D Printing has given engineers more flexibility in the timeline to make design improvements and being able to think outside of limitations caused by traditional tooling. This choice made it possible to substantially reduce the costs and has been very convenient in terms of timing when compared to traditional production methods.
The requirements to build the TuPOD mothership were stringent.
The TuPOD is a 3U CubeSat satellite with 4 external Anodized Aluminum rails (40% weight of an equivalent of an aluminum structure).
The TuPOD needed to be designed like a 3U CubeSat parallelepiped, but to hold two TubeSats 3.5" dia x 5" long while using the CubeSat launch infrastructure with JAXA on the ISS. It was needed to create an interface between a cylindrical structure as TubeSat is, and a parallelepiped structure as 3U CubeSat is.
It was possible through the use of Additive Manufacturing and the Windform® TOP-LINE composite material.
Thanks to this specific kind of deployer, two TubeSats were released into Space for the first time: with the TuPOD project, a new and affordable launch opportunity for the users of this new type of satellite has been created.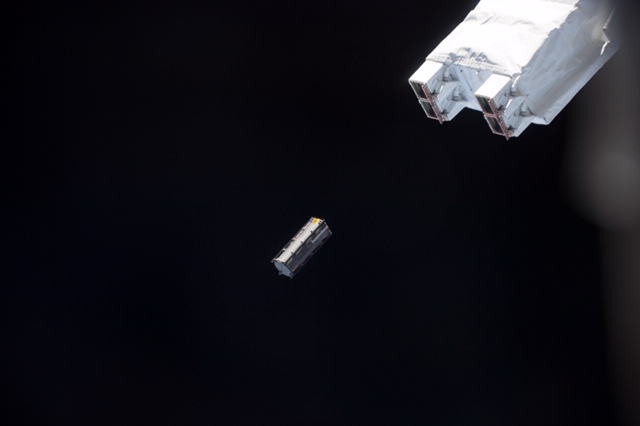 TuPOD deployed © JAXA NASA
The use of Windform® XT 2.0 Carbon-composite material
While the challenge of designing and manufacturing of the mothership (TuPOD) as a single-part was addressed with the use of additive technology, the next step was to find a material that could meet the rigid mechanical properties required for space applications. A variety of additive technologies available on the market could produce the TuPOD design, however, the material properties were too weak and inconsistent with the density of the fussed structured.
During the evaluation process and design review, GAUSS opted for Windform® XT 2.0 from the Windform® TOP-LINE of high performance composite material by CRP Technology: a strong, highly functional material for the Laser Sintering technology, with application in Aerospace Industry.
According to Amin Djamshidpour, designer of TuPOD and co-Founder of Tetonsys: " Using Windform® XT 2.0 material in the 3D manufacturing of TuPOD was one of the best decisions we have made. Windform® XT 2.0 is an electrically conductive material and machine-able. During the prototyping phase and even the final manufacturing, we got into multiple situations that we needed to drill the part or make small modifications to the 3D printed structure and working with Windform® XT 2.0 gave us the ability to do so."
Prof. Twiggs: "This unique design was only possible with the 3D printing by CRP USA and the space qualified Windform® XT 2.0 material. The rapid response, low cost and quality were the key factors in making this a successful mission."
The TuPOD project represented clear challenges for CRP USA and the additive manufacturing technology. At the same time, the manufacturing of such a design without Windform® XT 2.0 material and manufacturing process, seems impossible. After hours of analysis and design by Tetonsys, the final CAD model was ready to be manufactured. Designed using the Windform® XT 2.0 material properties, the CAD file was sent to CRP USA and the part produced.
The result was an additive manufactured, single-part with unique features (special shape for batteries, electronics, and release door) that was sent to Tetonsys for integration of electronics and make it ready for Environmental testing.
To perform the final integration of TubeSats into the modership, TuPOD was shipped to GAUSS in Italy.
Then the TuPOD was brought to Japan for its integration into the CubeSat deployer J-SSOD (JEM Small Satellite Orbital Deployer) at the Tsukuba Space Center of JAXA (Japan Aerospace Exploration Agency) in Ibaraki Prefecture, by a GAUSS and JAXA team.
The deployer J-SSOD, containing TuPOD, together with other nanosatellites, was installed inside the autonomous spacecraft H-IIB, named "KOUNOTORI 6", for the HTV-6 mission, to deliver supplies to the International Space Station (ISS).
The Japanese launcher HTV-6 was sent from the Yoshinobu Launch Complex, Tanegashima Space Center, to the International Space Station (ISS).
"KOUNOTORI 6" was captured by the ISS' robotic arm (Canadarm-2, 17.6 meters-long) and berthed to the ISS.
After having been attached to the ISS, the spaceship remained berthed for six weeks (in this time period the astronauts performed spacewalks to replace some of the ISS batteries with the new ones that the HTV-6 carried).
The TuPOD was then deployed, with the Japanese astronauts' help, from the ISS Japanese Experiment Module "KIBO".
TANCREDO I and OSNSAT were released from the TuPOD satellite/deployer about three days after the launch into orbit of the TuPOD, as soon as the TuPOD was distant enough from the ISS.
Once in space, the TuPOD itself and TANCREDO-1 transmitted telemetry data, which have been received and decoded by radio amateurs from all over the world.
Conclusion
From a technical point of view, the TuPOD represents an innovation, since its structure has been completely 3D printed. The mission used cutting-edge technology and the TuPOD itself represents an innovative space product, developed to launch a new type of pico-satellites, such as TubeSats.
Stewart Davis Director of Operations CRP USA, stated, "Unlike many technologies that were originally developed for Aerospace that are then adapted to Motorsports, Windform® XT 2.0 is a purely Motorsports drive material."
Windform® was originally developed by CRP USA's partner CRP Technology based in Modena, Italy, for use in Formula One Racing, first in the wind tunnel and then on the track.
Mr. Davis commented, "We look forward to continuing to produce components for our racing partners, with a material that is both proven on the track and carries an added bonus of Space Flight heritage. "
The content & opinions in this article are the author's and do not necessarily represent the views of ManufacturingTomorrow
---
Comments (0)
This post does not have any comments. Be the first to leave a comment below.
---
Post A Comment
You must be logged in before you can post a comment. Login now.
Featured Product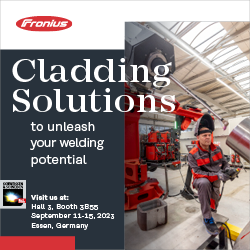 Ever since the invention of our "cold" MAG welding process Cold Metal Transfer (CMT), if not earlier, we have continuously achieved a technological edge in many welding-related areas, resulting in cutting-edge mechanized and automated welding systems. Advanced power source technology stabilizes the arc and ensures perfect welding results. Modern monitoring sensors optimize guidance of the welding torch and compensate for component tolerances. Last but not least, smart data documentation systems assist in perfecting the welding process. Collaborative systems, smart sensor technology, software solutions for data management, and offline programming including welding simulation open up profitable welding opportunities for metal processing companies starting with a single batch. That is why our robotic welding cells prove profitable not only for large companies, but also for small and medium-sized enterprises.