Sensor and system solutions are intelligently networked and setting the pace of Industry 4.0. Our commitment is to the development and manufacture of sensors, identification systems and industry solutions for every area of industrial automation. Visit us at Booth #D45322.

FABTECH Q&A with | Balluff
Tell us about your company.
Balluff stands for innovative technology, quality and cross-industry experience in industrial automation. As a leading sensor and automation specialist, Balluff offers a comprehensive portfolio of innovative sensor, identification and network solutions as well as software for integrated system solutions. We give our all to improve the competitive position of our customers by sharing our passion for automation.
Founded in Neuhausen auf den Fildern in 1921, Balluff now employees more than 4,000 workers in distribution, production and development sites around the globe. This guarantees excellent worldwide product availability for our customers, as well as high-quality consulting and service directly on site.
Your company will be exhibiting at FABTECH Expo, what is it that makes this an important event for your company?
Balluff seeks out opportunities to showcase our products. FabTech presents an opportunity to focus on trends in manufacturing including the Industrial Internet of Things (IIoT), Industry 4.0 and automation robotics as well as management issues including the manufacturing skills gap.
What makes your booth a must visit for FABTECH Expo Attendees?
Factory Automation
The use of automation in factories increases productivity, improves safety, reduces lead time and results in better product quality. This model highlights the fundamentals of automation including detecting, measuring, identifying, and connecting and networking. Additionally, we've incorporated safety features, IO-Link for simplified installation and expanded diagnostics, and indicator lights for quick feedback. And it serves up sweet treats.
Condition Monitoring
To control production processes and maintain flow, information about the condition of the sensors, the process chain and the workpieces is necessary. This application uses augmented reality to reveal the status of various sensors for machine sensing, while a SmartLight also displays measured values.
Machine Vision Solutions
Industrial image processing is indispensable for modern, flexible manufacturing because it ensures product quality and supports efficient manufacturing processes. Both industrial and Smart cameras are shown here with different lens types to show how they can identify and check workpieces for quality and position, including color and size detection, bar code reading, and position.
FABTECH Expo has many educational sessions, forums & Demo's, is your company involved in any of them this year?
Monday, Nov. 11, 10 a.m. – F29 Smart Manufacturing Basics to Get Started in the Digital World
Monday, Nov. 11 , 12 p.m. ­– F31 Leading and Preparing and Industry 4.0 Organization and Workforce
Monday, Nov. 11, 2 p.m. – F41 Industrial Internet of Things (IIoT) for the Job Shop
Tuesday, Nov. 12, 8 a.m. – S51 Connectivity - 1
Tuesday, Nov. 12, 10 a.m. – S61 Connectivity – 2
Tuesday, Nov. 12, 2 p.m. – F81 IIoT Solutions to Better Manage Your Assets
Wednesday, Nov. 13, 8 a.m. – S91 Sensors 1
When you get a chance to walk the exhibit hall floor yourself, what is it you will be most interested to see? Any educational sessions, pavilions etc. you plan on attending?
We will be most interested in seeing how companies are implementing technology as they work toward Industry 4.0.
The Advanced Manufacturing is undertaking rapid advancements, be it 3D Printing and the materials used in automation and robotics. Automation Technology is a huge part for many manufacturers, give us an idea on how your company and product is being utilized now in the smart factory.
At Balluff, we move products, processes and people forward. Because our sensor and system solutions are intelligently networked and setting the pace of Industry 4.0. Our commitment is to the development and manufacture of sensors, identification systems and industry solutions for every area of industrial automation. We already offer the necessary technologies for implementing Industry 4.0 solutions. Together with our expert consulting and service this makes us the preferred partner and enabler. We provide assistance for the conception, development and realization of individual solutions in the most varied industrial sectors. Through these advanced concepts we increase the efficiency and profitability of your processes, making you more competitive.
Give us your thoughts on what the future holds for manufacturers and automation technology.
The Digitalization and the Industrial Internet of Things is not possible without sensors. That's because the data gathered from the systems and machines helps to optimize processes in the industrial manufacturing environment, thereby improving the efficiency of the entire production operation. The merging of automation technology with suitable software produces integral automation solutions in the context of the Industrial Internet of Things from one single source. In-house software expertise and the right partners are indispensable here. We are boosting our customers' competitive edge with our intelligent solutions.
If you would like please provide contact information for a reader to setup a booth demo.
Chris Duncan at Chris.Duncan@balluff.com
The content & opinions in this article are the author's and do not necessarily represent the views of ManufacturingTomorrow
---
Comments (0)
This post does not have any comments. Be the first to leave a comment below.
---
Post A Comment
You must be logged in before you can post a comment. Login now.
Featured Product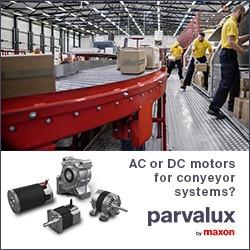 An effective, reliable and efficient drive system is essential to any material handling equipment, whether it's a motor-assisted tow truck, a barrel lifter, a robotic vehicle or a complete high-capacity parcel sorting hub; Parvalux designs and manufactures an exciting range of AC, DC brushless and brushed motors and our drives are valued for their performance and reliability.