Carbide is composed of a combination of the elements of carbon and tungsten. When these two elements are mended together they create an alloy that is resistant to heat, scratches, pitting, and rust.
5 Ways Carbide Metal Compound is Used in the Manufacturing Industry
Sarah Saker
You may be asking what the carbide metal compound actually is and this article will explain what it is and what it is frequently used for. There are a lot of metal compounds that are used for specific reasons and in different applications worldwide. Carbide is a compound that stands out on its own for being not only recyclable but being a durable metal as well.
Carbide is composed of a combination of the elements of carbon and tungsten. When these two elements are mended together they create an alloy that is resistant to heat, scratches, pitting, and rust. You can compare the hardness to that of a diamond due to the high density it holds.
The strength of this metal compound is what makes it stand out as well. Its overall strength can overpass steel nearly three times. It can be easily molded into any desired shape and sharpened with exactness. You can even meld this metal or merged with other metals easily. Tungsten is a universal metal that can be used for many purposes within many different industries, from medicine to manufacturing. Here are some of its most popular uses.
Surgical Tools
The medical industry requires much equipment and tools to operate properly and efficiently. This equipment is usually specific to certain situations and procedures. Surgical tools are often used and should be able to withstand procedures. Carbide metal is used in surgical tools and other medical tools that help save lives. Most surgical tools used today are usually made up of titanium or stainless steel.
This is a great example of grafted carbide and how it can be merged with other metals to create a useful tool. Carbide is grafted to the stainless steel or titanium to create the necessary tools used in surgeries. Usually, the tip or blade is made up of carbide and the remaining parts are other metals. Carbide's hardness allows it to be sharpened to create a finer edge and gives surgical tools longevity due to its resistance qualities. There are specific companies that handle carbide compounds for tool making solutions, Ceratizit is a prime example.
Mill Products
Carbide is an efficient metal compound for mill products and mill inserts. This is actually a quite popular use for carbide as just over 10% of it is used especially for the manufacturing of mill products. They are made in various sizes and shapes. It all depends on the type of metal carbide comes in contact with as well. This metal compound is quite versatile because of its capabilities to be molded and its hardness and can be used to create precise applications for milling and grinding.
Industrial Alloys
Specialized alloys are where carbide metal compounds are used the most with about 17% of it being used to combine with other metals. Carbide is versatile and can be molded, sharpened, and mended with other metals to create compounds that are utilized in electronics, and other commercial applications. It is popular for carbide to be used in combination with copper, silver, nickel, and iron to create new materials for multiple purposes, for example:
Industrial gear making

Radiation shielding

Aeronautical industries

Commercial construction

Electrical devices
Jewelry
It isn't surprising to see that carbide is used in creating jewelry due to the way you can mold and shape it to your liking. You can also mend it with other metals, so carbide and jewelry making is a perfect match. This is the newest way industries are using carbide metals. The hardness of this metal compound is what makes it attractive to jewelry makers. It can be utilized for crafting rings, earrings, pendants and more. You can even create a beautiful piece of jewelry with this metal if you cut and polish it efficiently.
This new method of creating valuable pieces of jewelry is becoming extremely popular. Many people are beginning to opt for wedding and engagement rings due to the fact that they are less expensive than natural gold. It can be a cost-effective alternative to other popular jewelry types.
Cemented Carbide
Cemented carbide is used in the creation of drilling and milling tools. Usually, the tools that are used in construction applications are made from this metal compound. This is where most of the carbide metal market goes toward construction applications and the creation of associated tools like mining tips, drill bits, and other tools. Carbide tools are usually preferred over stainless steel for its hardness and resistance components.
You won't have to worry about wear and tear as the carbide tips will last the longest. An important factor of carbide metal is that it can be recycled and reused. Carbide recycling companies will usually pay large amounts for scrap carbide as it benefits production costs and giving workers the best quality tools to work with.
Other Manufacturing Purposes
Carbide is used in other manufacturing purposes and applications as well. It is frequently used for trekking poles, cleats, and ski poles. It is also utilized in the manufacturing of fishing weights and many other mechanisms that require cutting and pulverizing. There are many incentives for using this metal, including financial benefits, recycling, and longevity.
The industries that are beginning to use carbide metal as their preferred metal compound will reap incentives and cut costs of production. It can positively affect multiple industries and should be considered for various metal applications. From the medical industry to construction applications to the creation of common items, carbide has a widely ranged usefulness.
The content & opinions in this article are the author's and do not necessarily represent the views of ManufacturingTomorrow
---
Comments (0)
This post does not have any comments. Be the first to leave a comment below.
---
Post A Comment
You must be logged in before you can post a comment. Login now.
Featured Product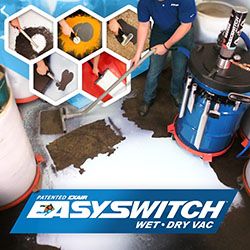 VariBlast Precision Safety Air Guns are small and lightweight air guns capable of handling tough jobs. Designed with a variable flow trigger they are able to produce different force values from the same nozzle simply by pulling the trigger. EXAIR is offering a special right now on all of their Safety Air Guns. Learn more at https://exair.co/184-saqgpromo https://exair.co/184_511