Like all servitization business models, S2aaS could provide numerous benefits to the customer. Using a subscription-based service, manufacturers can rest assured their sensors will be monitored, repaired and replaced whenever required.
Servitization for Sensors
Jonathan Wilkins | EU Automation
Servitization is not a new phenomenon. Manufacturers of industrial equipment have long provided extended warranties, future inspections and extensive service contracts as part of their sales pitch. Today however, the rapid pace of change in North American manufacturing is causing a dramatic increase in the servitization of products. The reason for this spike? Sensors.
Many servitization business models rely on the use of sensors in their products. Using data and information gathered by these sensors embedded into equipment, the service provider can continuously monitor the state of their product. Then, they can provide the necessary upgrades, repairs or maintenance to the product when it is required, thus adding extra value for the customer.
Consider an industrial heating ventilation and air conditioning (HVAC) system as an example. If an internal sensor identifies an air conditioning unit is not ventilating air to the correct temperature, the HVAC supplier can be alerted immediately. This allows the fault to be dealt with quickly and of course, takes the responsibility of noticing, fixing and paying for repairs away from the end-user.
But, what is the case for the servitization of sensors themselves?
Servitization is happening in all industries. The manufacturing sector has already begun exploring the potential of Robots as a Service (RaaS) and has widely adopted various Software as a Service (SaaS) models — think Supervisory Control and Data Acquisition (SCADA) and Manufacturing Execution Systems (MES) as an example. In fact, when the idea of Sensors as a Service first emerged, the abbreviation had to be relegated to S2aaS, to avoid confusion.
Using a subscription model, S2aaS would allow manufacturers to pay a monthly or annual charge for the deployment of sensors in their facility. The cost would include maintenance, support and regular upgrades. Sounds ideal, but the servitization of sensors is not without its challenges.
Integration with existing sensors
The most obvious problem is the integration of new sensors with existing technology. Most manufacturers will use an array of equipment in their facility, all from varying manufacturers, models and production years. Some of this older machinery will not be equipped with sensors at all. However, some newer devices may have propriety sensors built in, that can be difficult to replace.
In these instances, it is important to ensure that the S2aaS provider can either; collect data from your existing sensors to compile a complete report or, is advanced enough to warrant replacing the existing sensing technology. For example, some standard sensors are limited to indicating the presence or absence of an object, whereas smart sensors can provide up to 32 bytes of cyclical data — which could provide much more value.
Ensuring sensors are smart
Conveyor systems are often fitted with sensors to ensure they only operate when they are carrying products, thus saving energy. A standard sensor can only identify if a product is present, whereas a smart sensor uses a combination of motion, proximity, weight and image sensing to detect how many products are on the conveyor and how effectively the conveyor is operating.
Beyond this, smart sensors can also be used to monitor the health of equipment in a facility. Using the conveyor system as an example, accelerometer sensing can be used to monitor the vibration of the equipment, indicating when there may be a mechanical problem or a sign of breakdown. With this in mind, switching existing sensors for advanced versions could be incredibly beneficial.
Before switching however, manufacturers should ensure that the sensors offered by the S2aaS provider are advanced enough to provide an improvement. Sensors enabled with IO-Link technology, for example, can communicate much more data. IO-Link is an open standard protocol that provides a common communication for a sensor's parameters and features.
Ensuring that sensors are enabled with IO-Link technology means that other IO-Link devices can connect to the sensors. By doing this, manufacturers can collect a much more detailed wealth of data than standard sensors could deliver.
Assessing sensor requirements
Before embarking on a subscription-based model for smart sensors, manufacturers should first decide whether theyactually need to collect more detailed data from their facility, and whether the investment will provide benefits to their business.
Another consideration is whether a subscription-based model will provide better value for money than a regular, purchase-based model. For example, some sensors are subject to frequent damage due to the application in which they operate. Food and beverage manufacturing are good examples of this.
Due to regular washdowns of equipment and varying temperatures during the manufacturing process, sensors used in food manufacturing often require repairing or replacing. Extreme temperatures in particular can put enormous strain on sensors, limiting their ability to collect and report data.
In these instances, opting for a S2aaS can ensure that sensors will be repaired and replaced as soon as necessary — without the unexpected costs associated with buying a brand-new sensor.
Like all servitization business models, S2aaS could provide numerous benefits to the customer. Using a subscription-based service, manufacturers can rest assured their sensors will be monitored, repaired and replaced whenever required. However, it is important to remember that not all servitization models can guarantee the same level of service.
Before jumping on the S2aaS bandwagon, it is vital that manufacturers do their own research to ensure their service provider can provide real added-value.
The content & opinions in this article are the author's and do not necessarily represent the views of ManufacturingTomorrow
---
Comments (0)
This post does not have any comments. Be the first to leave a comment below.
---
Post A Comment
You must be logged in before you can post a comment. Login now.
Featured Product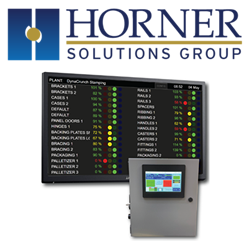 Horner Solutions Group offers a pre-programmed solution that is fast and easy to implement. No development on the user end, just a simple setup on the touchscreen and you can start monitoring and collecting data in minutes. With the ever-growing need for production data in the industry, we wanted to help bridge the gap for many production companies to be able to start collecting accurate and functional OEE (Overall Equipment Effectiveness) data within just a few minutes of setup, as opposed to the weeks/months many companies spend developing their own solution from scratch. For any customers that may have a need outside of the typical product mold, we also offer engineering services for custom hardware and software solutions of various types.