Industrial control equipment industry looks to independent distributors to address chronic shortages in the availability of electronic components
Taking an Independent Path: Strategies for Low Risk Sourcing of Components in a Constrained Market
Jeff Elliott | Classic Components Corp.
Direct sourcing of electronic components for the industrial control equipment industry used to be pretty simple. An OEM would order direct from the manufacturer or through authorized distributors to obtain any required components. There was usually no need to look any further.
Today, the challenges of a highly stressed supply chain are forcing many equipment OEMs to rethink the way they source components. With parts such as multi-layer ceramic capacitors (MLCCs) and other low-cost components in chronic shortage with extended lead times for delivery, manufacturers must be able to get these parts on-time at the lowest possible cost without assuming additional risk.
As a result, many are turning to independent or hybrid distributors for long lead-time parts. The primary caveat: the components must meet the specifications thereby avoiding compromising the integrity of the end product. In other words, equipment manufacturers want components that can be traced back to the original manufacturer.
For many companies, sourcing parts from the independent channel requires a significant shift in mindset. It also requires a comprehensive strategy for identifying and working with reliable independent stocking distributors to ensure they get components they need, when they need them.
"For industrial control equipment manufacturers there has been harmony in the supply chain for most of the past decade, so the need to identify alternative suppliers has not been as pressing as it is now," says Mike Thomas, vice president and global general manager at Classic Components, an independent distributor based in Torrance, CA. "That means many companies have not invested a lot of time or attention strategizing about how to use independent distribution channels effectively.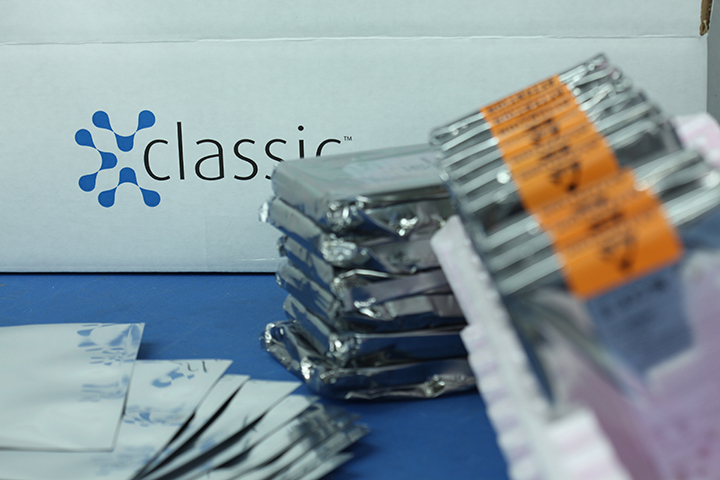 The process begins, he says, with understanding how to distinguish one independent distributor from another. This often comes down to a mixture of experience, reputation and the extent of the supplier's global supply network. Therefore, it is critical to understand the quality management systems of your independent partners.
Know Your Source
According to Thomas, the mantra in his industry to eliminate risk is "know your source." To accomplish this, leading independent distributors invest millions to manage global supply networks, rate/prioritize suppliers, establish preferred supplier relationships and acquire the latest inspection equipment and utilize effective Quality Management Systems (QMS).
"Over time, companies like ours have developed a very complex method of identifying and eliminating risk," says Thomas. "That includes knowing how to inspect and test components that come in to our facility, but also goes well beyond that."
It also means analyzing and inspecting sources with an investigative diligence. What path did the parts take to get there? Who is the manufacturer and how is that relevant? Where was it made? How was it shipped and packaged? Is demand of a component strong enough to make its availability viable? Only thorough examination and assessment of all these factors, in conjunction with traceability, can the risk be truly mitigated.
"When we purchase components like MLCCs, for example, we are purchasing from a direct source," explains Thomas. "That could be a regional or foreign distributor, an OEM partner or direct from the factory."
To verify the chain of custody, traceability documentation can be provided that identifies the name and location of all the supply chain intermediaries from the part manufacturer to the direct source of the product. If this traceability is unavailable, a risk mitigation plan is required. Finally, visual inspection, testing and physical analysis are performed on all incoming products.
Purchasing Power
The truth is that many of the shortages were predicted some time ago. As a result, leading independent stocking distributors like Classic Components have spent the past few years engaged in a long-term strategy of identifying, and investing in, directly sourced critical electronic components.
By doing this, independent distributors protect the supply, but are also able to lock in lower prices by making purchases before the inevitable changes driven by reduced supply and increased demand.
To protect high-volume orders, a distributor can lock in prices and delivery dates for many months at a time. This ensures that the inventory will be there when the customer needs it and not sold to someone else.
In some cases, they can even make speculative purchases for a customer and/or provide financing to purchase inventory when a qualified client has capital constraints.
Global Networks
Another direct source for high demand parts comes from tapping into a large global network. Because of the worldwide demand for components, independent distributors have expanded globally and placed sourcing experts in key supply markets.
For example, in addition to its 60,000 square foot facility in Torrance, California, Classic Components has established 12 regional offices in strategic locations throughout the world to support its global distribution business. The company boasts nearly 200 employees, who specialize in various aspects of the business, including supply chain, quality, technology and logistics.
The buyers can develop an intimate knowledge of regional supply chains with the expertise to find and manage quality component suppliers. These experts then leverage these relationships to bring the best price and delivery to their customers.
"By using regional quality centers and logistic hubs, we have the flexibility to purchase components from any country, in any currency, and then ship them to anywhere they are needed," explains Thomas.
He gives the example of a customer in Mexico that wants components from Taiwan, due to availability. If the Taiwanese supplier will only sell to local companies, Classic Components can purchase the components from its satellite office located there. Later the stock can be transferred or sold to another branch office before it is ultimately delivered to the customer in Mexico.
Classic's global logistics can also help to manage or avoid tariffs by shipping to and from our international hubs in Hong Kong and the UK.
Rigorous Vetting
Another way to ensure the reliability of the independent distributor is to ensure they are thoroughly vetted. Established companies are used to complying with frequent requests for audits. In fact, some of the robustness of the quality systems implemented by independent distributors can be attributed to this activity.
Continuing Shortages
With significant shortages in many high usage electronic products needed in the industrial equipment industry expected to continue for at least the next 2-3 years, the independent distributors' seat at the electronic components sourcing table has never been more relevant.
Through investment in developing deep global networks, inspection, authentication, inspection and quality systems, independent stocking distributors stand ready to provide industrial equipment OEMs a robust option to navigate the white waters of international supply nimbly, effectively, and without the risk.
The content & opinions in this article are the author's and do not necessarily represent the views of ManufacturingTomorrow
---
Comments (0)
This post does not have any comments. Be the first to leave a comment below.
---
Post A Comment
You must be logged in before you can post a comment. Login now.
Featured Product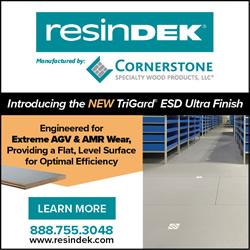 To maximize the productivity of an autonomous mobile robot (AMR) or automatic guided vehicle (AGV) deployment, it's critical to create the optimal environment that allows the vehicles to perform at their peak. For that reason, Cornerstone Specialty Wood Products, LLC® (www.resindek.com) created the TriGard® ESD Ultra finish for its ResinDek® engineered flooring panels. The TriGard ESD Ultra finish is ideal for high-traffic robotic applications characterized by highly repetitive movement patterns and defined travel paths.