Distributed ledgers allow authentication with just one single, unique entry for every part, user, or supplier, thereby increasing accuracy and cost savings when it comes to inventory management.
Syncfab Presents Blockchain Solution With Sap, Boeing Panel at IOT Tech Expo 2018
Contributed by | SyncFab
SyncFab has pioneered advanced manufacturing network solutions for industrial OEM supply chain program managers and hardware design engineers to better access precision parts production since 2013. SyncFab began incorporating blockchain technology in 2017 to launch the world's first peer-to-peer industrial OEM precision manufacturing procurement platform, adding data security and reconciliation functionality for truly smart manufacturing. Built using DLT (Distributed Ledger Technology) for transaction security and record verification, offering improved supply chain visibility and control, it streamlines precision parts manufacturing procurement providing convenient on-demand purchasing, tracking, reordering, real-time quotes, production and quality control updates for an overall more efficient supply chain procurement process. This results in lower marketing, administrative, and manufacturing overheads for both prototype and OEM parts buyers and suppliers manifesting the industrial manufacturing and production supply chain.
SyncFab, Boeing, and SAP at the IoT Tech Expo
SyncFab's founding CEO, Jeremy Goodwin, recently attended the IoT Tech Expo in Silicon Valley and participated in a high-level panel that discussed trends and challenges in supply chain, smart manufacturing, the Internet of Things, changes impacting large industrial OEMs, and more. Alongside Mr. Goodwin, Dr. Al Salour, a Technical Fellow from Boeing Research & Technology, and Christian Thisgaard, SAP's VP who heads the Platform and Data Management department, were present on the panel. The discussion was moderated by serial entrepreneur Jesse DeMesa, a pioneer in the Industrial Internet and IoT who has over 15 years' experience in digital initiatives and formerly served as software CTO for GE Digital's Oil and Gas division.
The Smart Manufacturing Revolution
The Tech Expo attracted over 13,000 and featured over 300 speakers from across the globe. This year's expo focused on smart manufacturing, and SyncFab was able to deliver an important message to large enterprises and industrial software companies across the board: When it comes to external supply chains fraught with data that is often inaccessible and scattered across fragmented industries, SyncFab's blockchain solution can mean the difference between incentivizing better mobilization of this data and having optimized, efficient, and automated processes in place versus suffering higher costs and lower efficiency using multi- entry vulnerable ERP and traditional procurement sourcing methods.
Large Aerospace companies like Boeing, understandably, are interested in smart manufacturing from the standpoint of an industrial OEM – how machines are integrated into automated workflows on proprietary shop floors and how predictive maintenance analytics for internal supply chain functions can be improved.
Addressing this concern, Mr. Goodwin stated the following:
"The key difference is that almost 50 percent of what OEMs are building is made outside of their own walls. While they can easily experiment and play with the setup of their own machines on their own manufacturing floors, when it comes to getting data from external suppliers on capacity utilization rates and sharing information outside of that environment, that's when things start to get difficult. That's where we offer a solution."
Mr. Goodwin's quote made clear that it is only with a solution such as SyncFab that data sharing, process optimization, and workflow integration across disparate manufacturers and suppliers can be truly achieved.
Current Challenges
Aerospace and OEMs
According to SyncFab, the manufacturing industry in developed countries, including in the US, has underinvested in capital equipment over the past 30 years, and we are now at a point where the depreciated production assets are in need of replacement. This means that investments on IT infrastructure updates are going to coincide with large investments by industrial OEMs on manufacturing equipment on new tech such as robotics and better computing processing power. This means large companies that rely heavily on external manufacturers and supply chain partners really need to ramp up their analytics and process-improvement initiatives in order to get more out of their external supply chains.
Although cross-industry and cross-supplier collaboration are big trends in the manufacturing space today, a lot of technologies being used in these fields are still new, and convenient integrations do not yet exist between them. For large aerospace manufacturers like Boeing, and Airbus they are often still faced with using piecemeal solutions to long-standing problems. By having everything come together on one platform and by making the move from manufacturing to smart manufacturing using granular data on every step of the manufacturing and supply process, these large OEMs will be better able to optimize processes over time.
Putting this issue in context, Mr. Goodwin stated the following:
"Machine learning and artificial intelligence offer limited utility without sufficient data to apply to it. From our standpoint, we [talk about] how blockchain can incentivize more mobilization of data that is stuck in those silos across fragmented industries and thus inaccessible to drive the optimization and improved automation of processes. That is what should prove very compelling to aerospace manufacturers like Airbus, Boeing, Embraer, GE, Honeywell, Lockheed Martin, Raytheon, SpaceX, United Technologies and more."
The Benefits of Distributed Ledgers
With distributed ledgers and blockchain technology, the double spend equivalent multiple-entry dilemma that arises with companies that allow more than one entry for the same part is effectively eliminated. Distributed ledgers allow authentication with just one single, unique entry for every part, user, or supplier, thereby increasing accuracy and cost savings when it comes to inventory management.
What the Future Holds
A recent study by ABI Research shows that blockchain technology will help generate over $10 billion in revenues by 2023, and the key reason for this will be the adoption of the Blockchain Platform-as-a-Service offering in collaboration with Cloud ERP and CRM services offered by companies like Microsoft, Amazon, SAP and Oracle. The majority of these savings will accrue from the resolution of issues related to transparency, efficiency, and cost for these and other large corporations that implement blockchain solutions along their supply chains and elsewhere. With respect to manufacturing and industrial automation, however, with its fully-functional blockchain solution for part suppliers and buyers, SyncFab is already bringing about a revolution for manufacturers worldwide.
SyncFab in the Larger Blockchain Space
SyncFab entered the blockchain industry as it was showing early signs of maturity and more ready for professional development. Mr. Goodwin stated that as blockchain continues to mature, and with events such as forks and regulatory debates, what will eventually happen is that bad actors will be weeded out from the market, and only those with sound offerings and advanced products or services will be able to carve out niches for themselves in their respective industries.
Mr. Goodwin believes that, for the medium term, blockchain and cryptocurrency are here to stay, but right now, companies operating in this space need to weather the storm in order to be able to benefit from real prospects and use-cases for blockchain in 2019 and beyond.
The content & opinions in this article are the author's and do not necessarily represent the views of ManufacturingTomorrow
---
Comments (0)
This post does not have any comments. Be the first to leave a comment below.
---
Post A Comment
You must be logged in before you can post a comment. Login now.
Featured Product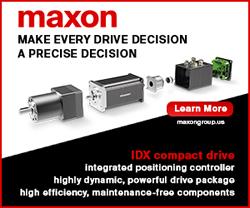 maxon motor launches new high-speed motors that are configurable online. The new ECX brushless motors are quiet and feature very high efficiency. The ECX motors are available with diameters of 8, 16 and 19 mm achieving speeds of up to 120,000 rpm. They run very smoothly and are highly efficient. With maxon motor's online configurator, it is easy to put together a customized DC motor to include gearhead, encoder and controller. The customized motors are ready to ship in 11 days!