Edge computing uses dedicated, on-premise resources at the shop-floor level, rather than the remote servers that cloud computing relies on. This provides a significant increase in the rate and amount of data that manufacturers can process in real-time.
Edge Computing as it Relates to the Manufacturing Industry
John Fryer | Stratus Technologies
Can you tell us what you mean by edge computing as it relates to the manufacturing industry?
As manufacturers invest in IIoT enabled devices to collect more data throughout their production processes, many are also deploying edge computing to improve how they analyze that data. Edge computing uses dedicated, on-premise resources at the shop-floor level, rather than the remote servers that cloud computing relies on. This provides a significant increase in the rate and amount of data that manufacturers can process in real-time.
What parts of the manufacturing floor or the supply chain benefit the most from edge computing technology?
There are several parts of the supply chain that benefit from the implementation of edge computing. The two main sectors are commonly broken up into near edge, and far edge.
The near edge focuses on the automation of manufacturing processes, or the use of data analytics within a facility—to monitor for predictive maintenance needs, process optimization, and more. Near edge capabilities impact only the manufacturer and the internal processes along the supply chain.
The far edge expands beyond the manufacturing floor and connects manufacturers with business partners and even consumers to improve proactive service for after-sales parts and services. For example, if a heavy equipment supplier sells an edge-enabled product to a construction firm, the manufacturer will be able to determine when the machine will need maintenance, what parts will need replacing, and more—before the machine actually fails. In both near and far edge computing, productivity and product uptime is guaranteed through predictive capabilities and process optimization.
How will 5G help elevate the abilities that edge computing already has?
While edge computing has already proven to be a valuable asset for manufacturers looking to optimize production across their supply chains—at both the near and far edge—it is dependent upon the production network. 5G offers unmatched performance, availability, speed, and range to power integral applications at the furthest point of the far edge. 5G networks will allow manufacturers to better connect with business partners and consumers and seamlessly bridge operations between both edges, near and far.
Similarly, at the near edge, 5G connectivity will create a simpler, more productive network of operations within a manufacturing plant—helping significantly reduce costs and complexity. Manufacturers will be able to eliminate the multiple Wi-Fi and Ethernet links needed to keep local networks running, and replace it with a single 5G network that can be controlled and maintained in one central location.
What are the potential downsides, if any, when it comes to the impact of 5G in plant operations, in terms of modernizing the infrastructure or security to be ready for it?
The few downsides of early adoption of 5G relate solely to the cost of being an early adaptor, and the unforeseen consequences that can arise when integrating any new technology into a pre-existing manufacturing process for the first time. 5G integration and maintenance will require highly-skilled engineers to build and maintain, which will create added labor costs—in addition to the fact that 5G equipment itself is costly, and would create hefty deployment costs as well.
What new use cases and capabilities do you envision for edge with the integration of 5G?
The biggest impact that 5G will have on the limitations of edge computing exist in relation to after-sales supply chain services. The amount and speed at which data will be able to be gathered and analyzed will open up a myriad of new opportunities for manufacturers to optimize efficiency. For example, predictive analytics data will be able to seamlessly integrate into near edge manufacturing processes, creating a unified, global supply chain network where the creation of spare parts and machine output are optimized in real-time.
How can/should OT teams prepare for 5G and edge as they get ready for 2019?
OT and IT teams should both prepare by learning about the benefits of 5G integration and looking internally at their own manufacturing processes to see where they are wasting valuable resources. For manufacturers that are looking to optimize their supply chain, 5G and edge computing can work in tandem to provide a wide range of benefits that fit their individual needs. By identifying which aspects of the supply chain are in need of change, teams will know exactly how to integrate 5G into their own processes when the time comes.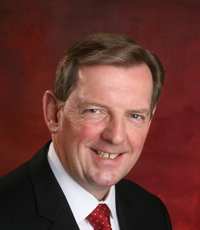 About John Fryer, Senior Director, Industry Solutions, Stratus Technologies
John Fryer is Senior Director, Industry Solutions at Stratus Technologies where he is responsible for go-to-market strategies and industry initiatives across all the company's product lines. He has over 25 years of experience with systems and software products in a variety of engineering, marketing and executive roles at successful startups and major companies, including Motorola, Emerson Network Power and Oracle. His experience includes more than 15 years working with high-availability solutions for the Enterprise and networking industries.
The content & opinions in this article are the author's and do not necessarily represent the views of ManufacturingTomorrow
---
Comments (0)
This post does not have any comments. Be the first to leave a comment below.
---
Post A Comment
You must be logged in before you can post a comment. Login now.
Featured Product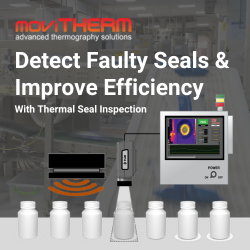 MoviTHERM's Thermal Seal Inspection (TSI) solution provides precise and reliable detection of defects in a variety of packaging types, including pouches, bags, blister packs, bottle caps, and more. By detecting defects in your packages, the TSI solution helps increase efficiency in your production line and ensures top-quality packaging is delivered to your customers every time. With state-of-the-art technology and an experienced team, MoviTHERM is dedicated to delivering accurate inspection solutions and peace of mind to its clients. Contact MoviTHERM today to learn more about their thermal seal inspection solution.