Booth #5115 - Durable Sensors for Washdown and Thermal Shock, Sensors for Challenging Targets and Innovations for the Data-Driven Factory

Contributed by | Banner Engineering
Tell us about your company.
With 50+ years of experience in the packaging industry and a portfolio of over 40,000 products, Banner Engineering has the knowledge and product depth required to meet the most challenging applications. We offer the industry's most complete and integrated line of sensors, LED lighting and indicators, machine safety, wireless I/O networks, and machine vision.
Highlight 2 or 3 products you will be showcasing at the event.
This year at PACK EXPO, Banner Engineering will be highlighting the following solutions:
Durable Sensors for Washdown and Thermal Shock: The new T18-2 photoelectric sensor is designed to withstand the harshest environments including high temperature, high pressure washdown and frequent temperature cycling. The T18-2 Series features an FDA-grade shatterproof plastic housing and is IP69K rated and ECOLAB™ certified to protect against water ingress and chemical washdown. Furthermore, the sensor's smooth surface and minimal crevices ensure easy cleaning.
In addition, the T18-2 housing is fully epoxy encapsulated to eliminate internal air cavities that can lead to condensation inside sensors during temperature cycling. The sensor also features ultrasonically-welded joints for a durable seal and reliable operation in temperatures ranging from -40 to +70 °C.
Sensors for Challenging Targets: Banner Engineering offers many problem-solving sensors, including the Q4X laser measurement sensor, that can reliably detect even the most difficult targets, including clear objects, multicolored, vibrant, or reflective packaging.
Innovations for the Data-Driven Factory: Banner will also showcase several technologies for predictive maintenance and other IIoT applications. Learn how to use wireless vibration monitoring for predictive maintenance, and see how IO-Link improves productivity and speeds up changeover with remote monitoring and parameterization capabilities.
The factory floor is undertaking rapid advancements, be it automation, robotics, machine vision or data. The process of packaging is a huge part for many manufacturers, give us an idea on how your company and product is being utilized now in the smart factory.
Data from sensors and other field devices was once difficult to access. For many manufacturers, these devices offer untapped potential for greater visibility into their operations and more advanced, data-driven decision making. With the rise of the Industrial Internet of Things (IIoT) and the Smart Factory, device-level data can now be made accessible to operators and plant managers, providing valuable insight into machine performance, process inefficiencies, and more. Real-time remote monitoring of sensor status allows operators to address issues as they arise, and often resolve concerns before they escalate to line shutdown.

IO-Link communication is one technology that provides users with remote monitoring capabilities on the field device level, and Banner Engineering offers many smart sensors with IO-Link capabilities. IO-Link makes device data accessible for immediate action or long-term analysis. The ability to monitor sensor outputs, receive real-time status alerts, and adjust settings from virtually anywhere allows users to identify and resolve problems that arise on the sensor level in a timely manner. This also means that users can make decisions based on real-time data from the machine components themselves, which can reduce costly downtime and improve overall efficiencies. With IO-Link, users can also read and change device parameters through the control system software, enabling fast configuration and commissioning that saves time and resources. In addition, IO-Link sensors can accommodate multiple recipes that can be quickly and dynamically changed as needed—such as in the case of product changeover.
In addition, Banner's portfolio of wireless products offer a number of IIoT solutions, including remote condition monitoring for predictive maintenance on motors and other rotating equipment. Predictive maintenance on machines can be difficult because minor performance changes can be hard to detect without the proper tools. Condition monitoring plays a key role in predictive maintenance and helps prevent costly downtime. One important condition to monitor is vibration. Machine vibration is often caused by imbalanced, misaligned, loose, or worn parts. As vibration increases, so can damage to the machine. By monitoring motors, pumps, compressors, fans, blowers, and gearboxes for increases in vibration, problems can be detected before they become severe and result in unplanned downtime.
The content & opinions in this article are the author's and do not necessarily represent the views of ManufacturingTomorrow
---
Comments (0)
This post does not have any comments. Be the first to leave a comment below.
---
Post A Comment
You must be logged in before you can post a comment. Login now.
Featured Product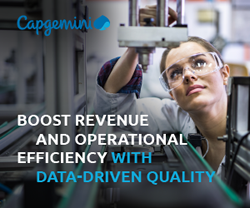 A reactive manufacturing cycle of building, inspecting, and correcting is no longer sufficient to meet rising customer wants and demands. To break this ineffective cycle, organizations must have a robust data-driven solution that combines a proactive focus on quality with integrated analytics and automation capabilities to turn quality control from a liability into an asset.