As we move deeper into the Industry 4.0 era, advancements in automation, artificial intelligence, machine learning, cloud computing and big data play an increasingly important role in how factories operate.
Manufacturing Challenges and Industry 4.0
Jim Lawton | Rethink Robotics
How is the global manufacturing market changing compared to five or ten years ago? What are the biggest changes you've seen?
Over the past five to ten years, flexible automation has really changed the manufacturing industry. Now, small- to mid-sized manufacturers have access to automation that simply wasn't available before. With the influx of affordable technology, more manufacturers can implement automation in their factories to increase productivity. Tasks that were previously unable to be automated can be, and workers who traditionally had to do repetitive, mundane tasks can be redeployed in areas that require more cognition. Manufacturers will continue to seek flexible automation solutions as more technology becomes available.
Are certain markets adopting automation technologies faster than others? What have been the biggest area of growth?
We're seeing a growing demand for collaborative robots in the manufacturing industry all around the world. Manufacturing robots are becoming more popular in Europe and China, and we're seeing a huge wave of collaborative robot deployments in Germany and Spain. Rethink Robotics' robots provide the most value in tasks that are repetitive, like machine tending, line loading and unloading and CNC machining, so a wide range of industries and markets can find value in adopting collaborative robots.
Industry 4.0 is a buzz phrase to describe where we are going with manufacturing. What does Industry 4.0 mean to you?
We want to provide our customers with a fully integrated automation solution. As we move deeper into the Industry 4.0 era, advancements in automation, artificial intelligence, machine learning, cloud computing and big data play an increasingly important role in how factories operate. To us, Industry 4.0 means a fully connected factory where technology collects data through automation, and that data can then be used to build smarter factories. In the near future, our robots will collect data as they perform tasks, analyze whether there's a more efficient way to complete the task and then send that data throughout the entire factory. Being able to control the entire work cell from a single device that's leveraging machine learning and artificial intelligence to be more productive will make factories that much stronger.
What are the biggest setbacks preventing manufacturers from successfully deploying technology?
Traditional forms of automation are typically expensive and only available to the large companies that could afford the time and resources needed to deploy it. Traditional PLCs have been around for a long time, but they're not practical for smaller manufacturers looking to deploy automation; they require specific, extensive programming skills that can be expensive to maintain. Programming engineers typically work for the larger companies who can afford their expertise and have them on staff to manage traditional forms of automation. This simply isn't practical for smaller manufacturers. Plus, it's not easy to change or redeploy these forms of automation without investing in the time and money for a PLC programmer to make these changes. Manufacturers need to start thinking about how they can deploy automation more quickly, gain adaptability and optimize their production lines, which can be achieved by taking a bottom-up approach that introduces more adaptable elements, such as collaborative robots.
What are the biggest challenges manufacturers are dealing with today? How will these be mediated in the future?
One of the biggest challenges manufacturers face today is labor: With a shortage of workers, a general gap in skilled workers, high turnover rates and rising costs, many manufacturers are increasingly struggling with having the manpower to stay operational. Amidst a declining workforce, manufacturers are constantly seeking solutions that allow them to operate efficiently and effectively. In fact, Deloitte predicts that there will be over two million unfilled manufacturing jobs by 2025. Manufacturers need a dependable and consistent solution that allows them to meet customer demands. Newer automation tools, such as collaborative robots, are ideal because they take over those monotonous and mundane tasks that, quite frankly, humans just don't want to do. Instead, human workers can be redeployed on tasks that require more cognition, such as a robot controller, or other tasks that provide more value to both the employee and the company.
We're also seeing an increasing demand for product customization and personalization, which means manufacturers need automation tools that can quickly adapt to changing needs, without excessive downtime or expenses. Automation solutions that can be deployed quickly and can adapt to these needs will allow manufacturers to stay competitive without having to sacrifice the quality or quantity of production output.
What does the future of manufacturing look like? How do you see manufacturing changing in the next five, ten or even twenty years?
According to a study from Boston Consulting Group, only 10 percent of manufacturing tasks can be automated today. We expect collaborative robots to help bridge this gap and automate closer to 25 percent of tasks in the future. This shift will revolutionize how manufacturing environments work – we're going to see a huge influx in automation in small- to mid-size factories that before couldn't justify the cost of automation. Collaborative robots will profoundly change how productive and efficient factories are, and will also help to shorten the supply chain, improve the quality of products, and make it easier for manufacturers to produce customized products for customers.
What's happening at Rethink Robotics these days? New systems, products, opportunities?
We're focusing on working with our distribution partners to bring Sawyer to manufacturers all over the world. Flexible automation is still relatively new, and our latest Intera 5 software platform is often the first experience a manufacturer has with it. This software helps manufacturers control the entire work cell and simplify automation deployment through a single robot controller. We're enabling manufacturers to build factories of the future and make it easier and more affordable for manufacturers to deploy full work cell automation. We've also recently launched our ClickSmart™ family of gripper kits, a solution for end-of-arm tooling that allows for rapid swapping of end effectors. With these two product introductions, we're offering the first fully integrated automation solution to customers. We're always looking for ways to improve our products and software so manufacturers can create smarter, more efficient factories.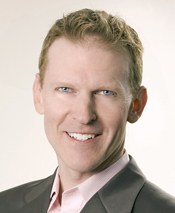 About Jim Lawton, Chief Operating Officer
From his early days at HP, Jim has built his career on finding better ways for manufacturers to succeed. During his years in the manufacturing community, Jim saw enormous untapped potential for robotics in manufacturing, which led him to the role of chief product and marketing officer with Rethink Robotics. Jim's manufacturing and supply chain expertise is vital to helping Rethink simplify and redefine automation. Prior to Rethink Robotics, he was an executive at Dun & Bradstreet leading an innovative new data and analytics business unit on track to deliver several hundred million in revenue. Jim writes a Forbes column dedicated to innovation in manufacturing, and he has spoken at numerous industry conferences, including IndustryWeek Best Plants, RoboBusiness, CES, SXSW and more. Jim has appeared in news outlets that include Bloomberg TV, Reuters, Harvard Business Review and the Associated Press.
The content & opinions in this article are the author's and do not necessarily represent the views of ManufacturingTomorrow
---
Comments (0)
This post does not have any comments. Be the first to leave a comment below.
---
Post A Comment
You must be logged in before you can post a comment. Login now.
Featured Product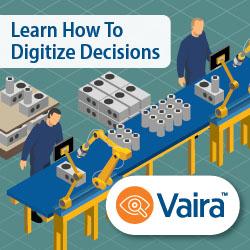 Vaira™ helps manufacturers digitize, automate, and upgrade error-prone manual processes and decisions to boost productivity and increase profits by helping humans make decisions consistent, reliable, and traceable. The camera-based solution is powered by a scalable suite of shop floor-ready apps built on proven machine vision and AI expertise for frontline manufacturing operations, with two-way integration to resource planning tools to help drive continuous analysis, insight, and improvements. Start digitizing immediately, streamlining processes customized to your unique requirements and reduce errors that lead to costs, delays, and quality concerns.