Urethanes unique properties and versatility is helping to solve some of the industrys most challenging component design issues.
Making a Case for Urethane Parts: 5 Key Factors to Consider
Del Williams | Argonics
For engineers, meeting part design challenges can be exceedingly difficult when traditional materials like plastic, steel, and rubber do not possess the required specialized characteristics, lack the versatility to be adapted, cannot be economically produced, or do not readily bond with other materials or system components.
As a solution to some of today's complex design challenges, engineers are turning to high-performance polyurethane elastomers. These tough, elastic materials retain their original shape for a long service life, while offering a number of unique properties and capabilities.
Here are five key points that make a strong case for why urethane is providing engineers with the design flexibility they need to produce cost-effective parts that meet ever more demanding design specifications.
1) Urethane provides specialized load bearing properties. Urethane offers superior load bearing characteristics that can help to optimize the part. Its ability to sustain higher stresses, as well as withstand both tension and compression, is one of its outstanding characteristics. While it can change shape under heavy load, it will return to its original shape once the load is removed.
"Urethane offers elastomeric characteristics that provide a different type of load bearing, not as rigid as plastic or metal, and capable of managing energy in a more versatile way," says Fred Boyle, senior process engineer at Argonics, one of the U.S.'s largest producers of wear-resistant and customizable urethane products.
In terms of load bearing, urethane covers a class of materials that can absorb and release energy under varying loads or impacts in places where metals are not suitable, adds Boyle. Urethane excels, for instance, in impact loading applications such as for bumpers, shock absorbers, die pads, machinery mounts, vehicle suspension mounting bushings, or anything to do with shock or vibration.
"Where rigid mounts in oscillating machinery would be subject to fracture or fatigue failure, urethane can absorb that load and decelerate it without shock loading either the component or the stop," says Boyle. "It can take the load of impact and spread it over a relatively short duration. In cases of varying load, urethane can either dissipate it or return it to the source of the load for reliable, extended, cyclical loading."
2) Urethane enables maximum abrasion resistance. The outstanding abrasion resistance of urethane elastomers has led to many important applications where severe wear is a problem. In mining applications, for instance, it withstands abrasive ore, sand, and gravel moving through a conveyor, which can cut and abrade both the steel materials inside, as well as typical rubber skirtings outside that are designed to prevent dust and spillage at transfer points.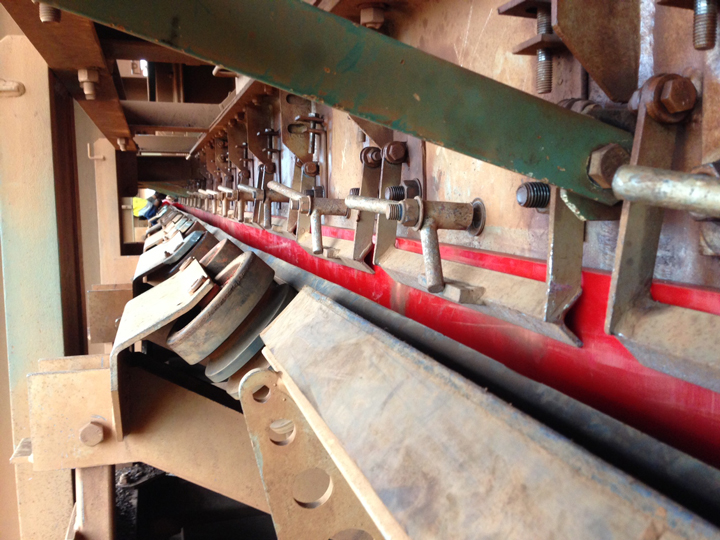 "Rubber is not as abrasion resistant as urethane, and fancy steel liners do not provide sufficient resistance either," says Charles Pratt, Operations Manager at Kinder Australia, an independent supplier and manufacturer of conveyor and bulk material handling equipment.
Pratt turned to a proprietary urethane formulation by Argonics called Kryptane, an extremely wear-resistant material for applications where abrasion, sliding, or impact occurs regularly. Examples of its use include chute, bin and hopper liners; pipe, fitting and valve liners; impact-and abrasion-resistant plates; blasting curtains and screens; vibration pads; seals and gaskets; as well as truck bed liners, wheel chocks and crossover pads.
"In testing for some mining applications, we found that the urethane skirtings on the outside of a conveyor can last 10-15 times longer than rubber," says Pratt. "Compared to a steel liner on the inside of a conveyor, a urethane liner can get 5-8 times the life."
According to Argonics engineer Boyle, urethane provides a better life and more cost effective solution for abrasion resistance in most applications.
"Urethane can be formulated to resist low angle abrasion with high resilience that allows the material to slide, bounce, and tumble along a surface without transferring too much energy into the abrasion-resistant liner," says Boyle. "For impact abrasion from high angles, it can be formulated to dissipate the impact energy."
3) Urethane offers a variety of adaptable properties. Because urethane's properties are tailorable over wide ranges of hardness, resilience, spring rate and dynamic properties, its versatility offers custom solutions to difficult design challenges.
"Urethane, even in relatively small quantity production, can be adapted and tailored to prioritize the physical properties that design engineers need," says Boyle.
According to Boyle, for instance, urethane is often used to provide a high degree of resilience, and can return incoming energy to its source, such as for spring applications. This can be done over a long, slow extension or a very quick impact, or the material can be formulated to dissipate the maximum amount of energy when it is more appropriate to cushion an object rather than bounce it.
Hardness is also readily adaptable. While most rubbers have a hardness that is typically found between 30 and 80 on the Shore A scale, and structural plastics begin at 55 on the D scale, some urethanes bridge the rubber-plastic hardness range. One proprietary urethane, for instance, offers a wide range of formulations from a 52 shore A to a 70 Shore D to suit a variety of applications.
As such, Kinder Australia's Pratt looked to a proprietary urethane when a unique combination of attributes was required for mining applications to optimize conveyor skirting so it would not prematurely wear the conveyor belt if rubbed against it.
"Argonics was able to formulate a conveyor skirting material that was not only abrasion resistant, but also soft and slippery to minimize any potential conveyor belt wear," says Pratt. "The urethane is very customizable. For applications such as coal mining, you can also make it resistant to fire and temperature as well as anti-static."
4) Urethane parts can be produced with a low cost, low pressure mold. Urethanes can be poured as a liquid mixture into less expensive, low pressure molds so complex mold cavities can be filled without high-pressure molds and presses.
This provides a multitude of advantages, not the least of which are lower tooling and production costs than both rubber and plastic molding, and lower material cost than metals and ceramics.
Because of short lead times and more economical tooling costs, urethane is often the choice for one-off parts and prototypes, or high volume, repeat production runs.
"To produce a good part in the rubber part-making process, you have to apply significant pressure to force the material into all the nooks, crannies and corners," says Boyle. "This requires rather costly hydraulic presses."
"Urethane, however, is castable at atmospheric pressure so you can use relatively inexpensive molds to create prototypes, design iterations, and even production runs more quickly and inexpensively," adds Boyle.
5) Urethane can bond with an array of substrates. Urethane is versatile in how it bonds with a wide range of substrates such as steel, aluminum, fiberglass and plastic.
"Since urethane is cast as a liquid, it can be bonded to a wide variety of shapes and molded into a wide variety of shapes," says Boyle. "Urethane can even be bonded to substrates so the bond will be stronger than the urethane. This is an advantage when bonding dissimilar materials, when strength and adhesion are required."
Other conventional materials lack this range of bonding capability. For instance, steel can bond to steel but cannot be reasonably bonded to aluminum; and aluminum can be welded to aluminum, but not attached to plastic in this way.
When engineers require unique high-performance properties in the construction of component parts, they can often improve their design by utilizing urethane, and by partnering with an expert provider who can tailor the parts to their exact design requirements.
The content & opinions in this article are the author's and do not necessarily represent the views of ManufacturingTomorrow
---
Comments (0)
This post does not have any comments. Be the first to leave a comment below.
---
Post A Comment
You must be logged in before you can post a comment. Login now.
Featured Product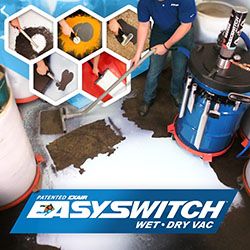 Line Vac conveyors are ideal for moving large volumes of material, parts or waste over long distances. Check out all our styles: Line Vac, Threaded Line Vac, Heavy Duty Line Vac, Sanitary Flange Line Vac and more. Compact, quiet and no moving parts. https://exair.co/184_564