Modern systems are paving the way to allow our customers to make products people want in the way they want them, instead of making products and spending our time trying to make people want them.
Artificial Intelligence in Manufacturing
Erik Johnson | Epicor Software
Please tell us a bit about Epicor and your role in the manufacturing industry?
Epicor provides flexible, industry-specific software designed around the needs of our manufacturing, distribution, retail, and service industry customers. More than 40 years of experience with our customers' unique business processes and operational requirements are built into every solution―in the cloud or on premises. Today, over 20,000 customers in 150 countries around the world rely on our expertise and solutions to improve performance and profitability.
As chief architect of Epicor, I manage the technical design for Epicor's growing SaaS ERP services, including operations, implementation support, and product requirements. I also help with a number of go-to-market activities.
How is AI supporting manufacturing workers and what specific roles are feeling the most benefit?
AI is getting quite good at understanding natural language and translating it, which means it will become easier for workers and managers to interact with software more naturally. For example, software users often prefer to search for things rather than navigate a complex menu. AI makes the software better understand the user's intentions, which makes the system more intuitive, which leads to higher productivity and fewer errors.
How is the increased amount of data being produced from AI being used by various departments within a manufacturing company?
Most "AI" in use today, is actually machine learning – where algorithms use data from the past to more accurately predict the future. Modern systems are paving the way to allow our customers to make products people want in the way they want them, instead of making products and spending our time trying to make people want them.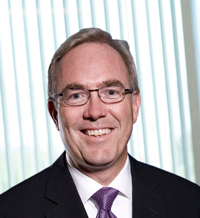 AI can help with management decision support and planning, particularly in some service sectors where understanding population centres and demographics is key to maximizing growth. It is also being used to help identify where the best placement globally to service customers is by capturing and reasoning over the many complex interdependencies manufactures deal with along with optimisation of facilities.
Is AI replacing jobs within the manufacturing industry? What specific job roles will we see replaced as AI adoption increases?
In the near term, autonomous vehicles may, for example, replace fork-lift drivers. Better computer vision software can make it easier for fewer staff to ensure quality on a mass scale. But these basic automation trends have been in place for some time. The next wave of automation will most likely impact roles that analyze data and recommend actions to optimize the business, from design to operations and service. If AI systems can analyze images and correlate data from many sources, then it's possible for a computer to design the next popular clothing line or at least predict which lines will be successful.
People whose primary role is to interact with other people—sales, support, middle management— are today considered safe from being displaced by AI. But that's mainly because AI hasn't quite reached the point where it can converse with humans reliably in general cases.
Product design will also be heavily disrupted by AI as we start seeing generative design tools where the problem is defined and all of the problem space is explored computationally, amplifying our cognitive abilities. Augmented collaboration will be the working environment of the future. Human robot collaboration will be more gesture based, where workers will be doing the things humans are good at—perception, awareness and decision making—while robots will be doing the things they are currently good at, repetitive tasks with precision.
What overall trends do you see emerging with AI?
AI will impact manufacturing in ways we have not yet imagined. However, we can already look at some more obvious examples.
The continued improvement in computer vision has long been used for quality assurance by detecting product defects in real time. But now that manufacturing involves more data than ever—coupled with the fact that plant managers do not want to pay staff to enter data—AI with computer vision can streamline how data gets captured. A factory worker should be able to take raw materials stock from the shelf and have the inventory transaction created automatically based on a camera observing the process. This will be the natural user interface, just completing the task at hand not inputting or scanning things into a system.
The second area that AI will impact is with the Internet of Things (IoT). IoT will provide a way to deliver supplies and services to customers who might not realize they are needed. In addition, IoT can send detailed telemetry back to producers and distributors to analyze quality and factors that might drive failures. In short, IoT is an incoming tsunami of data that AI can use to reason over and evolve. This will help augmented generative design processes where products are reimagined in ways more akin to evolution.
What does it take in terms of time and resources for a small manufacturing company to implement AI in their operation?
Like many ERP software companies, Epicor offers cloud-based analysis services that aggregate customer data with demographic and economic data to help predict future demands. But AI is also making its way into the everyday software tools our customers use today. For example, Microsoft PowerBI, which is a popular application for analysing data, can leverage the cloud to index that data and let users query it with natural languages. The Microsoft Cognitive Services are an amazing set of AI-driven services available at low cost. It takes some programming, but for IT departments it's an easy way to use very sophisticated image analysis and language tools.
Can you gives us a specific example of a company (name not necessary) that is benefiting from the implementation of AI?
Epicor has a manufacturing customer in the Netherlands who is outfitting "smart bins" with wireless IoT devices which directly feed the ERP system. These bins are shipped to subcontractors with material for outside processing. The contractor presses the buttons affixed to the container to signal when the bin should be picked up for return or sent to the next contractor. This customer is next planning to consolidate the mobile bin data with information received from internal machines. And then AI can predict whether, for example, building parts in a different order reduces manufacturing time. It's in the early days, but Epicor certainly sees a bright future for IoT and AI for manufacturers.
The content & opinions in this article are the author's and do not necessarily represent the views of ManufacturingTomorrow
---
Comments (0)
This post does not have any comments. Be the first to leave a comment below.
---
Post A Comment
You must be logged in before you can post a comment. Login now.
Featured Product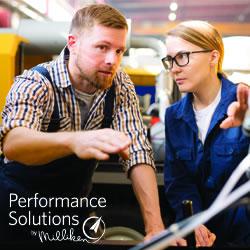 Performance Solutions by Milliken is a dedicated consulting and training group that helps guide businesses toward success. From supply chain, to operations and safety, we're dedicated to developing sustainable results for our clients through the implementation of a holistic operating system. We believe engaging all associates in the process will systematically transform your company to create efficiency, uncover hidden capacity, and generate long-term gains. Are you ready to reinvent your operations and transform your organization? Let's get started.