The DCC is a unique learning center where companies leaders and their workforces participate in hands-on, next-gen digital manufacturing workshops. This helps them advance their business operations, design and productivity, and prepare for tomorrows jobs.
Training Tomorrow's Manufacturing Leaders: an Inside Look at McKinsey's North American Digital Capability Center (DCC)
Enno de Boer | McKinsey & Company
Can you tell me about McKinsey's newest Digital Capability Center (DCC) in Chicago?
The DCC is a unique learning center where companies' leaders and their workforces participate in hands-on, next-gen digital manufacturing workshops. This helps them advance their business operations, design and productivity, and prepare for tomorrow's jobs. McKinsey partnered with the Digital Manufacturing and Design Innovation Institute (DMDII) to develop and house the North American DCC, which opened June 1.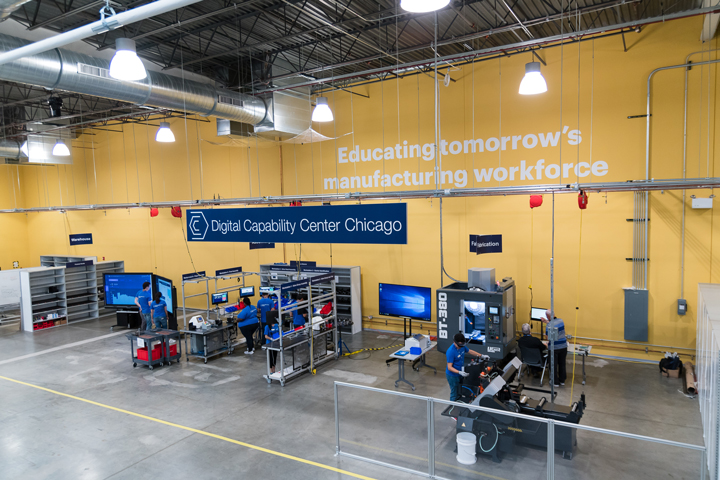 View of a part of McKinsey's North American Digital Capability Center at DMDII in Chicago
Within the DCC is McKinsey's proprietary digital model factory – complete with a machining center, assembly cell, warehouse and space for 10 operators to produce a fully-functioning refrigerator compressor. This factory-of-the-future serves as an experiential learning environment. It is highly flexible and showcases various stages of digital maturity and productivity. All trainings happen on the shop floor and participants retain seven times more information than from classroom trainings, as participants experience digital's impact first-hand.
Why did McKinsey choose to locate the DCC in Chicago?
Chicago is the crossroads of America's manufacturing base with many major companies headquartered throughout the Midwest. It's a central location for manufacturing leaders from across North America to come to train and develop their digital manufacturing skills. Also, by placing it in Chicago, the DCC draws upon a vibrant digital manufacturing expert and practitioner network of more than 300 members from industry, academic and government groups. We also draw upon DMDII's state-of-the-art facilities, including a 94,000 square-foot collaboration studio and manufacturing floor with a real-world factory for experimentation, research and development.
Are there other DCCs around the world?
Yes, the North American DCC is part of McKinsey's global network of 12 Capability Centers and five Digital Capability Centers, including DCCs in Singapore, Germany, China and Italy. Together, they trained more than 15,000 leaders last year, helping them solve their businesses' toughest challenges around transformative technological change and the benefits they and their workers can recognize from the latest digital technologies.
It's a concept I helped McKinsey launch 10 years ago when we faced a challenge like what we face today. Back then, lean manufacturing, or production, was considered the way to unleash productivity gains exceeding 30 percent. Available talent was the major transformational challenge we faced. So, we built McKinsey's first model factory at the Technical University of Darmstadt, Germany, to change training fundamentally. That training triggered participants within three months to identify seven times more products to be recalled than the number prompted by traditional testing methods. This drew higher attendance for such training and sparked participating companies to develop their own model factories. Today, we know digital manufacturing leads to an even stronger impact on our factories' outcomes. But, again, our workers' current capabilities are a major roadblock to scaling and accelerating adoption of these new technologies.
What benefits will the DCC provide manufacturing companies?
Digital manufacturing will disrupt every business in every industry, pushing leaders to reinvent their operations and retrain their workforces. With the DCC, we expect to assist manufacturers to understand and adapt to this disruption. We also expect to propel the next generation of small and mid-size companies to grow and innovate alongside Industry 4.0.
Based on a number of our studies, digitally enabled advancements in Industry 4.0 unleash the potential to create productivity improvements of 30 percent or more through gains in agility, mass customization, time to market, value-added services and business model innovations. By 2025, the McKinsey Global Institute estimates that such advancements will impact our factories positively by $3.7 trillion (USD).
How does the DCC work and who will participate?
The DCC offers experiential capability-building workshops and digital showcases for manufacturing leaders from companies of all sizes. Through these digital initiatives, leaders can explore more than 20 themes related to digital manufacturing, including digital performance management, digital standard work and augmented reality.
At the experiential workshops, McKinsey-led sessions build awareness of digital manufacturing and equip participants with skills required to undertake digital transformation within their organizations. Attendees participate in a mock assembly line that, in stages, transforms from a non-digitized state into a higher-performing, digitally driven state that includes advanced analytics, augmented reality and digital assistance for operators. Soon, we will add collaborative robots, or cobots, and artificial intelligence.
How will the technologies at the DCC exemplify digital manufacturing?
The DCC offers the best next-gen digital manufacturing thinking from a variety of partners, such as Microsoft and Tulip, that help McKinsey awaken the benefits of digital manufacturing. Microsoft is providing its Azure Internet of Things platform and advanced analytics capabilities, such as artificial intelligence and machine learning, as well as its Hololens, a holographic computer built into a headset, for handling maintenance with remote support. Tulip has created a technology ecosystem that delivers digital operator assistance, analytics and feedback across the assembly line.
We possess a strong pipeline of additional technologies from over 50 technology partners that we constantly evaluate and apply at the DCC. No other place exists worldwide where you can experience firsthand the combined and diverse impact of the latest digital technologies.
What do you anticipate humans' roles will be in digital manufacturing?
Recognizing automation's full potential will require people to work together with technology. While automation likely will change the daily work activities for manufacturers – and impact many other industries – our analysis shows that humans will be critical to factory workforces' abilities to recognize all possible productivity gains.
In fact, innovative and affordable mass-customized products, value-added services and faster innovation cycles will fuel job growth. Jobs lost through automation will be replaced by higher-skilled and better paying jobs. Low-skilled jobs will be connected and assisted through augmented reality. Factory jobs will get safer.
What is McKinsey's role in the advanced manufacturing industry?
As a global management consulting firm, McKinsey truly commits to assisting institutions in achieving lasting success. We help clients lead their respective industries by mastering the transformation of their large operations. We also commit to supporting our clients and their industries to develop the skills required for Industry 4.0 and for tomorrow's jobs.
As I write this, I am returning from the World Economic Forum's annual meeting of the New Champions in Dalian, China. We work with the Forum on an initiative called "Technology and Innovation for the Future of Production." The mission is to create a broad movement and accelerated technology adoption to trigger the next productivity uplift after years of stagnation. After that meeting, I am confident we are on the right path to fundamentally transform how we produce in the future. It is imperative that we all work together.
Enno de Boer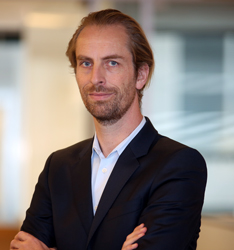 Enno de Boer serves as a Partner at McKinsey, where he leads digital manufacturing and the firm's strategic partnership with the Digital Manufacturing and Design Innovation Institute (DMDII). DMDII convenes global industry leaders in the preeminent institute and industry consortium for Industry 4.0, Industrial Internet of Things (IIoT) and Digital Manufacturing. It has over 300 members, aligned on a mission to revitalize American manufacturing by leading the technology revolution. Through the Digital Capability Center at DMDII, McKinsey advises companies on how to take advantage of the latest digital innovations to create new business models and services, and achieve change performance increases.
Enno also leads the Global Network of McKinsey's Capability Centers, including Digital Capability Centers in Chicago, Singapore, Beijing, Aachen and Venice. He is the founder of the model factories, an innovative experiential learning space that is seven-times more effective than traditional learning techniques, and has been the growth driver for McKinsey's Capability Centers. Today, McKinsey trains more than 15,000 executives and managers yearly in customized executive learning courses across its unique network of 15 centers globally.
Enno has a passion for disruptive business models and start-ups – and a track record for innovating, business building, large scale transformations, scaling businesses and value-enhancing strategies. His industry expertise spans pharmaceutical, medical devices, automotive, advanced electronics, private equity, food and beverage, and fast moving consumer goods.
The content & opinions in this article are the author's and do not necessarily represent the views of ManufacturingTomorrow
---
Comments (0)
This post does not have any comments. Be the first to leave a comment below.
---
Post A Comment
You must be logged in before you can post a comment. Login now.
Featured Product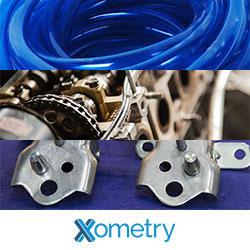 Xometry is your source for custom parts. Now, in addition to getting instant quotes on 3D Printing, CNC Machining, Sheet Metal, and Injection Molding, customers can create and send RFQs for die casting, stamping, and extrusion work to our nationwide network of pre-vetted manufacturers with just a 2D drawing. You will receive and be able to review responses from qualified shops within 7 days on an advanced web-based RFQ management platform. To learn more go directly to our site to issue and RFQ today. Stop wasting time managing RFQs through email and by phone, and start issuing RFQs at scale and in the cloud.