The most effective applications of AR technology are designed to error-proof and streamline manual assembly and manufacturing processes, utilizing a combination of industrial strength projection technology and sophisticated software to present an intuitive and interactive visual guide.
How Practical AR Tech Tools Can Transform Manufacturing Processes
Paul Ryznar | Light Guide Systems
Right now, many different types of emerging technology are designed to improve manufacturing processes. Why do you think AR is the best option?
Augmented and blended reality technology are now transforming the manufacturing industry and driving the next Industrial Revolution. Today, growing numbers of manufacturing professionals are embracing augmented reality (AR) and leveraging powerful new tools to optimize efficiency and minimize mistakes–all while keeping costs down and reducing their liability exposure.
AR encompasses a wide range of systems and technologies designed to provide manufacturing professionals with the hands-on guidance they need to complete tasks correctly and efficiently. In contrast with more traditional instruction, the best AR solutions provide real-time guidance with dynamic, interactive and adaptive functionality. AR is all about putting the right information at the right place at the right time. It's a great fit for assemblers and manufacturers, where complex sequences can be standardized by ensuring that each step has been completed correctly and in the right order.
How do you see AR, VR and blended reality integrating into existing manufacturing systems and tools? Can you give us some specific examples?
AR technology is a great fit for manufacturing because they are flexible, scalable customizable, and can integrate into existing industrial automation systems within workstations, processes and assembly lines. At the same time, AR provides valuable real-time data and traceability, allowing manufacturers to adjust their lines, products and personnel to maximize outcomes.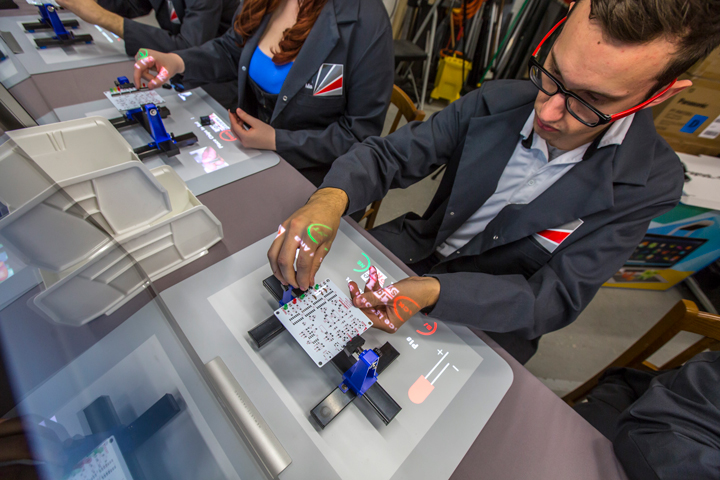 In addition to ensuring that the correct parts are put together in the right way and in the right order, an AR guidance system can be portable, integrating with the equipment already at work on a factory floor. Tools like programmable machine vision cameras, laser trackers, collaborative robots and torque guns can be integrated into the system to provide precision confirmation that tasks such as pipe alignment, bolt sequencing and tightening are performed correctly. A projection-based AR guidance system can place blueprints, instructional videos and even a virtual tape measure for key steps directly onto the work surface, and right in front of the operator's eye while eliminating the concerns associated with wearable AR such as battery life, memory storage, safety, and sharing goggles across multiple team members. The result is error-proofing and streamlining critical manual processes in nearly any industry.
How would this work in the U.S. and abroad?
One of the beautiful things about a visual AR guidance system is that it removes language barriers. With audio, visual and even video cues and instructions, each complex sequence can be standardized with simple guides such as arrows, shapes and colors—in effect creating an intuitive and universal program.
What are some ways that AR/blended reality can improve processes/opportunities for the human operators? (ie training, retaining jobs, decrease cycle times, etc.)
The best AR manufacturing systems combine the best of human intelligence with the precision of technology. The program works with human operators to improve their performance and retain jobs. Without AR technology training is not always consistent and manual or monitor based work instructions are difficult for operators to manage. AR tools have the capability of focusing the operator's attention on the task at hand, rather than on a screen or manual.
Practical AR manufacturing systems can transform online and offline operator training programs, improve training and productivity by replacing paper or monitor-based work instructions, and engage operators in a dynamic, interactive and intuitive way. This new category of technology includes software and systems with the potential to retain jobs and ultimately revolutionize manufacturing outcomes. Potential benefits include:
Elimination of training variation inherent across multiple trainers through the implementation of standardized AR-based training.

The ability to project visual information about processes (timing, alerts, next steps, process tips

Elimination of paper or monitor-based work instructions allows users to keep their eyes and attention on the task at hand;

Freeing up high-level personnel for non-training tasks;

Measuring and confirming the completion of complex or customized steps to ensure quality;

Straightforward integration with existing systems and tools; and

Collecting detailed process data for each part built, helping to reduce future errors and improve processes by identifying bottlenecks and other challenges.
AR enables manufacturing professionals to receive sophisticated instruction, detailed direction, and organized mechanisms that ensure appropriate pacing and sequencing. The right materials. The right tools. The right steps–completed the right way and in the right sequence. The right augmented reality platform is like having an interactive and adaptive guide walking you through every step of the process–and checking your work as you go.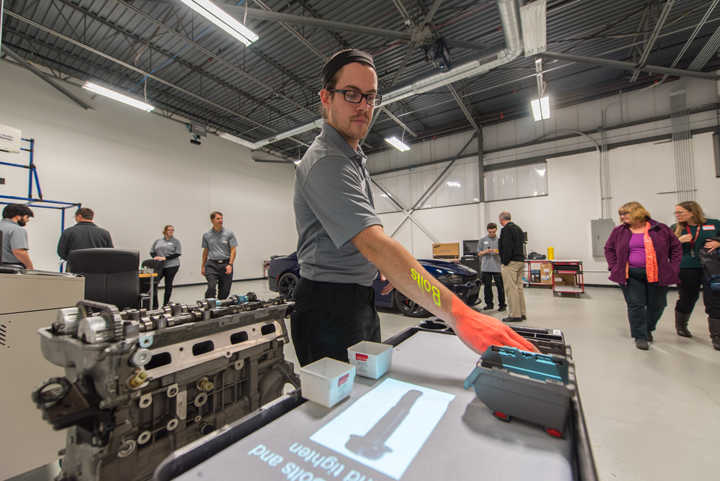 What is projection based AR and how does it work?
Some of the most advanced AR systems utilize a digital projection technology that overlays a virtual operating "canvas" onto the work surface. When combined with visual and audio cues, no-faults-forward functionality (a particularly desirable feature at a time when consistency, quality-control and customization challenges can lead to troubling and potentially costly legal liabilities), and specialized tools that work in concert with equipment already in place such as machine vision cameras and torque wrenches, it is easy to see why augmented reality is being adopted so enthusiastically by growing numbers of organizations.
AR technology makes complex processes simple by placing the right information in the right place at the right time, and is designed to improve processes for any number of industries. The technology has near-infinite applications for assembling products ranging from pacemakers to powertrains to pizzas. Automakers are finding the technology particularly valuable to simplify the increasingly variable production processes required by today's flexible manufacturing requirements. Medical Device manufacturers, meanwhile, find projection based AR valuable to drive to the next level of quality by confirming each and every process step and creating a fully documented and traceable record of the manual work performed. That means that they are one step closer to guaranteeing every item is built perfectly, every time.
What are the benefits of a projection based AR system? Would you recommend projection-based over wearables? Why?
We continue to monitor the viability of wearables in the manufacturing space as the technology advances and recently participated in a review of this technology at DMDII. While wearables are an interesting and exciting use of augmented and blended reality, they can bring a few obstacles into the factory floor.
Wearable devices limit the natural vision and sometimes hearing of an operator, taking them away from the active tools and equipment that operate in a factory environment and creating a potential safety hazard. There are also reports of headaches and other adverse effects resulting from extended use of wearable products.

Wearables require batteries to operate and currently the best-in-class products have about a 4 hour battery life. This means that you either need to stop mid-shift to change a battery or have at least 2 sets of wearables to make it through a single shift. Projection based AR is tied in to the factory power and doesn't require maintenance on a daily, weekly or even monthly level.

Many operators report basic hygiene concerns with a system that requires sharing of wearable devices between operators. This, combined with the short battery life and potential for damage and loss translates to a very large inventory of wearable devices to standardize even a small number of processes. Projection based AR can be utilized by different workers without issue and the hardware can be better protected from damage and loss, limiting the investment and risk.

Different manufacturing applications require different hardware sets based on the requirements. These applications include high resolution/low resolution guidance and confirmation options together with the ability to seamlessly interface with standard industrial automation hardware such as PLC's, MES, robots, torque guns, scanners, vision cameras, etc. The bottom line is that for AR to work on factory floors worldwide, it must be scalable to match the wide variety of requirements.
What kind of manufacturing and assembly applications would a projection-based AR system improve?
The most effective applications of AR technology are designed to error-proof and streamline manual assembly and manufacturing processes, utilizing a combination of industrial strength projection technology and sophisticated software to present an intuitive and interactive visual guide. The best of these AR tools are flexible, scalable and fully customizable, ideal for everything from complex assembly tasks to inspection, training and logistics. Another major challenge for manufacturers is that the same problems tend to occur over and over again, causing bottlenecks and slow downs in assembly lines. AR technology can swiftly identity these issues and an update to the custom software can reduce the pain point in the future. For these reasons, projection based AR systems can be used to improve any manual process within a manufacturing environment. However, the best cases from a ROI perspective have either high variability/high mix, heavy employee turnover or highly stringent/regulated quality requirements.
How would an AR system improve quality?
Similar to GPS providing a valuable tool to reduce wrong turns while driving, AR is essentially a GPS for manufacturing in that it provides a tool to guide personnel through complex manual processes without mistakes. In addition to streamlining and error-proofing processes, augmented reality technology can also improve manufacturing outcomes by generating digital "birth certificates" and detailed process data for each part built. This level of sophisticated metrics and tracking helps to identify bottlenecks and other challenges, makes it possible to immediately identify the source of a problem, and generates the kind of detailed and constructive feedback that helps make workers more productive.
Other benefits of AR systems include:
The ability to leverage and integrate specialized tools and equipment like programmable machine vision cameras and torque guns. This makes AR solutions an ideal fit for processes that demand extreme precision and come with extraordinarily tight tolerances.

Fully programmable functionality that allows manufacturers to toggle between different processes by simply pushing a button or scanning a bar code.

The capacity to be utilized as a mechanism for detailed inspection, training, part kitting and logistics support.

Can accentuate or even replace traditional quality control and inspections processes–something that can potentially save enormous amounts of money and logistical headaches.
About Paul Ryznar
Engineer, inventor and entrepreneur Paul Ryznar created Light Guide Systems and is the founder, president and CEO of Novi, Mich.-based OPS Solutions.

About Light Guide Systems
Wixom, Michigan-based Light Guide Systems, Light Guide Medical and OPS Solutions have created patented products, Light Guide Systems Pro™ and Light Guide Systems Classic™, which use proprietary software and high-powered projector systems to guide and confirm completion of complex tasks. From assembly to quality control to training, Light Guide System's technology provides the visualization, traceability and flexibility demanded by leading companies worldwide. Key industries include aerospace, agriculture, automotive, energy, heavy equipment and medical. Learn more at www.lightguidesys.com.
The content & opinions in this article are the author's and do not necessarily represent the views of ManufacturingTomorrow
---
Comments (0)
This post does not have any comments. Be the first to leave a comment below.
---
Post A Comment
You must be logged in before you can post a comment. Login now.
Featured Product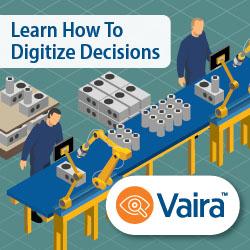 Vaira™ helps manufacturers digitize, automate, and upgrade error-prone manual processes and decisions to boost productivity and increase profits by helping humans make decisions consistent, reliable, and traceable. The camera-based solution is powered by a scalable suite of shop floor-ready apps built on proven machine vision and AI expertise for frontline manufacturing operations, with two-way integration to resource planning tools to help drive continuous analysis, insight, and improvements. Start digitizing immediately, streamlining processes customized to your unique requirements and reduce errors that lead to costs, delays, and quality concerns.