Mechatronics is an exciting major for students because it combines computer, mechanical and electrical engineering into one field of study.
Successful Mechatronics Program at Vaughn College
Contributed by | Vaughn College
Founded in 1932, Vaughn College is a private, nonprofit four-year college that enrolls more than 1,500 students in master's, bachelor's and associate degree programs in engineering, technology, management and aviation on its main campus in New York City and online. The student-faculty ratio of 14 to 1 ensures a highly personalized learning environment. Ninety-eight percent of Vaughn College graduates are placed in professional positions or choose to continue their education within one year of graduation. They work in 20 countries and all 50 states. The institution serves many first-generation college students and is recognized by the US Department of Education as a Hispanic-Serving Institution.
Is Vaughn one of the only colleges in the U.S. to offer a degree in mechatronic engineering? Yes, there are not many colleges that offer this major.
Why? Mechatronics is an exciting major for students because it combines computer, mechanical and electrical engineering into one field of study. Vaughn has been teaching mechatronics since 2007.
Students who decide to major in mechatronics can use their skills to eventually design robots and other "intelligent" machines. Requirements include solid skills in math, chemistry, physics and electronics, allowing students to focus on programming, controlling and machines and automated systems, eventually leading to a special design project. Vaughn's Robotics Club's team, VCAT, was named the Vex 2016 World Robotics Champions in Louisville, KY in April, 2016. Much of the hands-on skills the students get to excel in these competitions comes from teamwork accomplished by the Robotics Club. At Vaughn, students take what they learn in the classroom and are able to apply it through actual hands on practical application in the Robotics Club.
How long has the robotics club existed at Vaughn College and how did Vaughn become leaders in robotics and world champions in 2016?
Vaughn College's robotics team was formed in 2007. Through hard work and dedicated leadership, the VCAT team was able to claim the world championship in 2016.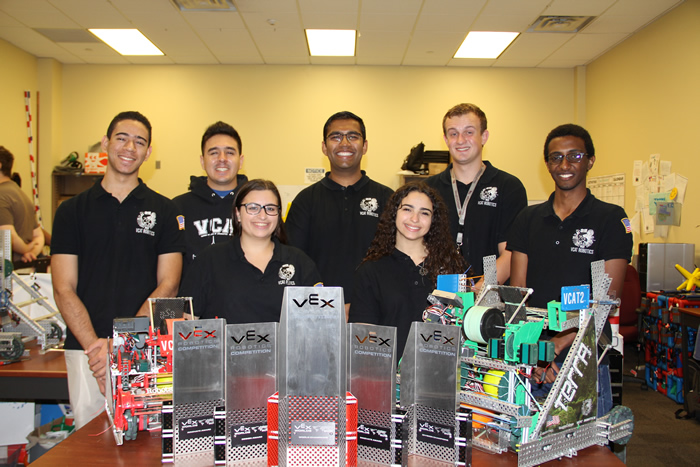 Vaughn's Robotics Club expanded under the leadership of alumnus Jefferson Maldonado '16 who used his training in the Navy to guide the team's arc to success. In the military, Maldonado started as an operator studying catapult and arresting gear, was promoted to maintenance manager, and ultimately worked as supervisor. After being honorably discharged, he enrolled at Vaughn with the goal of getting a degree in robotics. As a freshman, Maldonado swung into action. He studied exactly what needed to be accomplished for the VEX U competition and developed a strategic plan to help the team win. Maldonado also made sure that the team invested in the next generation by mentoring students at regional high schools and hosting a competition on campus. In 2014, eight high schools participated and in 2015 more than three times that number attended.
With his leadership, the team attended the 2014 championship and they were the first US team to make it to the finals but were beaten by a team from Mexico. The Vaughn's robotics team achieved 2nd place in 2014 VEX U Robotics world championship and received Finalists and Amaze awards of this competition. In the following year as president, Maldonado grew the club through hard work and dedication. He trained Alex Uquillas '16 to be his successor and together they secured new club members and achieved sixth in world in 2015 before taking first place in 2016.
Can you tell us a bit about the competition and how the College tackled it?
Mimicking the sport of basketball, Vaughn's world-class robots competed in the year's "Nothing but Net" challenge designing two robots that could act both offensively and defensively pitching balls into a net at lightning speeds. The team whose robots scored the most points would be declared the winner. The difference between last year's competition and the upcoming one is that the focus will be on the mechanical aspect of the robot, not its programming. This year, the challenge is called VEX Starstruck, and the robot has to launch stars and tubes over a fence. The opponent can throw the stars and tubes back to you, and the team with the least amount of stars is the winner. The objective is for Vaughn's robot's fire rate to be faster than the opponents.
Do you have details of the winning entry and how it applies to the real world?
The Vaughn team built a practice field in the lab and worked through their breaks, the evenings and almost every weekend in designing the winning robots and perfecting their tactical techniques. Along the way, the team competed in qualifying matches to secure a spot in the world championship competition.
How does robotics prepare graduates for future careers?
The robots applied outstanding autonomous routines, where they moved solely through the use of various sensors and control algorithms. From this application the students learned automation and control processes that are used in today's competitive tech industry. This helps Vaughn students in interviewing with companies looking for students with real mechatronic experience to get their careers off the ground. Mechatronic engineering combines aspects of mechanical, computer and electrical engineering giving students a well-rounded perspective covering many facets of engineering rather than just one discipline. This experience makes graduates of this program highly sought after and very employable.
As an example, before Jefferson Maldonado graduated in May 2016 he had six jobs offers
Why was Vaughn recognized as #1 in upward mobility?
The report comes from a study conducted by The Equality of Opportunity Project entitled "Mobility Report Cards: The Role of Colleges in Intergenerational Mobility." Vaughn College is noted as "an institution doing more to impact social mobility for those who start from less fortunate means," and listed as the top institution for moving students from the bottom 40 percent to the top 40 percent in income. The power of our institution is to provide a truly transformational educational experience for each student.
Vaughn is unique because of its heritage in aeronautics, and engineering and technology, which leads to strong industry connections, internships and outcomes for our students:
Experienced faculty come from industry positions in the fields they teach -- aviation, management, engineering and technology
Industry advisory boards review Vaughn's degrees and programs to ensure they are current and necessary for students to obtain careers in their chosen fields.
Vaughn maintains great working relationships with leading companies like The Boeing Company, Consolidated Edison, General Electric, Lockheed Martin, The Port Authority of New York and New Jersey. These connections only help our students to succeed!
Internships and career opportunities for students are abundant resulting in ninety-eight percent of Vaughn graduates being employed or continuing their education

within one year

of graduation.
The small student-faculty ratio of 14 to 1 ensures a highly personalized learning environment.
The content & opinions in this article are the author's and do not necessarily represent the views of ManufacturingTomorrow
---
Comments (0)
This post does not have any comments. Be the first to leave a comment below.
---
Post A Comment
You must be logged in before you can post a comment. Login now.
Featured Product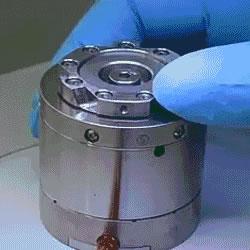 PI provides standard and custom linear, rotary, and spherical air bearing systems. They are available with 3-phase motors or voice coil motors, integral optical linear encoders. Our air bearings / and systems serve OEM, industrial, and research markets.