Both 5-axis and 3 + 2 machining have advantages and can help make you more profitable by improving efficiency on your current production jobs.
Full 5-axis or 3 + 2 Machining: Which is Right for You?
Contributed by | Mazak Corporation
If you currently use conventional 3-axis machining, your logical part processing progression is the step up to full 5-axis or 3 + 2 machining capabilities. While both offer advantages, understanding the fundamental differences between the two is key to determining which process will best meet your specific needs.
In simultaneous 5-axis machining, the machine tool's three linear axes (X, Y and Z) and two rotational axes (A and B) all engage at the same time to perform complex contour surface machining. There are many advantages of full 5-axis machining, all of which significantly impact productivity and profitability. Processing five sides of a part in a single setup requires less preparation, and results in shorter lead times and better accuracy and eliminates the need to move workpieces across multiple workstations/pieces of equipment.
Undoubtedly the biggest benefit of 5-axis machining is that it raises the limits on the types of part geometries you can machine. Imagine the new business potential for your shop if you are able to machine complex automotive, aerospace or medical parts. However, not all parts require full 5-axis machining. Some are more efficiently produced using 3 + 2 machining, where the machine executes a 3-axis milling program with the cutting tool locked in a tilted position using its two rotational axes. The process, also known as 5-axis positional machining, relies on the fourth and fifth axes to orient the cutting tool in a fixed position rather than manipulate it continuously during the machining process.
As with any machining job, the size, features and tolerance requirements of your workpiece help determine which type of process to use. If your part requirements have changed – tighter tolerances and more complex geometries – you may need 5-axis capabilities. If on the other hand, you simply need a better way to position less complex parts for greater access to their features, then 3 + 2 may be the way to go.
When compared with conventional 3-axis machining, 3 + 2 machining allows the use of a shorter, more rigid cutting tool that can be angled toward the workpiece surface for faster feeds and speeds. Common applications for 3 + 2 operations include roughing and other aggressive high-speed machining techniques. The shorter tool length also enables undercuts in cavities and steep walls, a capability well suited for moldmaking and other workpiece applications involving curves or angled tubular shapes.
Although not a substitute for full 5-axis machining, many shops currently using 3-axis machining find that 3 + 2 can be a great way to transition into full 5-axis machining capabilities. It provides some of the advanced capabilities without the investment in full 5-axis machines. That being said, today's 5-axis machines are more affordable than ever before. And, an investment in a 5-axis machine tool often allows a shop to take on jobs that it was previously unable to fulfill and realize efficiencies that not only pay for the machine tool, but also generate profit.
Mazak offers a wide selection of machine tools and solutions that can meet any shop's part-processing needs, ranging from Multi-Tasking machines that have full 5-axis capabilities such as those in our INTEGREX Series to the full simultaneous 5-axis machines in our VARIAXIS Series. In fact, our selection of 5-axis machines is so comprehensive that we have developed a 5-Axis and Multi-Tasking Machine Tool Guide called The Four Quadrants that condenses part processing into four categories to help you choose which level of technology best suits your needs and budget.
Both 5-axis and 3 + 2 machining have advantages and can help make you more profitable by improving efficiency on your current production jobs. Plus, any time you add new capabilities to your shop, you have the opportunity to expand your customer base by bidding on new, more complex work. If you're ready to boost your part processing capabilities, contact your Mazak representative to discuss which level of technology best meets your needs and will help you become more profitable.
About Mazak Corporation
Mazak Corporation is a leader in the design and manufacture of productive machine tool solutions. Committed to being a partner to customers with innovative technology, its world-class facility in Florence, Kentucky, produces over 100 models of turning centers, Multi-Tasking machines and vertical machining centers, including 5- axis models. Continuously investing in manufacturing technology allows the Kentucky iSMART Factory to be the most advanced and efficient in the industry, providing high-quality and reliable products through its "Production-On-Demand" practice. Mazak maintains eight Technology Centers across North America to provide local hands-on applications, service and sales support to customers.
The content & opinions in this article are the author's and do not necessarily represent the views of ManufacturingTomorrow
---
Comments (0)
This post does not have any comments. Be the first to leave a comment below.
---
Post A Comment
You must be logged in before you can post a comment. Login now.
Featured Product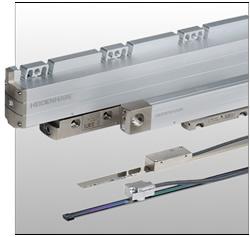 Nothing beats the positioning accuracy of linear encoders from HEIDENHAIN. Available in absolute and incremental versions and ideal for a variety of applications-including machine tools, semiconductor machines and medical machines-these measuring solutions combat a variety of issues that erode precision.