The Engineer: Researchers at Nanyang Technological University, Singapore (NTU Singapore) have 3D printed a ready-to-fly drone with embedded electronics using an aerospace-grade material. The electronics were incorporated in the drone during the 3D printing process, which employs Stratasys' ULTEM 9085, a high strength, lightweight FDM (fused deposition modelling) material certified for use in commercial aircraft. Cont'd...
Adam Conner-Simons for MIT News: Anyone who's watched drone videos or an episode of "BattleBots" knows that robots can break — and often it's because they don't have the proper padding to protect themselves. But this week researchers at MIT's Computer Science and Artificial Intelligence Laboratory(CSAIL) will present a new method for 3-D printing soft materials that make robots safer and more precise in their movements — and that could be used to improve the durability of drones, phones, shoes, helmets, and more. The team's "programmable viscoelastic material" (PVM) technique allows users to program every single part of a 3D-printed object to the exact levels of stiffness and elasticity they want, depending on the task they need for it. Cont'd...
Records 1 to 2 of 2
Featured Product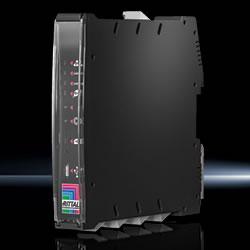 Download the Rittal Fact Book, we'll show you side-by-side product comparisons of Rittal and competitive products, and let you decide. You are an innovator. Your mind runs with "What if?" and the status quo can always be improved. When you find a supplier like Rittal who is forward thinking, you know you've found a partner. A supplier known worldwide for equipment that incorporates cutting edge technology, designed for efficiency, and solves problems other engineers hadn't even considered yet. A company that lives the Industry 4.0 world and puts it into practice in every step of the process.