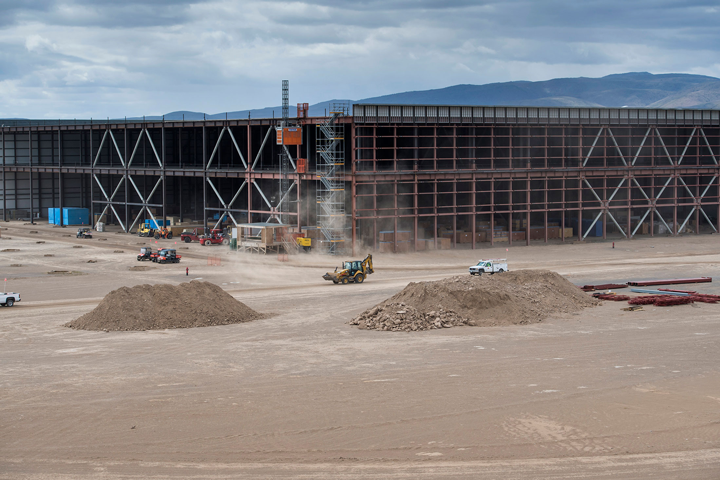 From Bloomberg: To get to Tesla's Gigafactory, you drive east from Reno, Nevada, turn into a sprawling industrial center, and make a left on Electric Avenue. The high desert landscape dwarfs everything, even the vast white building with the red stripe along the top. As you reach the gate with the security guard, the breadth of Tesla's ambitions becomes clear. Even the name itself suggests more to come: Gigafactory 1... ...The $5 billion Gigafactory was born of necessity. Tesla needs a hell of a lot of batteries, for both the forthcoming mass-market Model 3 sedan and the Tesla Energy product line. The timeline for getting those batteries made just became much shorter, too. On Wednesday, Tesla Chief Executive Elon Musk stunned investors by announcing a sped-up production schedule that calls for a half-million electric vehicles per year by 2018, not the previously stated goal of 2020. For a company that delivered just 50,658 vehicles in 2015, the ramp looks like a hockey stick... (full story)
We believe advanced manufacturing provides the opportunity for more productivity, cost savings and improved energy efficient production thus allowing companies to be more competitive right here in the USA.
Records 1 to 2 of 2
Featured Product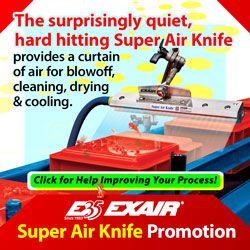 EXAIR Cabinet Cooler® Systems are a low cost, easy to install, maintenance free way to cool and purge electronic control panels. EXAIR Cabinet Coolers incorporate a vortex tube that produces cold air from ordinary compressed air - with no moving parts. The compact Cabinet Cooler can be installed in minutes through a standard electrical knockout. NEMA 12, 4, and 4X (IP54 and IP66) Cabinet Coolers that match the NEMA rating of the enclosure are available in many cooling capacities for large and small control panels. NEMA 12 Cabinet Coolers are ideal for general industrial environments where no liquids or corrosives are present. NEMA 4 Cabinet Coolers incorporate a low pressure relief valve for both the vortex tube and cabinet air exhaust. This valve closes and seals when the cooler is not operating to maintain the integrity of a NEMA 4 enclosure. NEMA 4X Cabinet Coolers offer the same protection as NEMA 4 but are constructed of stainless steel for food service and corrosive environments.